55.06 million tablets shipped globally in Q2; Taiwan tablet shipments declined 40% in Q1
5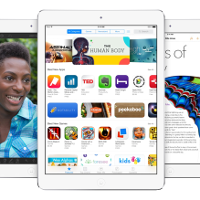 According to a report published on Wednesday, 55.06 million tablets were shipped globally in the second quarter of this year. That is 4.5% lower than the number of tablets shipped world-wide in the first quarter. It is, however, a healthy 17.9% gain year-over-year.
The tablets shipped in the period included 14.1 million Apple iPad tablets.
Small sized tablets with Wi-Fi connectivity had a rough three months, and suppliers had a number of yield issues that affected shipments. The report also noted that Samsung's 8 inch slates had lower than expected shipments. On the other hand, tablets with a 10 inch or higher screen size have seen an increase in demand.
Meanwhile, shipments of tablets from Taiwan to Apple, dropped a stunning 38% sequentially in the first quarter. A whopping 70% of Taiwan's tablet shipments are addressed to Apple, and numbered 16 million tablets from January through March. Overall, there was a rather large 40% drop in Taiwan's tablet shipments in the opening quarter of this year, from the final quarter of 2013. In dollar terms, the value of Taiwan's Q1 tablet shipments amounted to $4.7 billion, down 46.6% from the previous three month period. With the drop in shipments of the more expensive Apple iPad units, the average selling price for tablets shipped from Taiwan, declined 10% to $207 USD.
source: DigiTimes (
1
), (
2
)