50,000 T-Mobile users have upgraded from a BlackBerry to a new smartphone (likely a Samsung) since April
55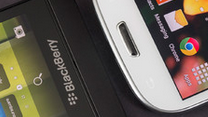 As you may have heard,
T-Mobile ended its relationship with BlackBerry
in late April, so the carrier is no longer selling BlackBerry smartphones. April was also the month when T-Mobile
started offering $200
to its BlackBerry customers to upgrade to a new Samsung phone, or $100 if they wanted to switch to handsets made by other companies.
According to an internal memo obtained by TmoNews, T-Mobile managed to lure more than 50,000 ex-BlackBerry users into upgrading to a new device since April. We assume that most of those customers got themselves a new Samsung smartphone, because the deal is sweeter in this case. The deal will be available until the end of the year, though there probably aren't many BlackBerry users left at T-Mobile anyway.
BlackBerry now holds
less than 1% of the US smartphone market
, while Android and iOS are the dominant platforms (and Windows Phone holds a distant third place). But maybe the upcoming
BlackBerry Passport
, which is expected to be released in September, will mean a new beginning for the company? We'll just have to wait and see.
source:
TmoNews