5 world-building games for Android and iOS inspired by Minecraft
4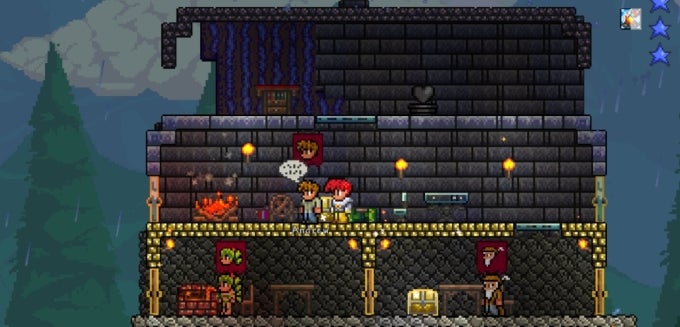 Minecraft is a very popular game for a reason – it lets players experience a vast world that they can shape into their own, mining resources, crafting items, building structures and defending themselves against adversaries. Its clever concepts and throwback visual style have spread themselves across the gaming industry, defining the genre of world-building games.
Here, we've rounded up five entertaining titles inspired by the things that make Minecraft special without stealing its identity. If you like exploring vast, randomly generated worlds and changing them into creations of your own, you are sure to like at least one of these intriguing games. And if you don't, there's always one more Minecraft session to play!
Roblox
Roblox is a fantasy world in which you hang out and interact with other players' blocky characters. You can participate in many activities, such as playing paintball, running a pizza shop, battling pirates and zombies, racing, and many other mini-games. The world-building aspect isn't as prevalent as it is in Minecraft, but the sheer amount of mini-games and possibilities turns Roblox into quite the multiplayer adventure. You are, of course, free to message and chat other players to organize activities and have a good time. So if travelling across a big open world is something you're into, you're going to like Roblox as a more "civilized" alternative to Minecraft.
The Blockheads
Blockheads is a sandbox game inspired by Minecraft's activities and blocky visual style. You are to explore, mine, craft and build things in a big and detailed game world. There's a full temperature and climate system, season changes, an equator, and the frozen poles as well as cave systems, pools of water, deserts, and snowy mountains. You will have to keep watch over your blockheads in a randomly generated world – caring for their basic needs like food, clothing, sleep, and shelter; craft tools with the resources you find, such as precious stones and metals, or rare plants and animals. You can also build a boat and navigate the oceans guided by an accurate night sky. All adventurers are welcome!
Terraria
Terraria is a well-established Minecraft alternative where every world is unique – be it floating islands in the sky, or the deepest levels of The Underworld. You'll be able to adventure to the ends of the Earth, battling villainous bosses along the way. The game features over 1300 crafting recipes for weapons, armor, potions, and other items. You will fight over 450 types of enemies and 20 bosses, mine more than a hundred block types, and explore over a dozen environments with their dynamic water & lava, or day and night cycles.


Growtopia
Growtopia is a sandbox platformer MMO where you get to build all sorts of things, such as houses, dungeons, songs, artworks, and puzzles. You will collaborate with millions of players, playing mini games like parkour, surgery, quizzes, PVP battles, capture the flag, and races. Advance your world by planting seeds to grow trees, trading items, exploring other people's worlds, chat, and hear an original soundtrack.
On My Own
On My Own is a game of balancing between the serenity of experiencing the outdoors with the reality of struggling to survive in nature. You must stay alive by finding food, crafting useful items, and adapting to the changing seasons. There are four different "biomes" to explore, rendered in a throwback visual style with modern effects to the tune of an original soundtrack.
ALSO READ