5 third-party keyboard apps that you may have never heard about
5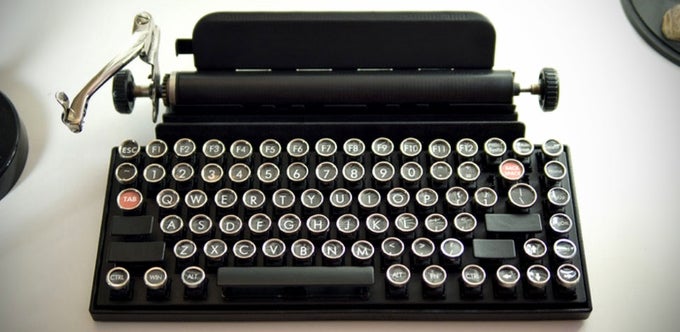 Not that we expect you to care, but there's a world of third-party keyboards beyond that of household names like Swiftkey, Google Keyboard, Fleksy, Minuum, and Swype. Because of their overwhelming popularity, the competition might be going largely un-noticed, but it exists, and it's definitely worth knowing about them.
If you're bored of your current keyboard app and want to try something different, this selection of five apps that live just outside most smartphone users' radars should be your first stop. Each one has something interesting to offer, be it convenient shortcuts, a metric ton of emojis, generous customization options, or power-user typing. Check them out.
TouchPal Keyboard
A rich keyboard app with a thousand emojis and cloud-powered word prediction.
TouchPal Keyboard is designed to help you type fast and easy with curve (swipe) input and word prediction systems. Besides that, it comes with more than 1000 emojis, emoticons, smileys, and text faces to plaster all over your messages. The keyboard can be customized by choosing your own color, wallpaper, and layout for it – or choosing among hundreds of colorful themes. Enhanced by cloud computing, the contextual prediction algorithm can correct mistaken words, spelling errors, and capital letters. TouchPal supports over 97 languages and is free to use.
Slash Keyboard
A single shortcut lets you search and share data with no app switching.
Slash's
pull-rabbit-out-of-hat
trick is making it easy to share stuff without having to switch apps. For example, tapping "/" opens shortcuts to Foursquare, Spotify, YouTube, and other services. The shortcut can be customized by users. Slash works with most messaging apps and social networks, such as Messages, Email, WhatsApp, Twitter, Snapchat, and Instagram. There's also a search engine built inside the keyboard, letting users search for songs, videos, and venues.
Kika Keyboard
A fun keyboard app with plenty of functionality and content.
Kika Keyboard is a fresh typing proposition that certainly punches beyond the average boring keyboard with the variety of content packed in it. Kika is available in over 60 languages and was the first keyboard app to ship with native support for WhatsApp's skin tone emojis. It can be customized with thousands of keyboard themes, custom fonts and add-on sounds. There are also customizable one-hand mode and split screen layouts for work, along with smooth swipe typing and intelligent word prediction. Of course, there are all sorts of emojis and stickers available, along with animated gifs and cool fonts that can be used in all popular messenger apps.
Chrooma Keyboard
The do-it-all keyboard for Android users.
Chrooma includes almost everything we've become accustomed to seeing inside modern keyboard apps. There's gesture control with moves designed for deleting characters, moving the cursor, fast selection, and Google Now integration – but there's swipe typing as well. Interestingly, one can write in multiple languages simultaneously without having to switch the keyboard every time. There's one-handed mode typing that lets you hit most characters with your thumb, along with a split layout for faster typing on large screens. The keyboard can be personalized with numerous styles and fonts, and it has the uncanny ability to automatically darken its color when low light is detected. Night mode can be also programmed by the user.
Nintype
The power typist's iOS workhorse keyboard.
The iOS-only Nintype is touted as a workhorse keyboard, powerful enough to turn your iPhone or iPad into a productive device with greatly sped-up word entry. It's actually a combination of a notes app and a keyboard app with features such as slide typing, word prediction, spacebar sliding to move the cursor, edge slide shortcuts for adding punctuation, a quick-paste menu, height and layout adjustment (with split, right or left side alignment), a number pad, built-in calculator, customizable themes, auto-space, and even the fun 'Emojify' feature that lets users type English words and get to choose from suggested emojis. The app has quite the following for a reason!
ALSO READ