5 really fun and functional GIF keyboard apps that you should check out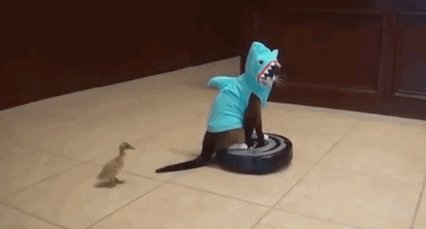 GIF keyboards are loads of fun. They are also the virus which contributes to an online society of people expressing their thoughts solely via the medium of moving pictures. Don't mind the dystopia, here's a GIF of a cat in a shark suit chasing a duckling on a roomba, because we love fluffy animals and comical absurdity.
Anyway, if you use messengers or Facebook a lot, you are probably familiar with Giphy and might have browsed some of the GIF keyboards featured as optional installs in FB Messenger. In case you're looking for more variety, feel free to check out these five applications you may not have heard of before.
Truth be told, they all do the same exact thing, which is enabling you to bombard your friends with animated responses. They also do it equally well. But each app has something going on about it that could make you choose it over the rest! Here they are, without further ado.
UPchat GIF Keyboard (iOS)
Getting UPchat is like getting infinite stickers and emojis for free. The custom keyboard lets you easily create and send GIFs over text and e-mail. The app also lets you search for popular GIFs and images to send alongside the ones made by you. This can happen with every word you type, so the animations and images are always relevant to the conversation you're having. Good times!
Giffage (iOS)
Giffage is one of the nicest GIF keyboards for iOS out there. Whatever you can think of, it probably has it – complete with 3D Touch shortcuts and turning Live Photos into gifs for super-easy sharing. You can search for your favorite gifs with Giphy, browse trending ones or your bookmarked ones, make your own gifs through the app, and type on the keyboard without having to switch back to the default one.
GIF Keyboard by Riffsy (Android & iOS)
If a solid all-rounder is what you need, get the definitive GIF Keyboard app of the same name. Chances are you won't have any trouble finding the exact meme you're looking for! And if you don't, you'll easily find another one that's no less expressive. Moreover, this app is also on Android, so fans of the robot aren't left out of the party this time.
How You Doin? (Android)
Hey, how are ya? Whether it is expressing your love for pizza, annoy your friends with that cheezy joke you won't stop repeating, or telling your crush they are about to meet a tall, attractive stranger – this app's got your back. In addition to sending the best GIFs in your messages, it lets you browse through different categories, search among millions of GIFs and videos, and it works on top of whatever messenger app you're using – unless it's particularly exotic.
PopKey (iOS)
PopKey can power-up your chat game like no other. It gets installed as a full application bundled with a GIF Keyboard extension that lets you find, save and favorite GIFs for quick and fun chatting. Completely free and private, PopKey is compatible with the most widely used messaging apps on iOS, such as iMessage, Hangouts, Facebook Messenger, SMS, Email, and others! The GIF library is kept up to date with the latest GIFs, exposing you to hundreds of thousands of animations. It's safe to say you'll never be left without the perfect GIF response for the occasion!
Had fun? Also read: