Pinterest buys Fleksy keyboard engineers but the app is in limbo
2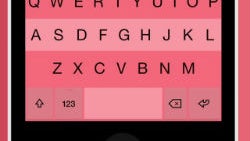 Fleksy
is a pretty popular alternative keyboard, as alternative keyboards go. Unfortunately, the fate of the app is up in the air right now. After a long stretch of silence, Fleksy has come out of hiding to let its fans know what is happening and the news is ... strange to say the least. The first word out was that the app and team had been bought by Pinterest.
This alone was news that confused us all. Pinterest is essentially a social network all about sharing "ideas", which more often than not means fashion, design, arts and crafts, or fancy foods. Why such a project would need an alternative keyboard was unclear. However, the latest word is that the Pinterest purchase of Fleksy was a talent hire and not one for technology. So, the engineers will be joining the Pinterest team, which leaves the Fleksy keyboard in limbo.
The app will stay in the Play Store and the App Store, and it will continue to offer users the cools set of features including gestures, customization, GIF search, and a bunch of nice extensions. The team says the plan is to open source the technology and what happens to the app after that will be anyone's guess.