5 smartphone apps banned by... Google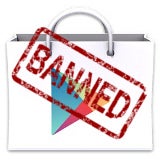 When it comes to mobile apps, Apple is the company that usually bans stuff. Meanwhile, Google is known to have a much more open approach to its Android OS and the applications that get submitted for it. Does that mean that Google hasn't banned any apps for its platform, though? Nope. Probably not as strict as Apple, Google has also issued its fair share of bans on some more or less controversial applications.
Here are 5 of the more interesting apps that have been smitten by El Goog's secret ban hammer!