5 of the best Bluetooth keyboards for iPhone and Android (2016)
2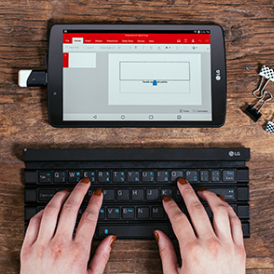 In recent years,
smartphones with hardware QWERTY keyboards
have largely disappeared from the market, with only a few handsets (like the
BlackBerry Priv
) still offering such keyboards. However, this doesn't mean that you have to exclusively rely on your phone's software keyboard when some serious typing is required. That's because there are plenty of Bluetooth keyboards that you can buy and pair with your handset for a more appropriate typing experience.
Of course, a combination like this (smartphone + Bluetooth keyboard) usually can't match the comfort and benefits that laptops or desktop PCs are offering. But maybe sometimes that's all you have around.
We already presented a selection of the
best Bluetooth keyboards for Android and iOS
, but that was last year, so now it's time for another list. Check it out below (keyboards are shown in no particular order):
LG Rolly
As you surely know, LG is a company that manufactures a great variety of devices besides phones and tablets. Among these devices, there's a Bluetooth keyboard that's called LG Rolly. Announced last year as "the industry's first solid rollable wireless portable keyboard", the LG Rolly can be paired with smartphones and tablets via Bluetooth 3.0, and includes a dock for devices up to 10 inches. Made out of impact resistant plastic, the keyboard features nicely spaced keys, and you can roll it up into an easy to carry stick. The LG Rolly comes with one AAA battery included (which should be good enough for up to 4 months of usage), being compatible with Android, iOS, and Windows. The keyboard's official price is $119.99, but Amazon is selling it for $56.99.
EC Technology Foldable Bluetooth Keyboard
Made out of an aircraft-grade aluminum alloy, this EC Technology keyboard has a sturdy construction, and features a dual-fold mechanism that makes it easy to carry around. Thanks to an anodized matte process, the keys provide a great tactile feeling, and an overall enjoyable typing experience. The EC Technology Foldable Bluetooth Keyboard has a built-in rechargeable battery, but doesn't include a dock, so you may need a stand (either real, or improvised) for your phone or tablet when using it. The keyboard costs $35.99, and works with most Bluetooth-enabled devices running iOS, Android, or Windows.
iClever Ultra Slim 3 Color Backlight Bluetooth Keyboard
This is another aluminum-made Bluetooth keyboard that's based on a dual-fold mechanism, but it has an extra feature: a customizable backlight - you can choose between two brightness levels, and three colors (blue, red, green). The iClever Ultra Slim 3 Color keyboard can be used both wirelessly (via Bluetooth 3.0, with iOS, Android, or Windows devices), and with PCs via a USB cable. You can seamlessly switch between devices with a dedicated combination of keys. The iClever keyboard costs $54.99, and includes a 750 mAh rechargeable battery. Once again, there's no dock included.
Logitech Bluetooth Multi-Device Keyboard K480
Logitech is famous for its keyboards (among other accessories), so we don't think anyone will be surprised to see one of the company's keyboards here. We're talking about the Logitech Bluetooth Multi-Device Keyboard K480, a comfortable, full-size keyboard that happens to be the largest on our list. The K480 offers an integrated cradle that can hold a smartphone and a tablet at the same time (these must not be thicker than 0.4 inches), and there's a dedicated dial to switch between up to 3 Bluetooth devices. The Logitech K480 currently costs $24.99 (white variant), or $29.99 (black variant), coming with two AAA batteries in the box.
Jelly Comb Universal Bluetooth Keyboard
Want a good Bluetooth keyboard that's also really cheap? Try the Jelly Comb Universal Bluetooth Keyboard, which relies on Bluetooth 3.0, and costs as low as $11.99. This is a plastic-made keyboard that's simple and easy to use, and doesn't take up too much space when you need to put it in a bag (most of it is 0.23 inches thin, though there's a thicker portion at the top). The Jelly Comb Universal Bluetooth Keyboard works with iOS, Android, Windows, and Mac. It comes in two color variants - silver and black (the black model is priced at $12.99) - and you'll need two AAA batteries to start using it. No dock included.