Best Bluetooth keyboards for your Android, iPhone and iPad (2015 edition)
9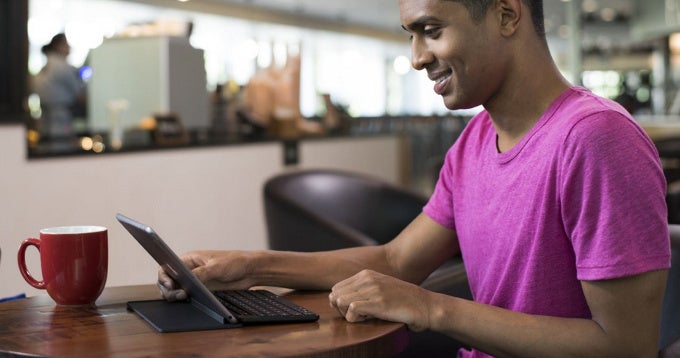 If you don't want to carry a laptop or even a tablet, but still want to get some typing done on your smartphone, a Bluetooth keyboard is not a question of choice: it is pretty much a necessity.
As much as we like our mobile devices, virtual on-screen keyboards are not always as fast and comfortable for typing, and they take up precious screen space. For a blogger on the go, a wireless Bluetooth keyboard for Android or iPhone, would be a very decent solution. And for those who have mastered 10-finger typing, it's rarely needed to look at the screen to check, so the small screen of the smartphone is not necessarily all that huge of a problem.
A Bluetooth keyboard can make the difference between being productive on the road or not
What are the best Bluetooth keyboards for iPhone and Android, though, and how much is the most optimal amount to spend? Well, as with everything depends: it seems that a very good Bluetooth keyboard with universal praise and good build quality runs at around $40, but you can get something that is reliable but with some little compromises for around $25. And if you want to multitask between different platforms or want a dedicated solution, prices go up north of $80. Take a look at the best Android and iPhone Bluetooth keyboards right below and make up your mind.
Logitech K380 Multi-Device Bluetooth Keyboard
Price: $40
The Logitech K380 is a great all-around keyboard that is compatible via Bluetooth with a variety of different devices. It is relatively compact, but most importantly has well spaced keys with excellent travel and response, which makes it a joy to type at fast speeds. The build quality is solid so you can comfortably place this keyboard in your lap and type away. Battery life is also excellent with day-to-day use longevity said to be two years and at that price, it's really hard to beat all of that.
Microsoft Universal Mobile Keyboard
Price: $40
Another great option at $40, the Microsoft Universal Mobile Keyboard is a solid offering that comes with a switch to easily recognize between different operating systems, and it has a convenient integrated tablet and phone stand (the cover also detaches for more comfortable use). Keys are fairly large with sufficient space between them, and typing is quick and accurate.
Logitech Bluetooth Easy-Switch K811 Keyboard
Price: $86
More than just a regular Bluetooth keyboard, this pricier option is compatible with both Mac, as well as iPad and iPhone, and it comes with a convenient one-key switch that allows you to toggle between the different platforms effortlessly and instantly. With large, well-spaced keys and a backlight, this keyboard is convenient to use at night as well, and it provides good feedback and nice travel on the keys. It is also specifically designed for Mac with all the shortcut keys and ergonomics taken into account.
Anker Ultra Compact Bluetooth Keyboard
Price: $26
If you are looking for a budget option, the Anker Ultra is one of the few that actually get the job done in a very decent manner. Priced at $26, this Bluetooth keyboard is offered in black and white, and has keys with fairly long travel and well spacing. It is easily compatible with all major operating systems including iOS, Android, Mac OS and Windows. Battery life is said to be around the good 6 months.
Logitech Keys-To-Go
Price: $50
The super portable Logitech Keys-To-Go is an extremely thin keyboard that impresses with its dimensions and looks above all. It's in this selection precisely because some people might need the absolutely most compact and lightweight solution that this keyboard provides. When it comes to the actual typing experience, though, do not expect wonders: the shallow keys with mushy feedback are far from perfect and require a lot of getting used to.