5 free and totally cool shooter games for iPhone and Android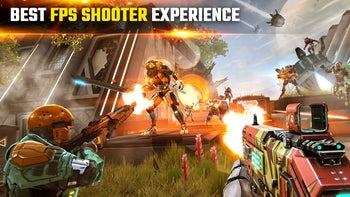 Gaming on a mobile phone... now that's a touchy subject. Mostly because touch controls are not that great. But developers have been pretty adamant in their quest to make it a thing. And, let's be honest, smartphones are now way too powerful. Not gaming on them is like letting that hardware go to waste. So, it's time to see what's new under the FPS sun! Spoiler: some of these actually support a Bluetooth controller:
Call of Duty: Mobile
Over the years, there have been numerous copycats, trying to bring that Call of Duty feel to mobile devices. Well, the original is now here. Developed by Tencent and published by Activision, Call of Duty Mobile doesn't just borrow the aesthetic and level design from the legendary Call of Duty series, it manages to capture the high octane gameplay as well.
You can jump in a classic Domination, Search & Destroy, Team Deathmatch, or Frontline match or you can play in Battle Royale mode. Controller support is not here yet and we aren't sure if it will ever come, but the on-screen controls feel smooth, responsive, and ready for 360 no-scoping!
Shadowgun Legends
Shadowgun is an FPS franchise specifically for mobile. The latest installment aims to bring the looter-shooter experience of Destiny to our smartphones. There are tons of missions to complete, various side quests to pick up, a plethora of loot to find, and even a PvP mode where you can show off your new gun… by aiming it at someone's head.
The game does support controllers, but you can play it just fine with touch controls.
World War Heroes
This game kind of reminds us of Battlefield 1 with its choice of setting and also its soundtrack. People will have mixed opinions on its PvP multiplayer because time to kill is extremely slow -- enemies usually soak up a full clip before they die. You can also find various armor pickups around the map to make sure you are extra beefy at all times.
We can't say we are fans of the monetization choices in this game. Consumable items, such as grenades and medikits have limited uses and if you run out, you either need to buy more, or just suck it up and play the game without them.
Modern Ops
This game has a sort of Counter-Strike-ish feel to it. It's a nice shooter with smooth controls and good player population. But it also starts you off with a limited supply of nades and meds, which you will have to buy if you want to restock, which we are not fans of.
Modern Combat: Versus
Modern Combat is a staple FPS franchize for mobile. Before Activision finally published their version of the original, Modern Combat was the Call of Duty mobile experience to go to. This latest installment has a futuristic aesthetic and includes the concept of having different character classes with their own set of skills — be it to raise a shield around your allies or be a super-fast rushing class.
This game supports controllers, so if you refuse to play Call of Duty: Mobile with touch controls, you can play Modern Combat while you wait for Activision to include this feature.