Apple to release 4nm M2 chip next year, 3nm M2 Pro and Max in 2023
5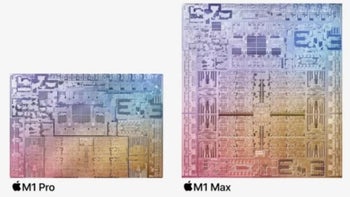 Apple's powerful M-series chips have three different versions. There is the M1 which is used to power certain Macs and the iPad Pro and carries 16 billion transistors in each chip. In October,
Apple unveiled the M1 Pro with 33.7 billion transistors and the M1 Max
with 57 billion transistors inside. All three are manufactured by TSMC using its 5nm process node.
Before the M1 Pro and M1 Max saw the light of day, in August we passed along speculation about the M2 chip. The
Commercial Times
today repeated one of the rumors that we mentioned in our story four months ago: the M2 is expected to be built using TSMC's 4nm process node which means that it should be stuffed with more transistors than the 16 billion found in the original generation chip.
The M2 has a code name of "Stateen" while the M2 Pro and M2 Max have a code name of "Rhodes"

With the release of the M2,
Apple
plans on embarking on an 18-month development and release cycle for its M-series chips which means that the M2 Pro and M2 Max will be released in 2023. The M2 has a code name of "Stateen." Even though they won't be released until 2023, the M2 Pro and M2 Max already have a code name of "Rhodes" and will be found powering up Macs in 2023.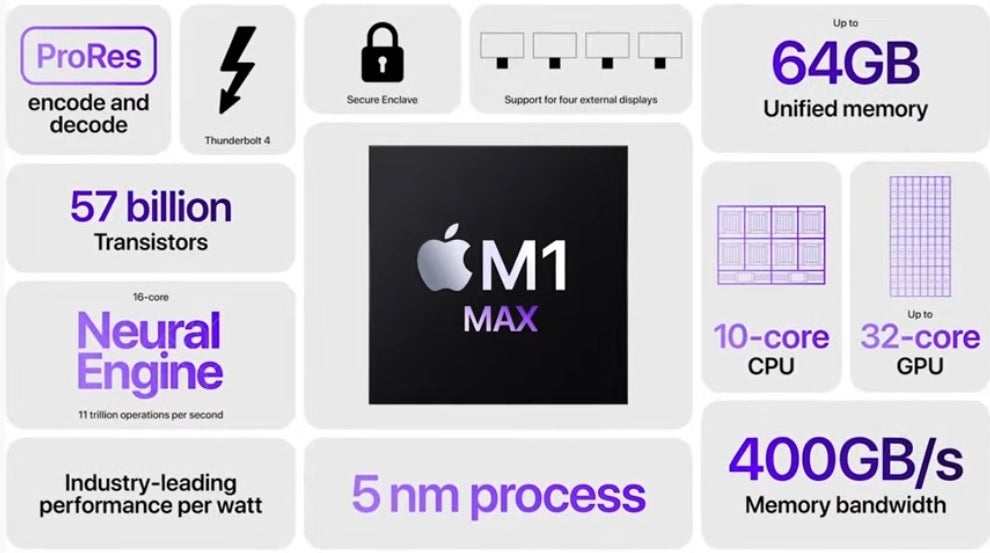 Right now the M1 Max is Apple's most powerful chip
The 2023 chips will undoubtedly contain a massive number of transistors and will be built using TSMC's 3nm process node. To be more precise, the
Commercial Times
report says that the M2 will be released in the second half of next year with the M2 Pro and M2 Max to be released during the first half of 2023.
Industry gossip calls for Apple to separate its Mac personal computers after 2022 into six major product lines based on the processor being used. Laptops will be divided into MacBooks powered by the M2, and MacBook Pros equipped with the M2 Pro and M2 Max. All-in-one products will be separated into iMacs equipped with M2 processors, and iMac Pros with the M2 Pro and M2 Max under the hood.

Desktop models will include the Mac mini with the M2 processor and the Mac Pro with the M2 Pro and M2 Max.
Apple plans to debut its own 5G modem chip on 2023's iPhone 15 series

Apple also plans on building its own 5G modem chip for the iPhone which will debut on the 2023 iPhone 15 series. Currently, Apple sources its 5G modem chips from Qualcomm which is something that Apple desperately wanted a few years ago when it appeared that it would have to depend on Intel to supply it with this component. Apple and Qualcomm were engaged in multiple lawsuits.
Apple eventually caved and shook hands with Qualcomm on a deal that resulted in Apple agreeing to pay Qualcomm a huge sum of money in order to be shipped the latter's Snapdragon 5G modem chips. The Washington Post wrote that two years before the settlement, Apple was publicly deriding the quality of the Snapdragon modem chips while privately it was heaping praise on them and called them "the best."
For example, when talking to regulators, judges, and lawmakers, Apple called Qualcomm's chips worthless" while privately it was raving about the components designed by the company. Apple also wasn't happy with the way Qualcomm sold its chips requiring that a company sign a license before placing an order. Apple was also unhappy with the way that Qualcomm asked for royalties as a percentage of the retail price of phone even if all of the Qualcomm branded parts on that phone was valued at a few pennies or a couple of bucks.
In effect, Qualcomm was receiving royalties on parts of a phone that it had absolutely nothing to do with. Judge Lucy Koh ruled back in 2019 in favor of the FTC and called Qualcomm's selling practices anti-competitive. The chip designer filed an appeal with California's Ninth Circuit and a three judge panel ruled in favor of Qualcomm overturning the ruling in favor of the FTC.