45,000 Verizon Communications union workers go on strike
30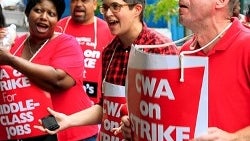 Many called this possibly the last big strike in land lines, but Sunday's strike brought 45,000 unionized workers from Verizon Communications and it seemed as serious as it gets. The land-line industry might be shrinking, but workers united in the Communications Workers of America felt that
Verizon's proposed draconian cuts
aiming to tie salary to employee performance, concessions on pensions and requiring workers to pay over $100 montly for health care premiums, contradicted the fact that the company registered profits from its wired network, while Verizon's top five executives compensation amounted to over quarter a billion in the last four years.
Bargaining kicked off on June 22nd, but Verizon hasn't made any concessions to the workers, forcing unions to go on strike. The strike likely
won't affect Verizon Wireless
and its cell phone business, but rather cause some problems with land lines and the company's FiOS TV and Internet service. A large part of the employees on strike are field technicians, call center employees and cable installers.
"Since bargaining began on June 22, Verizon has refused to move from a long list of concession demands. Even at the 11th hour, as contracts were set to expire, Verizon continued to seek to strip away 50 years of collective bargaining gains for middle class workers and their families,"
the union explained in a statement.
From the viewpoint of the company, though, the strike is all about Verizon's financial health. It is also one of the first challenges for newly appointed Verizon CEO Lowell McAdam.
"It is clear that some of the existing contract provisions, negotiated initially when Verizon was under far less competitive pressure, are not in line with the economic realities of business today,"
the chief executive replied to the workers' claims.
While the outcome of the strike is yet unclear, Verizon has promised that its
service won't be affected
as it has activated tens of thousands of non-union workers to fill in for those who are on strike. The replacement workers are expected to work 12-hours days in a six-day work week.