41% of Brits use a mobile device while on the potty
19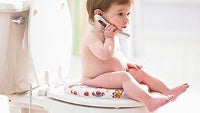 Online retailer Pixmania conducted a survey of 2000 Brits to see what was going on behind the closed doors of...the bathroom. Or as they say in Britain, the loo. While sitting on the throne (remember, the country does have a Queen), 41% of Brits are using their Smartphone, tablet or eReader. A large majority of those using a gadget in the can, 65%, have a smartphone in their hand while 22% prefer a tablet to pass the time while on the toilet. 11% are happy just to grab their eReader and finish that novel that they started.
Shopping while on the toilet is something that 26% of those Brits surveyed admitted to. It seems like a strange place and time to decide that you really have to have that shirt or pair of new shoes. A majority of those using a mobile device in the bathroom, 51%, are surfing the web with news, sports and
celebrity gossip
web sites as the top destinations for those browsing the internet while in the bathroom.
For some reason, sitting on the potty reminds 25% of Brits that they need to check their social network sites while indisposed. An even larger percentage (34%) send text messages while doing their business. 10% have used the time to fire off an email for work.
Yes, things have really changed from the days before the cellphone became a necessity. Back then, a book or a magazine, or even a newspaper, would help pass the time away in the bathroom. Today, only 25% bring a magazine with them and just 10% take a physical book into the loo.
"Portable technology devices have changed both how and when we entertain ourselves and it seems that what goes on behind closed doors is no exception to this."
-Ghadi Hobeika, Marketing Director, Pixmania.com
A separate study from
Which?
reveals that the average handset has
18 times the germs
found on a toilet handle. A quarter of the phones were so dirty that they carried up to ten times the acceptable level of bacteria. One of the phones had such a high level of bacteria that continued use of the phone could have resulted in a stomach illness for its owner.
At 30 phones, the
Which?
survey was rather small, but did suggest that of the 63 million mobile phones currently used in the U.K., 14.7 million could be health hazards. In other words, you might want to think twice before borrowing someone's handset to make a call.
source:
DailyMail