Apple talking Turkey: $4 billion Apple iPad deal coming?
26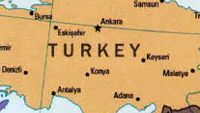 When you are negotiating a deal reportedly worth $4 billion with the president of a country, you call out the big guns. And that is why there is a rumor that Apple CEO Tim Cook is going to be part of a group of Apple executives that are planning to visit Turkey in February. The entourage will visit Turkish president Abdullah Gül to help with his "FATIH" project, which replaces blackboards and textbooks in the classroom with tablets like the Apple iPad.
In the first phase of the deal, the country would purchase 10.6 million slates with another 2 to 2.5 million iPads arriving shortly afterwards. The entire program would run over 4 years and cost the country $3 billion to $4 billion U.S. Dollars.
While in Turkey, there is speculation that Cook will also visit the first Apple Store in the country. Located at Istanbul's Zorlu Center, the store is inside an all-glass cube, similar to the Apple Store on New York's tony Fifth Avenue. The store offers 21,500 feet of retailing space, and gives Apple a brick and mortar presence in the country to go along with the online Apple Store it opened in October.
source:
emlakkulisi.com
(translated) via
AppleInsider