3GHz mobile chip barrier broken with a dual-core 28nm processor from TSMC
25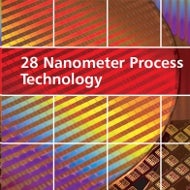 ARM has always been quoting its
Cortex-A9
and
Cortex-A15 "Eagle" architecture
capable of up to 2.5GHz per core, and that's with the most powerful representatives.
Well, it seems that for the foundries that make the actual chips nothing is impossible -
TSMC
announced that it has done a dual-core Cortex-A9 chip with its newfangled 28nm production method, that runs at the astonishing
3.1GHz
.
It's hard to believe that mobile chips have come thus far just in the span of a few years, buoyed by the revoluion in smartphones and tablets. As the 28/32nm process in the Snapdragon S4 and the new
Exynos
demonstrate, the die shrink can bring many advantages, allowing you to choose between power consumption frugality or revving it up to 3GHz+, it turns out.
The truth is in the middle, and most handset and tablet manufacturers spend thousands of manhours to balance things out, but breaking the 3GHz barrier with an ARM-based mobile chip once again comes to prove how flexible ARM's architecture is, something that undoubtedly keeps Intel execs on their toes.