250 fake Samsung Galaxy S4s confiscated and destroyed in Germany
12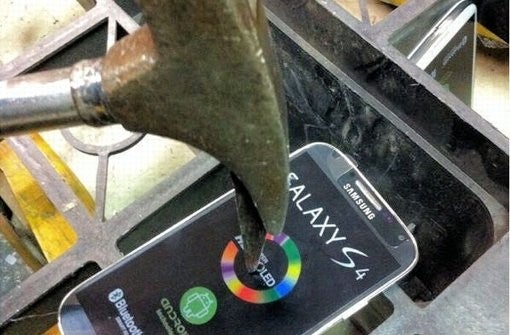 It's not unusual to see a lot of fake smartphones in China. But in Europe? Not so much. That's why German authorities must have been very surprised to find no less than 250 fake Samsung Galaxy S4 smartphones in a shipment that arrived from Hong Kong at the Stuttgart airport this month.
According to Stuttgarter-Nachrichten, Customs officers at the airport became suspicious after the alleged owners of the shipment declared that it contained just $2,000 worth of cable. The officers opened all the packages, only to find hundreds of counterfeit smartphones. Reportedly, the handsets were not supposed to go on sale in Germany, as they were headed to Georgia. Nevertheless, all 250 fake Galaxy S4s were confiscated and destroyed with hammers (apparently, the photo seen above was taken during the smashing).
Had the 250 Samsung Galaxy S4 units been genuine, they'd have been worth about $200,000 (€150,000).
German authorities are now trying to determine whether this was a one-time delivery, or if there is a network of counterfeiters out there. It's not clear if the fake Galaxy handsets looked good enough to fool customers into thinking that they're genuine. In any case, it goes without saying that, whenever you're buying a smartphone, you have to make sure you're getting it from a reliable shop / outlet / website.
source:
Stuttgarter-Nachrichten.de
(translated)
Recommended Stories