22 more banks and credit unions now support Apple Pay
5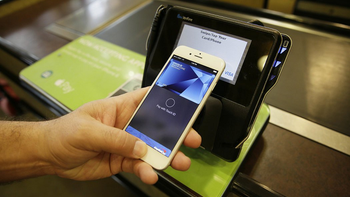 Apple announced today that its mobile payment service Apple Pay has added 22 new banks and credit unions to the list of financial institutions that support the service. This comes after
26 new banks and credit unions were added to the rolls on February 7th
. Besides the domestic expansion into more financial institutions, the tech giant continues to rollout the payment service to more countries. In the beginning of the month, Apple CEO Tim Cook said during a conference call that Brazil will be getting Apple Pay sometime in 2018.
Half of the retail stores in the U.S. now support Apple Pay, according to Apple Pay Vice President Jennifer Bailey. But that figure is well below the percentage of retailers who can use rival Samsung Pay. The latter requires that retailer POS stations be equipped with NFC, as does Apple Pay. But Samsung also uses Magnetic Secure Transmission (MST), which allows any retailer who swipes a credit card at checkout to accept Samsung's mobile payment service.
The 22 new banks now working with Apple Pay include:
Bayer Heritage Federal Credit Union
Central Sunbelt Federal Credit Union
Cornerstone Community Financial Credit Union
First National Bank in Fairfield
First National Bank of Muscatine
First Southwest Bank
Franklin-Somerset Federal Credit Union
Gas & Electric Credit Union
Houston Highway Credit Union
Lincoln Maine Federal Credit Union
Linn-Co Federal Credit Union
MED5 Federal Credit Union
On Tap Credit Union
Pennsville National Bank
Salisbury Bank and Trust
School Systems FCU
Shelby Savings Bank
Shoreline Credit Union
Taunton Federal Credit Union
The Colorado Bank & Trust Company of La Junta
Triad Bank
UNO FCU
Apple keeps .15% of the value of each credit card transaction that uses Apple Pay; therefore, as more banks and credit unions support the service, more money gets added to Apple's coffers.
source: Apple