20,000 Nexus One units sold in week one?
14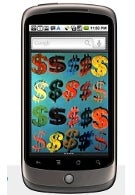 According to analytics firm Flurry, only 20,000 units of the highly touted Android superphone, the Nexus One, were sold in the first week of availability. As a comparison, the Motorola DROID sold 250,000 units in its first week on sale and the iPhone 3GS had a sales figure of 1.6 million handsets in its first week. Part of the problem when making this comparison is that the DROID and iPhone are sold through online and brick and mortar sales by each phone's carrier (Verizon and AT&T respectively in the U.S.) and with the iPhone, sales also occur through Apple's online and physical stores. The N-One is available only through Google's web site with 3G connectivity provided by T-Mobile. Flurry notes that the device has the most advanced Android OS in the world (Android
2.1
, but other Android handsets will soon upgrade to the same OS build) and unique features, but the early buzz harmed sales by raising expectations too highly. And whereas Verizon pushed the DROID with a massive ad campaign, the Nexus One is being advertised solely on Google's web page. But things will surely improve for the device. Currently, the N-One offers 3G service in the U.S. only to customers of T-Mobile but in the spring, customers of the Nation's largest carrier-Verizon Wireless-will be able to buy the handset from Google and get Verizon's 3G service. Not only will that open up the device to more than 80 million potential customers, it could also take sales away from the DROID which is currently sold at Verizon on an exclusive basis.
Don't miss our review of the Nexus One, hot off the presses!
HTC Nexus One Specifications
|
Review
source:
Flurry
via
ME