$170 device cracks iPhone passcodes in 6 seconds to 17 hours
56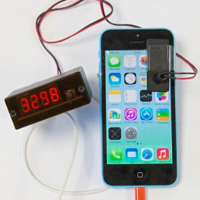 Amid all of the current talk about whether government law enforcement agencies should be able to legally force Apple to unlock an iPhone in order to look for evidence, there is a machine available now that will find the four-digit passcode used to lock down an iPhone. And this device costs only $170 at London's Fone Fun Shop.
Fone Fun Shop director Mark Strachan says that this machine was developed to help iPhone owners get to their photos or contacts in a locked iPhone with a forgotten passcode. Discovered in Hong Kong, Strachan says that they were at first skeptical that the device would work. But over time, the tool has proven itself over and over again.
The so-called IP-BOX will work on iPhones running iOS 7 and older. It takes 6 seconds to 17 hours hours to crack the four-digit passcode. The
Daily Mail
purchased the device and cracked the code on an
Apple iPhone 5c
in 6 hours. A version that will work on iPhones running iOS 9 will be available later this month.
Strachan says that he believes that the IP-BOX uses
the same method employed by the FBI to unlock the iPhone 5c used by Syed Farook
, without Apple's help. The FBI is now offering to help other law enforcement agencies seeking to unlock an iPhone, iPad or Apple iPod touch.
Apple is trying to discover how the FBI unlocked the phone
so that it can issue a software update to close the vulnerability.
Thanks for the tip!
source:
FoneFunShop
via
DailyMail