16GB Google Nexus 7 gone like the wind from Google Play Store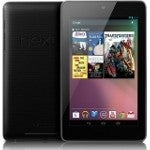 The 16GB model of the Google Nexus 7 is sold out from the Google Play Store and for the time being
cannot be ordered from the online store
. The tablet's page on Google Play Store now shows that it is "coming soon" and offers a place for you to leave your email address so that you can be notified when the 16GB ASUS made tablet is available once again. While the 16GB model of the Google Nexus 7 is sold out, the 8GB version still can be purchased from the Google Play Store for $199. The 16GB model is priced at $249 when available.
advisable to call first to see if stores like Best Buy, or even Staples have the 16GB tablet in stock
considering that
many of these chains have already reported that they are sold out
. But keep in mind that these sold out retailers are talking about pre-orders and there is still a chance that there could be an odd unit or two available inside a physical store. Most people might look at electronics stores like Best Buy and HH Gregg as a place to purchase the tablet, and might not consider an office supply store like Staples. But earlier this month,
Staples web site revealed that it would be selling the 16GB version of the tablet
.
It is thought that with the thin profit margin on the 8GB model, most retailers have made larger orders of the 16GB model, leading to larger supplies of the higher priced version. Additionally, the stores might have felt that there would be more demand for the 16GB model because with no microSD slot on the device, many potential buyers of the tablet
would want as much native memory on the model as possible
.
source:
16GBGoogleNexus7
,
TheVerge
via
Phandroid