Retailers already reporting Nexus 7 as sold out
22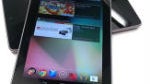 It seems like people really do love 7" tablets priced at $200 and branded by known companies (ie Google & Amazon, not Pandigital or Maylong,) because word has it that retail partners have already begun reporting that the Google Nexus 7 is sold out. According to a Reuters report, GameStop, Staples, Sam's Club, Office Depot, and Walmart have all listed the tablet as sold out. And, keep in mind that the Nexus 7 still hasn't officially hit store shelves, these are all pre-orders.
Supposedly, GameStop has actually already run through its first two allocations of the tablet, and won't be seeing its third allocation arrive until August. And, as of today, the websites for Staples, Sam's Club, Walmart, and Office Depot are all listing the tablet as being out of stock. This all happening before the tablet has even officially gotten a
street date
.
Of course, no one knows how many Nexus 7 tablets were in each allocation, so we don't know how many were sold. It had been rumored that the initial production run for the tablet would be just
600,000 units
, which would certainly run out quickly given the solid reviews and low price tag of the Google tablet.
Now, that begs the question: did Google underestimate demand given the sales history of Nexus phones, or was the initial production run kept low on purpose (perhaps to pull a Nintendo and drive up demand by selling out so quickly)?