16 of top 20 smartphones are Android powered says latest Media Mix report for June
83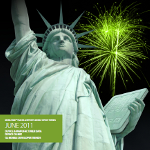 No one can take raw data and come up with as many categories as Millennial Media and its monthly Media Mix report can. Using the number of impressions on the firm's media network, certain rankings can be devised. For example,
16 out of the top 20 phones globally in the June 2011 report are Android powered
even with the Apple iPhone listed as number one and the BlackBerry Curve as number two, making 16.19% and 5.57% of impressions on Millennial Media's ad network respectively. This could be due to the fact that there are many different versions of both phones that are still in operation today. The first Android model in the report is the third place Motorola DROID with 2.95% of impressions. The high showing of the original DROID shows how ruggedly the phone was built and despite specs that would be considered out of date, many original owners still use the model as their everyday phone; we would expect to see a
massive move to a new device
when the 2 year anniversary of the model's launch comes this November. The Google Nexus S doubled the percentage of impressions it had month over month and is now number four on the top 20 list. The BlackBerry Bold 2 rounds out the top 5.
Among manufacturers, Apple devices accounted for 30.76% of impression share to lead the way. Samsung showed 10% growth month to month and is second behind Apple with a 14.94% share. RIM, HTC and Motorola round out the Top 5. Among the breakdown in connectivity, a Wi-Fi network was used during 34% of impressions followed by the 18% slice of the pie belonging to Verizon and 12% from Sprint-Nextel models. Strangely, AT&T was
buried in a three-way tie for fourth
with target T-Mobile and the "other" category made up of mostly overseas carriers, all having 8% each. Touchscreen devices led the way among different device input models, accounting for 60% of the phones making an impression on the MM network. That dovetails with the 65% of devices making impressions that would be considered a smartphone. And, looking at smartphones only, Android devices led with a 54% share followed by the 26% owned by iOS and the 15% from BlackBerry. Symbian devices accounted for 3% of impressions with Windows making up 2%.
The breakdown of app downloads went
just as you would expect
with the App Store, Android Market and BlackBerry App World ranking as numbers one, two and three respectively. So which apps are we using? Games are first, Music and Entertainment is second while mobile social networking is third. Communications ranks fourth and using a weather app is fifth.
It is amazing that
so much data
can be devised from looking at Millennial Media's ad network. Check out the sourcelink for more lists based on which phones were used by those clicking on third party ads provided by the company.
source:
MillennialMedia
via
AndroidGuys