15 productivity apps optimized for Honeycomb
4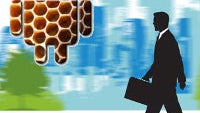 One of the best alternatives to the stock Honeycomb browser, Opera Mobile supports Adobe Flash and is among the most responsive browsers out there.
This might not be an absolutely essential app, but it brings a brilliant idea – browsing two pages simultaneously.
Thinking Space Pro allows you to visually map your thoughts in a simple yet efficient way.
Evernote is available for pretty much every platform we can think of and the Honeycomb-enhanced versions brings the same robust note-taking experience with cloud features.
An alternative to Evernote, SpringPad is a smart note app which offers an offline browser and the widgets to see your notes directly on your homescreen.
Nicely optimized with tablets, QuickOffice Pro HD justifies its as it's integrated with many other apps like Dropbox for easy access to cloud storage.
The price of DocsToGo has been slashed significantly, and while it lacks in features compared to QuickOffice Pro HD, it still offers most of the features you need for half the price.
While still a beta, the tethering application is a welcome addition for mobile data-hungry users.
Probably the best cloud-storage service out there works with Honeycomb tablets and is free.
File Expert expands on the standard file manager app and allows accessing network storage in a stable and reliable way.
A tablet optimized version of File Manager, the HD version supports compressing, sharing and accessing files.
Holding the sky in your hands has never seemed so realistic. With Google Sky Map you can take your astronomer's aspirations to the next level.
Google Earth is pretty much a must-have app for every tablet out there.
The application has one of the best interfaces and most trusted sources of weather information. Pair this with a price tag of free, and we see no reason why you wouldn't try it.