Here are 8 social apps optimized for Honeycomb
2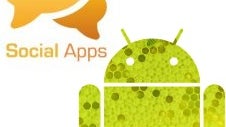 Ah, the mystery of the missing Honeycomb apps! It's been months since the launch of the first tablet on the platform and we could still only count as many as 300 applications optimized for the tablet platform. Developers don't seem to be in rush to optimize apps as sales of the tablets are still slow in comparison to the iPad, but Android for smartphones started off slow as well. Now, we're way past the early adoption stage, so we've decided to share our selection of Honeycomb-optimized social applications that everyone can benefit from having.
Social apps for Honeycomb:

Facebook app for Honeycomb
There is no official Facebook app, but a couple of third-party developments serve the purpose well. A decent Facebook application for Honeycomb is really hard to find, but Friend Me - despite its shortcoming – manages to deliver a clean interface and plenty of usability.
FriendCaster was the first Honeycomb-optimized Facebook app and it's our second best option.

Twitter application
Much like Facebook, Twitter has lacked a proper application and TweetComb long was the only to fill this gap. The price has also been slashed from $2.99 to free, making the app much more appealing.
Plume, previously known as Touiteur, would be our alternative with its very intuitive UI, but lately the app has undergone some changes to the worse with the RT option disappearing for protected accounts. If that doesn't bother you too much, you'll definitely enjoy the experience.
A great organizational tool, JustPictures lets you see not only images from Picasa, but also Facebook, Dropbox and others. It also works with all of them so you can quickly share photos.
FlickFolio is a Flickr app enhanced for Honeycomb and that should say it all. The price is definitely worth it for heavy users.
The application offers similar functionality, only this time it's aimed at Picasa.

Video conferencing
Video collaboration is just very easy with Fuze Meeting. A top pick for those of us waiting for a tablet-optimized version of Skype.