15 best RPG games for iPhone and Android (2015 edition)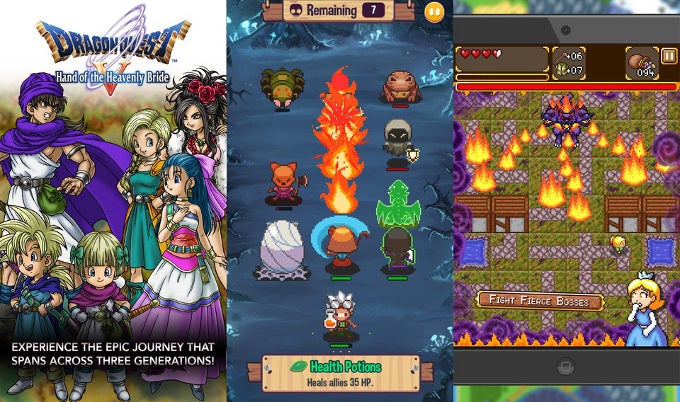 We might not yet have Diablo for Android and iPhone, but this does not mean there aren't some great role-playing (RPG) games on mobile. We dive in the depths of Google's Play Store and the Apple App Store to find the 15 best RPG games you can play so far in 2015.
While there is quite a few original RPG releases for iPhone and Android, it's impossible to do such a round-up without mentioning some PC classics that have recently been adapted for touchscreens. Thanks to the consistent work of game studios like Square Enix, good news is that we have the legendary Super Nintendo (SNES) Final Fantasy series available on both Android and iOS. In this list, we've also tried to give some recognition to more recent releases that do not compromise on quality, but if you have some earlier released RPG favorites, do not hesitate to share the names in the comments section at the bottom of this article.
With no further ado, it's time to start with the countdown: here are the 15 best Android and iPhone RPG games so far in 2015.
#15: Road to Dragons
Road to Dragons does not shine with the most brilliant of stories - an army of mysterious and evil Giant Gorger Dragons take over the world, leaving it in darkness for 17 years, until a hero is summoned to save the people from their tyranny, but the gameplay is engaging. A lot of the action in Road to Dragons is placed on chess-like battlefields filled with monsters and treasure boxes, where you select one of eight possible paths. You have to pick the right fighting strategy and there are dragon bosses (and boy, they are huge) at the end of every chapter, and it all works to some nice gameplay for a free title.
#14: Swap Heroes 2

Swap Heroes 2 features an interesting battle mode where you swipe to switch your hero and select the right attack, and it is a surprisingly good role-playing game where you form your squad and guide it through various missions. With 8 unique heroes, over 10 new locations, as well as more than 30 different enemy types, you get plenty for your three-dollar investment.



#13: Joe Dever's Lone Wolf
#12: Lowlander
#11: Siralim
#10: SwapQuest
#9: Evoland
#8: Icewind Dale: Enhanced Edition
#7: Baldur's Gate 2: Enhanced Edition
#6: The Banner Saga
#5: Wayward Souls
#4: Order & Chaos Online
If you want an immersive MMORPG like World of Warcraft on your phone, Order & Chaos is probably the best way to go with a bustling community of players, and the underlying well-balanced fantasy worlds and 5 different characters to choose from (Elves and Humans fight for Order, Orcs and Undead for Chaos, and the Mendels are neutral). You get to pick your gender, appearance, class and talent, and can accumulate up to 2,500 skills and discover as much as 5,000 pieces of equipment.
#3: Battleheart Legacy
Battleheart Legacy lets you explore a rich and detailed fantasy world, customize your unique hero with dozens of powerful skills and items, do battle with hordes of enemies, encounter quirky characters and discover the stories of a troubled realm. It's up to you to choose whether you will become a powerful wizard, or a notorious rogue.
#2: Dragon Quest V
Dragon Quest V is widely believed to be the best game in the Dragon Quest series with a deep and long-developing story, as well as board-based battle system where you roll the dice to see the outcome.
#1: Final Fantasy VI
"The War of Magi left little but ashes and misery in its wake. Even magic itself had vanished from the world. Now, a thousand years later, humankind has remade the world through the power of iron, gunpowder, steam engines, and other machines and technologies. But there is one who possesses the lost power of magic--a young girl name Terra whom the evil Empire has kept enslaved in an effort to harness her power as weapon. This leads to a fateful meeting between Terra and a young man named Locke. Their harrowing escape from the Empire's clutches sets in
motion
a series of events that touches countless lives and leads to one inevitable conclusion."