11 smartphones with completely unique features that set them apart from the crowd
24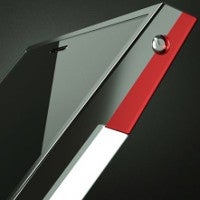 While the era of phones with unique and sometimes downright wild features ended with the transition to the mostly homogeneous smartphone, there are still handset makers out there that dare to experiment. From phones capable seemingly bending the laws of physics, through ones that can project stuff on walls, down to odd phones that incorporate a Geiger counter of sorts to detect radiation, it's fair to say that the adventurous among us can still get their hands on something completely unique.
For the purposes of this collection, we set several rules. First off, the phones you'll find below are all available for purchase right now or
very soon
. Second, we decided to focus only on devices that were released to the market starting with 2013 onward to ensure that you'd actually
want
to buy them. And lastly, the more unique or weird the phone is, the better.
Turing Phone
Turing Robotics Industries (TRI), the company behind the Turing Phone, has announced its intention to make 10,000 units of the device available for pre-order starting July 31st. The cheapest, 16GB model will cost $610 in the US, with the top-of-the-line, 128GB version going up to $870.
So what's special about the Turing Phone? Well, first off, a simple look at the phone will convince you that TRI dreamed up something truly special. If we had to draw an analogy for their first smartphone, it would be one involving sports cars. But it's not just looks with the Turing Phone; the device is made out of what the company is calling Liquidmorphium, which is supposedly tougher than titanium or steel. In addition to that, TRI promises end-to-end, decentralized authentication technology that should make your device a hard target for snooping.
YotaPhone 2
Russian smartphone manfuacturer Yota's YotaPhone 2, as the name implies, is the second in its line of dual-screened devices, and well-deserving of a spot on this particular list. Instead of powering two full-blown displays, however, the YotaPhone 2 totes an e-Ink display on the back, which can be used for reading, among others.
As e-reader owners (think Kindle, Nook) may know, e-Ink displays are extremely frugal with their power consumption, as power is only drawn when you turn a page and display new content. The rest of the time, the screen operates on essentially no electricity.
Samsung Galaxy Beam 2
The Samsung Galaxy Beam 2 is not a flagship device, that's for certain. But it has a very unique feature: a pico projector that resolves 800 x 480 pixels. Like the YotaPhone 2, the Beam 2 is also a successor — to the original Galaxy Beam.
As mentioned, the phone, released in 2014, is fairly unimpressive otherwise. It has a 4.7-inch display with a resolution of 480 x 800 pixels, a quad-core processor, 1GB of RAM, and a 5-megapixel camera.
PANTONE 107SH
As part of its Winter 2013 collection, Japanese carrier SoftBank released quite the unique device — the Pantone 107SH, with a built-in Geiger counter. With it, users are able to get live radiation readings at any time. In light of the 2011 Fukushima Daiichi nuclear meltdown disaster, the introduction of the 107SH on the Japanese market certainly made sense.
Beyond its Geiger counter function, Pantone's phone is pretty unimpressive hardware wise. We've got a 3.7-inch display with 480 x 854
pixel
resolution, a 5-megapixel camera, and IP57 certification.
Oppo N3
Specs-wise, Oppo's 5.5-inch N3 phablet is no less than a top-of-the-line device, but it is its camera that sets it apart and ensures it a spot on our list today.
The motorized, swivel camera has 16 megapixels, and can be used as a back
and
front camera. While the Oppo N3's predecessor, the N1, also had a swivel camera, it wasn't motorized, so you had to manually move it. No such problems with the Oppo N3, which can actually take panoramic photos completely automatically. You just tap to start, and the motor inside the camera on the top captures a perfectly aligned pano on its own.
Panasonic Lumix CM1
While cameraphones aren't exactly new, the Panasonic Lumix CM1 is quite unique in that it packs the largest camera sensor (1") ever put on a phone device. The only other device on the market with a sensor even remotely as large is the now aged Nokia PureView 808 with its 1/1.2" sensor.
The great thing about the CM1 is that it's a pretty decent device beyond just the impressive main camera. It's got a 4.7-inch, 1080 x 1920 pixel resolution display, a quad-core Snapdragon 801 processor, 2GB of RAM, and a 2,600 mAh battery.
Amazon Fire Phone
While Amazon's first smartphone — the Fire Phone — flopped hard, today we recognize one of its completely novel features: dynamic perspective.
Alike to the parallax effect available with the iPhone's wallpapers, the Fire Phone takes things further by creating a much more comprehensive and cohesive 3D environment within the phone's interface. To do this, Amazon fitted four very power-efficient cameras and four infrared LEDs up front, all of which work together to track the position of your head in order to deliver this neat effect.
LG G Flex 2
While most of the devices so far on the list were fairly niche and obscure, LG's G Flex 2 is used to the limelight. Like its predecessor, the G Flex 2 is the only truly
bendable
phone that can also
heal itself
. Nope, you read that right, the phone can take quite some punishment, and any leftover scars on the back will heal over time, so long as they're not too large (think scuffs).
Samsung Galaxy Round, S6 edge, and Note Edge
Speaking of stuff that flexes, we can't forget Samsung's Galaxy S6
edge
, Galaxy Note Edge, and Galaxy Round, all three of which feature flexed displays like we've never seen before. The only difference between these devices is the size, their particular specs sheets, and indeed — the direction of the screen flex.
That's right, while the aptly named Galaxy S6 edge and Note Edge both have their screens flowing to at least one side, the Galaxy Round's panel is actually inward sloping.