11 Galaxy S5 features that make sense
64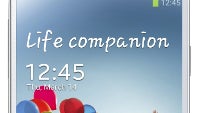 Look at us, it's still 2013, but we're already thinking about next year's Samsung flagship. From the original Galaxy S to the current GS4, Samsung's flagship Android smartphone line-up has amazed us with its cutting-edge technology and over-the-top feature set. Having this in mind, it's easy to understand why we're so excited about all the features and goodies that Samsung might eventually stuff into the Galaxy S5.
Actually, having given it a bit of serious consideration, we believe we've managed to come up with a list of 10 things that would just make sense as part of the Galaxy S5's feature set. Well, some of these goodies probably don't have such a high chance of happening as some of the others, but either way, it'd be wonderful if Samsung manages to incorporate it all into its upcoming flagship smartphone.
Feel free to check our list of Galaxy S 5 features in the following gallery, and be sure to share your thoughts in the comments!
Recommended Stories