10 useful Android benchmark apps
6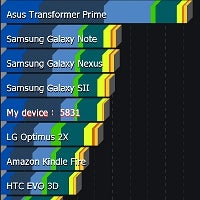 So you got a shiny new Android phone/tablet and want to check what's making it hum? Or you wanted to squeeze more power from your existing gear, bumped up the CPU speed, installed a new ROM or updated to the newest Android version, and now need to compare the increase in productivity?
Either those, or just your annoying friends are throwing around benchmarks as bragging rights, so you finally decided to give it a try, and measure the performance of your phone or tablet more scientifically then "yep, no lag".
For when the geek in you starts to speak, Android Market is brimful of benchmarking apps that measure the CPU, GPU and I/O performance of your handset, even the rendering prowess of your browser. In general, the better the overall scores, the more seamless everyday performance will be, so it's worth checking what's out there in terms of benchmark apps.
The results, of course, depend on a number of variables, like the extent of UI overlay and bloatware that came with your phone, the optimization done to the hardware and software from the manufacturer, the moon phases, and other issues you have no control of, but in general benchmarking is a pretty useful tool for comparing performance.