$10 to $20 add-on feature expected to accompany the HTC EVO 4G?
This article contains unofficial information.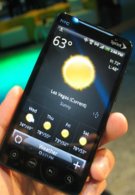 Some fresh interesting news regardingthe HTC EVO 4G have surfaced today and paints a time line on itsexpected launch and something that future owners may have to pay inorder to use the Android powered device. Engadget's trusted contactis reporting that "a lot of upper management" over at Sprint havebeen eying to dates that could be heralded as its release – the first beingJune 13 while the other June 6. It's more likely that the wirelesscarrier will be more inclined with the June 13 release date asopposed to the other – looking at the calendar right now, it'sapproximately 2 months away. Again, it would fall in line with thesummer release time line that was uttered during CTIA. Facing theattention outside of its launch date, additional news point to arumor that the EVO's Mobile Hotspot feature would require a $10 to$20 add-on feature. On another note, we've reported how Verizonstarted to offer Mobile Hotspot service on their webOS handsets forfree – which makes you wonder what Sprint might consider doing withthe EVO 4G. Finally, it's still up in the air if Sprint will charge anew fee for its 4G connectivity on the device. If Sprint continues torecognize themselves as being a value brand company, it'll beinteresting to see what aggressive price structures, if any, willultimately result from the HTC EVO 4G's release.
HTC EVO 4G Specifications | Hands-on
source: Engagdet