10 reasons why the Galaxy S6 is a better phone than the LG G4
85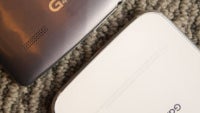 We had quite a blast checking out the LG G4 at a private event ahead of its announcement, and loved what the company achieved with it. The phone definitely feels like it's matured enough to be taken way more seriously than ever before, and it's chock-full with extras and features.
But how does it compare to an already established industry-heavyweight like the Samsung Galaxy S6? In many ways, the two seem to be on par for the most part, but this isn't always the case. Indeed, there are features and qualities that, objectively, are points for Samsung's top shelfer. Granted, the magnitude of some of these omissions/weaknesses on the LG G4's end will vary depending on a person's needs and likes.
So what are they? Join us in the gallery slideshow below that outlines the 10 reasons why the Galaxy S6 is a better phone than the LG G4. When done, make sure to go through the opposite list that can be found
right here
.