10 puzzle games for Android #2
5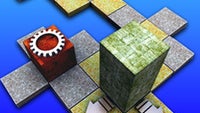 Once again, it is time for a selection of video games, and the highlight today is puzzles. And believe us when we say that puzzle games come a dime a dozen when smartphones and tablets are concerned.
However, not all of them are worth your time. That is why we decided to pick a handful of Android puzzle games the we enjoyed playing, hoping that you'll find them interesting as well.
And by the way, this isn't the first time we pick that kind of games for you, guys. In case you've missed our previous selection of
Android puzzle games
, go ahead and check it out.
With that out of the way, feel free to browse through the slideshow below and tell us which game you like the most. As usual, if you believe we've missed a game that should have been on the list, drop us a line in the comments!