10 of the greediest apps & games ever, as selected by PhoneArena readers and us
15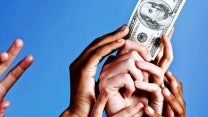 A week ago,
we asked our eagle-eyed readers
about the most disgustingly greedy apps out there that thrive inside Apple and Google's stores. Once again, we didn't end up disappointed in your capacity to deliver the goods and give them a proper critique while you're at it.
Unfortunately, there are a lot of greedy developers and publishers out there that just don't seem to understand monetization beyond "let's make them pay for everything, or suffer endless frustration". Well, this right here is their place to shine. These 10 games and apps contain all the oldest tricks in the book, be it throwing hordes of superior enemies at you to make you pay to catch up, propping up paywalls that won't let you progress past a certain point unless you fork out the dough, or making you pay as much as $500 to complete the entire game at 100%.
Everyone realizes that developers and publishers have to make money. But some have taken the dream of getting rich to a ludicrous extent. See for yourself in the slideshow below. By the way, we added a couple of our own findings too, just so we're even with you guys!