10 Galaxy Note 4 features that are missing in the iPhone 6 Plus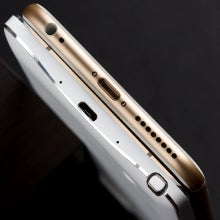 After listing features of Apple's first phablet - the
iPhone 6 Plus
- that are
notably missing in the Galaxy Note 4
, the time has come to do the reverse engineering, and catalog the options that Samsung's handset offer that are nowhere to be seen in the 6 Plus. Apple set its phablet apart from the more mainstream
iPhone 6
by equipping it with an optical image stabilization system, and adding extra options in its interface, such as the dedicated landscape orientation mode.
Still, it is no match for the arguably most decked-out Android handset out there, when it comes to features, options and functionality. Even without the extra input mode of the S Pen stylus, the Note 4 is as futureproof as they come this year, as it features an ultra high-res display, the fastest commercially available Snapdragon chipset, one of the best mobile phone cameras around, and an interface chock full of features. Let's checklist some tangible for the average user benefits the Note 4 has against the
iPhone 6 Plus
that Apple hasn't slapped in its newly-minted phablet.