Ö smart ring tells you the time, alerts you to messages and more
14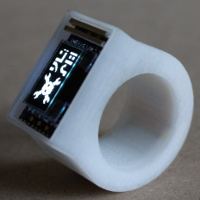 How would you like to wear a smart device on your finger? Kevin Bates, creator of the Ö ring, wanted to see how small he could make the technology necessary for this Bluetooth connected smart ring. Sporting a 64 x 32 resolution monochrome OLED display, the ring includes a rechargeable 40mAh battery that will give you 4 hours of use before requiring a charge. A 16MHz processor drives the device.
Production of the Ö ring will start sometime this year. With the ring you will be able to "
Receive and reply to notifications from your cell phone! Display fun animations at a party!
"
"I made this just to see how small I could get the technology. I became inspired after seeing several crowdfunding campaigns for smart rings become hugely successful. I wanted to see if it was possible to develop a technology more advanced than what they had displayed in their promotional materials. In general, I think people should be more skeptical of hardware crowdfunding and demand to see more behind the scenes operation of the underlying technology"-Kevin Bates, creator, Ö ring
Bates hasn't revealed a price yet, probably because he is still running through quotes from manufacturers. We do have a video though, showing the Ö ring in action. Check it out and let us know if you think that there is a place in your life for a smart device worn around your finger.
source:
Arduboy
via
Gizmodo