Nothing Ear Stick review: sticks to the basics, nothing to complain about (for this price)
3
We may earn a commission if you make a purchase from the links on this page.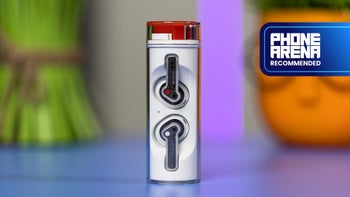 The Ear Stick here, stylized as "Nothing Ear (stick)", is one of Nothing's latest products, and follows the company's now-distinct transparent design language.
But stylishness and unusual cylinder-shaped charging case aside, are those true wireless earbuds worth your consideration, or… are they nothing to sneeze at? Let's find out!
Nothing Ear Stick design and fit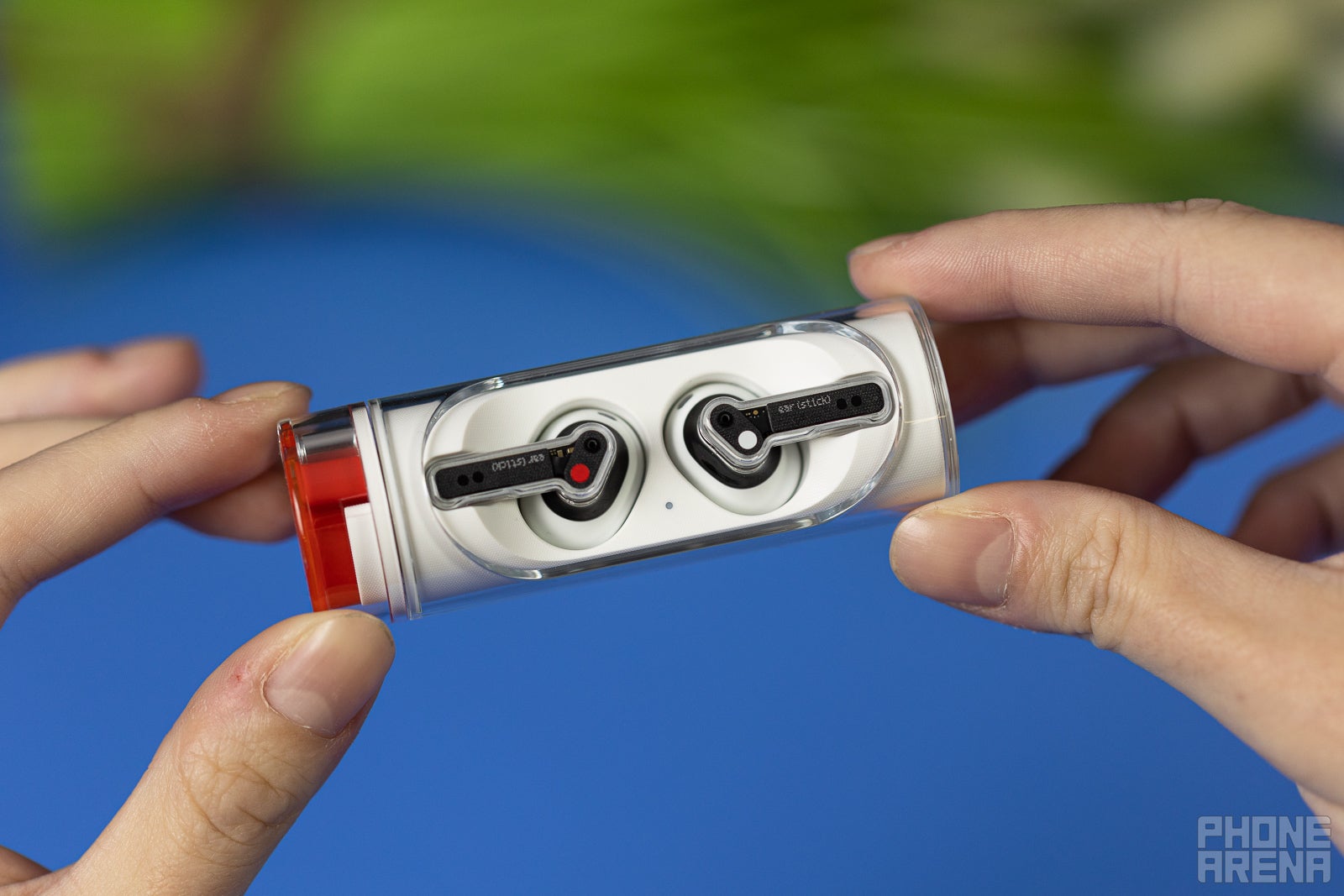 The Nothing Ear Stick case and earbuds; a stylish cylindrical package (Image credit - PhoneArena)
The Nothing Ear Stick charging case's cylindrical shape is sure to turn heads when you pull these out of your pocket. It has a transparent plastic cover that showcases your earbuds, plus a grippy white plastic interior. It feels good and substantial in the hand, while also very light at 46.3 grams, which is good.
However, that shape doesn't feel as nice and compact in the pocket as a traditional square charging case does (think AirPods and Galaxy Buds), but it's still not exactly uncomfortable either. I just don't think most people would be able to fit anything else in that same pocket, and if you have particularly tight pockets, maybe not even the case itself. In addition, it can look weird to have an unusual cylindrical-shaped bump on the side of your pants... You know?...
The earbuds themselves quite resemble the
Nothing Ear (1)
from last year, although there's one major difference here that could make or break the Ear Stick for you – these don't have rubber eartips. For me, that's "make", because rubber eartips irritate my ears after long periods of music listening. But for some people, the lack of eartips, and in turn – the lack of passive isolation, plus the potentially weaker sound that results from it, could be an issue.
For all of their transparent beauty, including some unnecessary, tiny "ear (stick)" text under their plastic exterior, those earbuds could've rather used "left" and "right" markings instead, because at first I found myself having trouble figuring out which one should go where. It's not clear when you take them out of the case either; no "L/R" marking on that one too.
In any case, once you figure out the left and right ordeal, you'll notice that these earbuds are quite comfy. You can shove them deeper into your ear for a better seal (and stronger bass) or not so much – for extra comfort, which is what I'm going with. Either way – they stay securely in the ear, so if you're planning to work out with these – you'll be happy with the fit and feel. The Nothing Ear Stick are IP54 dust, water and sweat resistant, so you're good for heavy workouts.
Dimensions of a Nothing Ear Stick earbud:
Height: 29.8 mm
Width: 18.8 mm
Depth: 18.4 mm
Weight: 4.4 grams
Dimensions of the Nothing Ear Stick case:
Height: 87.1 mm
Width: 29.8 mm
Depth: 29.8 mm
Weight: 46.3 grams
Nothing Ear Stick sound quality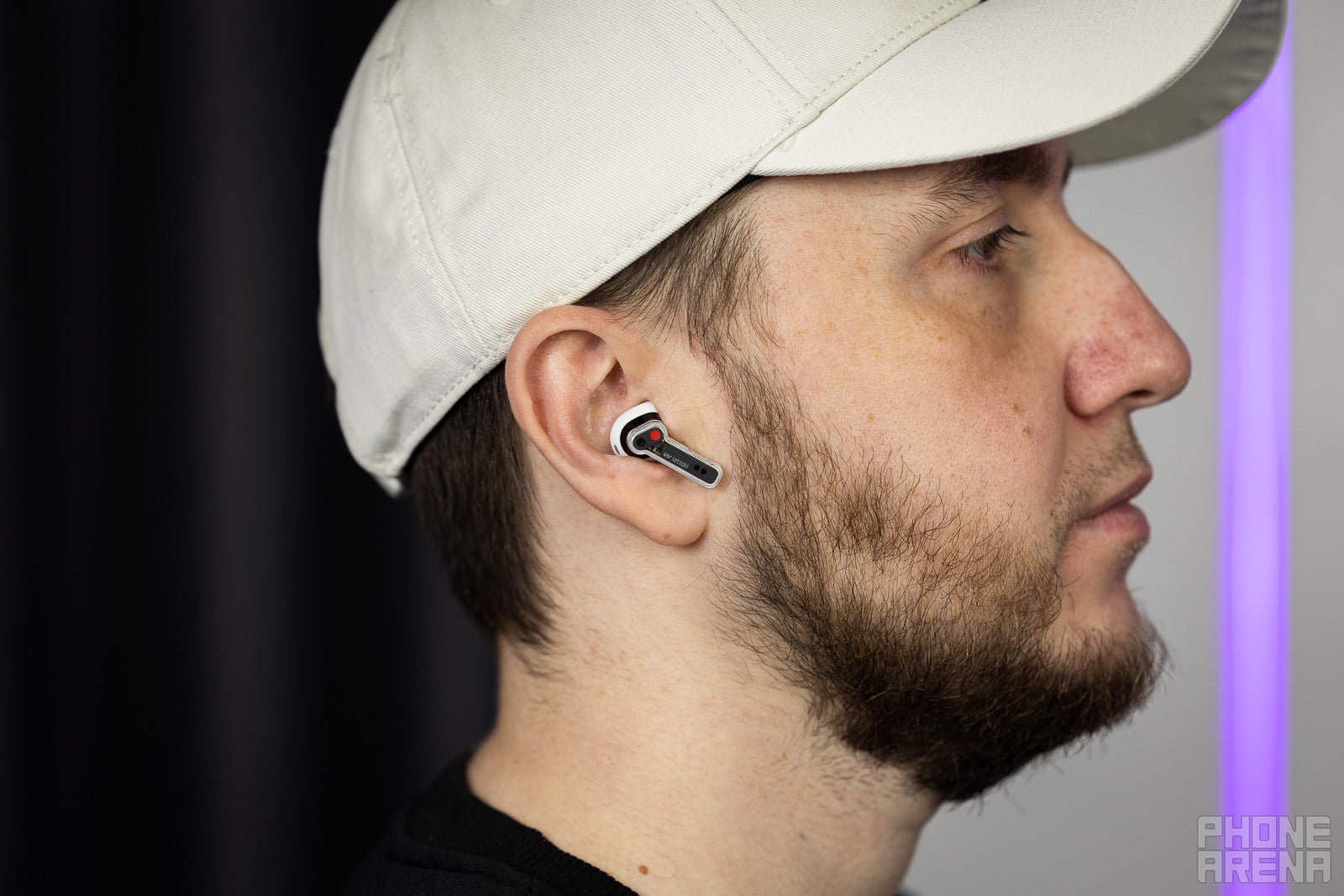 Nothing Ear Stick (Image credit - PhoneArena)
Out the bat, it's clear that the Nothing Ear Stick earbuds perform quite a bit better than their humble $99 price might suggest. I was immediately impressed with their crystal clear sound. They can get wide when the songs are mixed to be wide, and reasonably bassy when needed too. I am very impressed with how far we've come with true wireless earbuds, considering how good these sound, and just for $99 (at Nothing's website, at least)!
The bass in particular is so surprisingly good – we don't have cheapo overpowering and muddy bass here, but super deep and clean tones – which is great. Now, don't expect the strongest bass, because the Nothing Ear Stick don't have it, but it is there, and again, nicely clean. For people who like their music sounding flat and realistic – these won't disappoint. Especially, again, considering their cheap price.
As for the active noise canceling situation, the Nothing Ear Stick don't have ANC (active noise canceling), so if you need that, check out the older Nothing Ear (1) instead, which will usually cost you $50 extra.
Below we have some other features and Nothing Ear Stick specs, for those who are interested, which are definitely worth mentioning:
Drivers: 12.6 mm dynamic
Diaphragm: PEN (Polyethylene Naphthalate) + PU (Polyurethane)
Codec: AAC and SBC
IP54 dust, water and sweat resistant
In-ear detection
Google Fast Pair
Microsoft Swift Pair
Nothing Ear Stick touch controls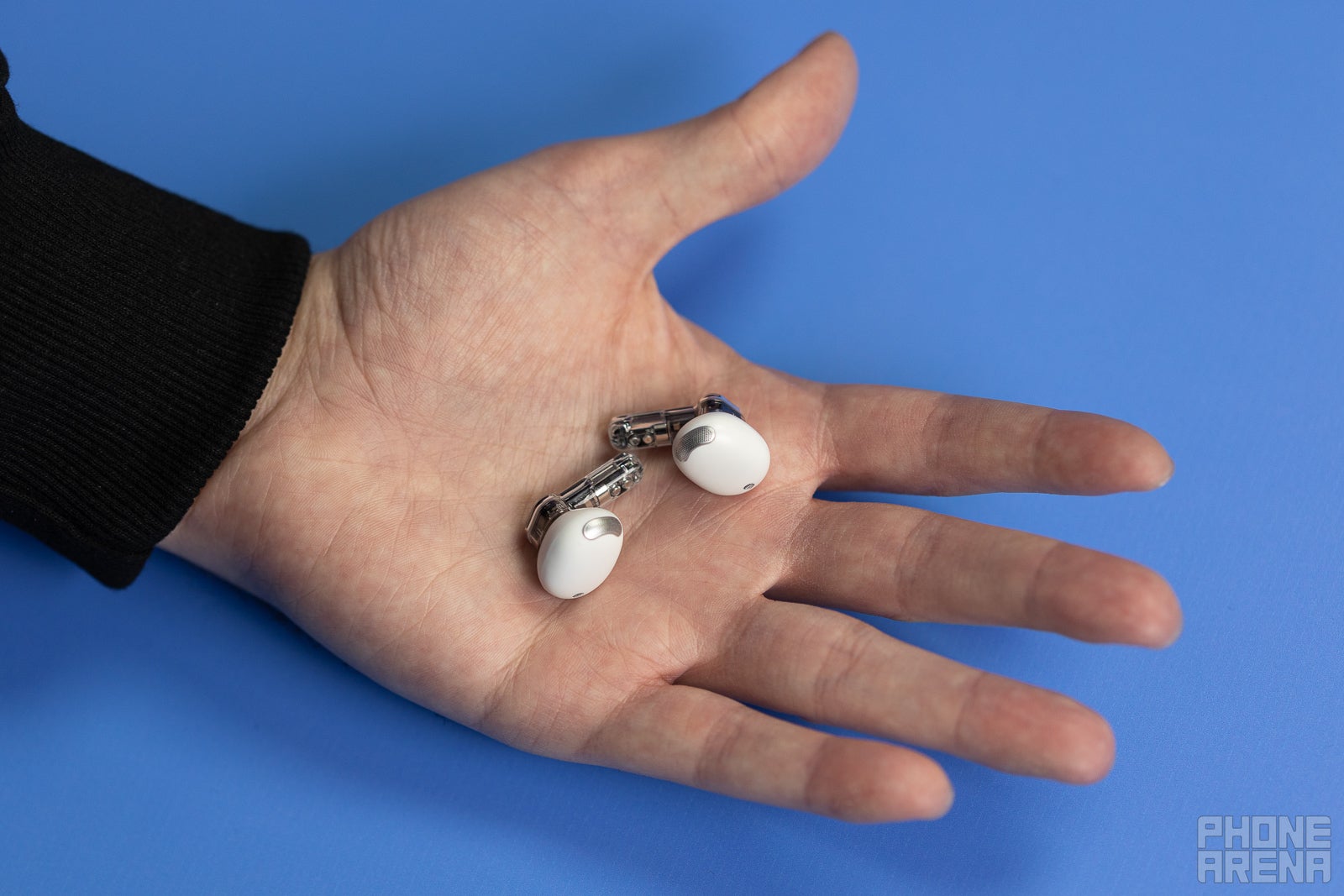 Nothing Ear Stick (Image credit - PhoneArena)
I'm not particularly surprised that the touch controls we have here are more akin to what Apple's AirPods offer, rather than what Samsung or other brands do. Don't ask why... But hey, it's not like that's a bad thing.
Nothing calls them "press controls", and basically, you squeeze the stem of an earbud to trigger an action, just like you would on AirPods. Why is this great? Because it means you'll never deal with any accidental touch gestures when adjusting the earbuds in your ears, like I often do with my Samsung Galaxy
Buds Live
.
Better yet, that squeeze gesture is extremely responsive, and you get a nice and reassuring audio feedback every time you use it.
You squeeze once to play and pause, twice to skip to the next song, and three times to rewind the current one, or go back to a previous song. Absolutely traditional stuff, which is also good, familiar.
Nothing Ear Stick connectivity
You can pair the Nothing Ear Stick with both an iPhone or an Android phone no problem, and pairing is quick and easy. That magnet-looking thing on the top of the case – you may be surprised to find out that it's actually the pairing button, so press on that if they don't start pairing automatically, and you're good.
The Nothing Ear Stick uses Bluetooth 5.2 for pairing with your devices; and by the way, obviously your can pair these earbuds with computers and tablets too, not just smartphones.
Nothing Ear Stick battery life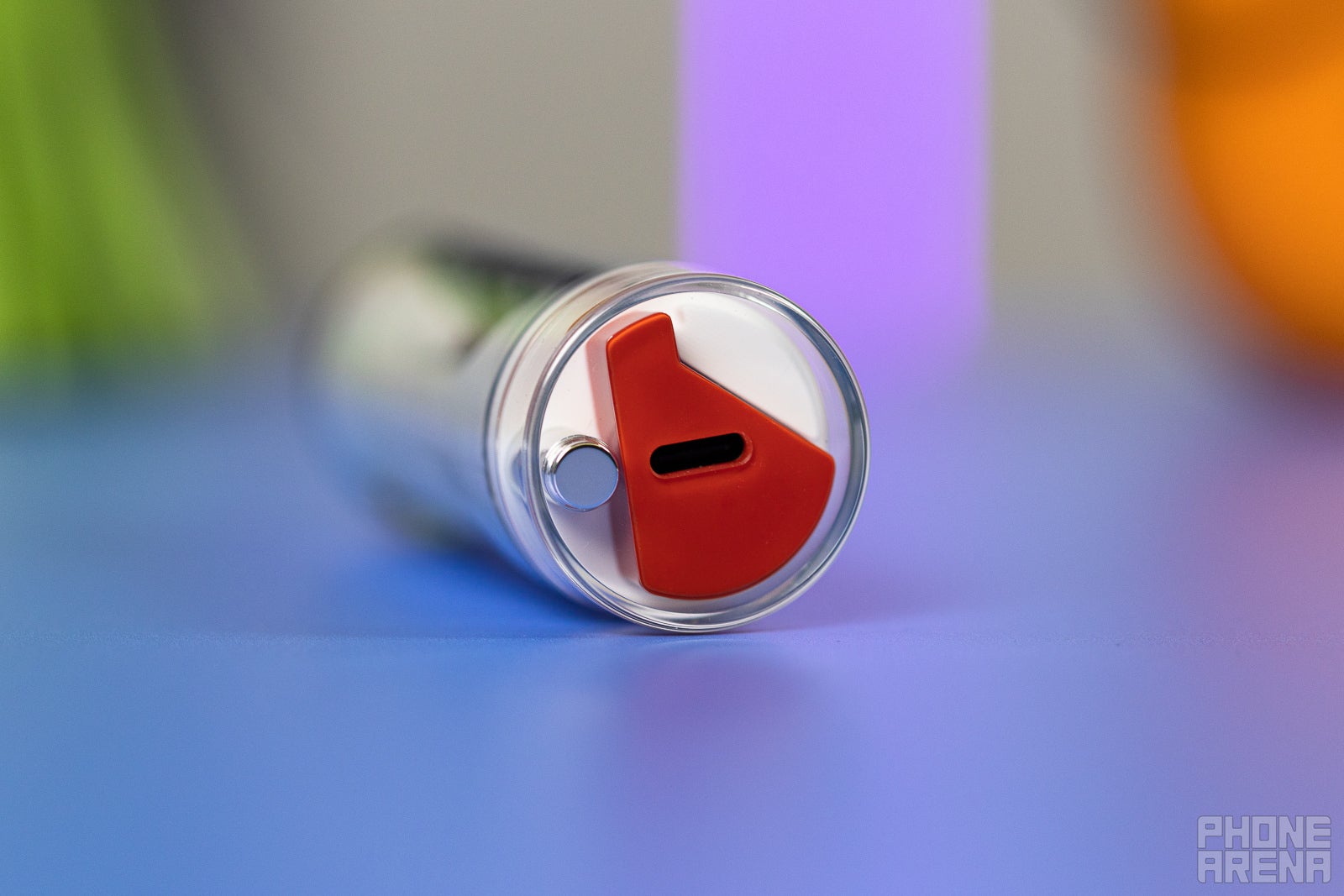 Nothing Ear Stick charging port and pairing button
So, does this unusual (and objectively larger) case at least offer longer battery life than we've come to expect from the average true wireless earbuds?
Well, according to Nothing, the Ear Stick earbuds are rated for up to 7 hours of music listening, standalone. If stored in their case between music sessions, that goes up to 29 hours of listening time before you'll need to charge that case, which is indeed pretty great. In fact, it's quite a bit more than, say Apple's 2nd-gen AirPods and their 24 hours, so – good stuff.
The Nothing Ear Stick come with a USB-C charging cable out the box, but no charger, which is standard for true wireless earbuds. So you'll likely have to use your phone's charger for these also.
Unfortunately, there is no wireless charging here, but for $99 earbuds, it's not a huge surprise. On the plus side, Nothing claims that a quick 10-minute charge can get you up to 9 hours of playback time, which is some amazingly fast charging.
Recommended Stories