Motorola Moto g30 review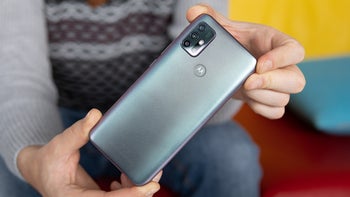 Motorola's Moto G series has long been loved for offering quality and OK performance for a very affordable price. And the Moto g30 is dead set to continue that legacy.
It's currently not sold in the US but can be obtained through international sellers for about $220. That money gets you a generously big 90 Hz screen, a midrange processor, and an OK camera, but no 5G. Is it worth the asking price?
I think it is. It's a very solid midranger. It runs OK so long as you are not expecting it to handle heavy apps or serious multi-tasking and its camera can take a few good shots (but not videos). It can easily last you a day and it's a solid device for those that just want a smartphone to stay connected, without going too fancy with it.
Though, if you are buying in the US, you might want to wait for the model to be officially sold in the States with all the proper bands. Or, if you can't wait, definitely double check which bands the model you are buying uses and whether they are supported by your carrier.
Moto g30 display and design
The Moto g30 has a 6.5-inch LCD screen on the front. It's surrounded by a meaty bezel with a pretty prominent chin — but I wouldn't call it unattractive when viewed in person. It's just not… strikingly elegant.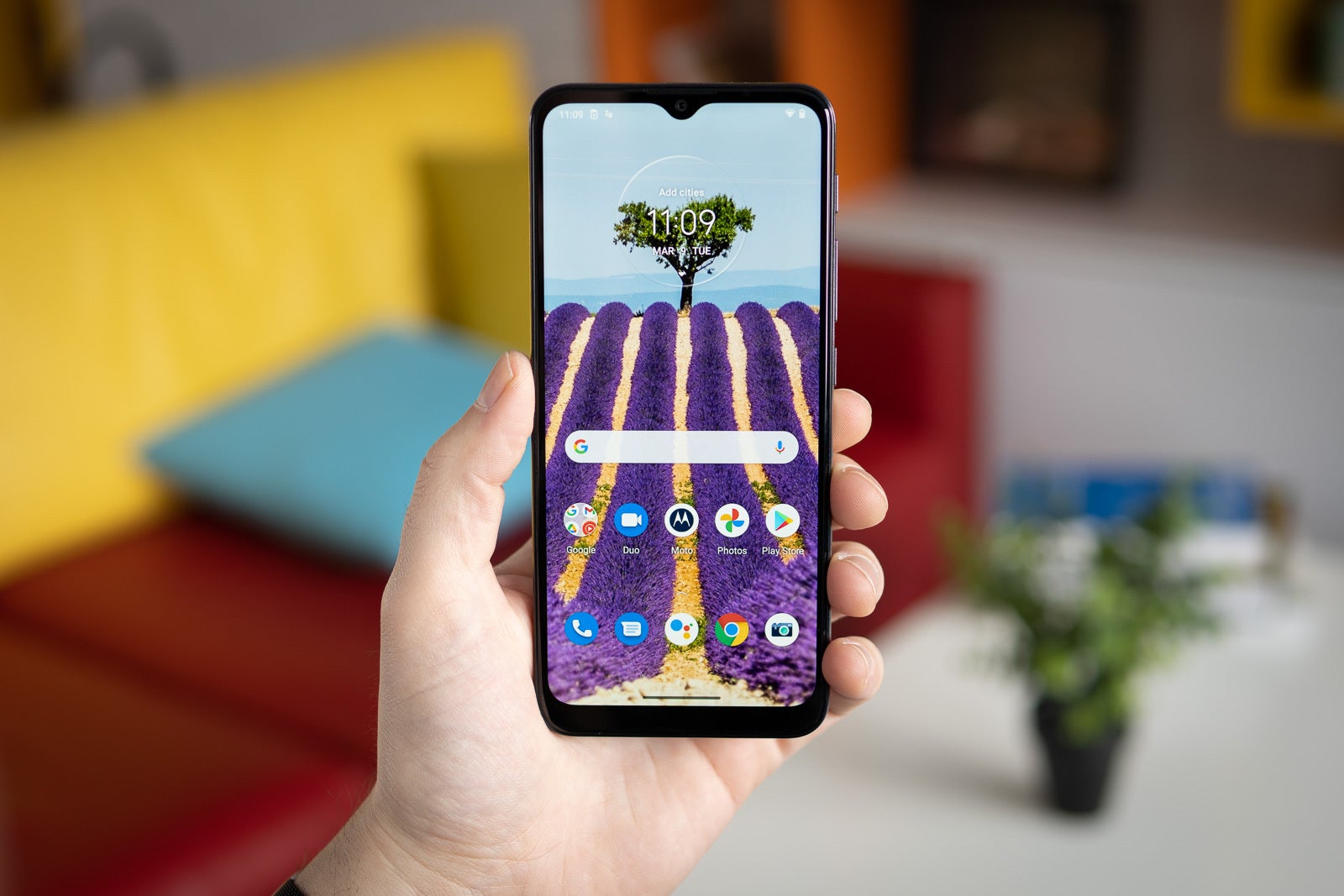 Is the LCD panel good? Well, there are three different color profiles to pick from and the Natural one is pretty accurate. It doesn't have striking contrast like an OLED screen, but I found it to be good enough to view clips and videos. The 90 Hz refresh rate here is an absolute bonus, as it makes animations look smoother and feel more responsive, though the LCD ghosting trail detracts a bit from that.
The biggest issue I have with the screen is brightness — even on a cloudy day outside, I had trouble seeing details on the screen while taking sample photos. When rotating the phone at an angle, I couldn't even see the shutter button.
In other words — it's impressive for a $220 phone screen, but it still has a couple of drawbacks.
Display measurements and quality
The Moto g30 proudly rocks a plastic body with a matte finish. It's soft to the touch, grippy, and light enough to hold comfortably. It comes in two colors — the Pastel Sky, which we have here, or a Phantom Black variant, if the chameleon purple is a bit too flashy for you.
You might be noticing that there are three hardware buttons here — the power button on the right is the textured one, then there's a clicky volume rocker, and a Google Assistant key on top. Do we need that third one? Not really — it's hard to reach and it's made obsolete by either saying "Hey, Google" or swiping diagonally on the screen. But hey… at least the buttons are deep, clicky, and nice to operate.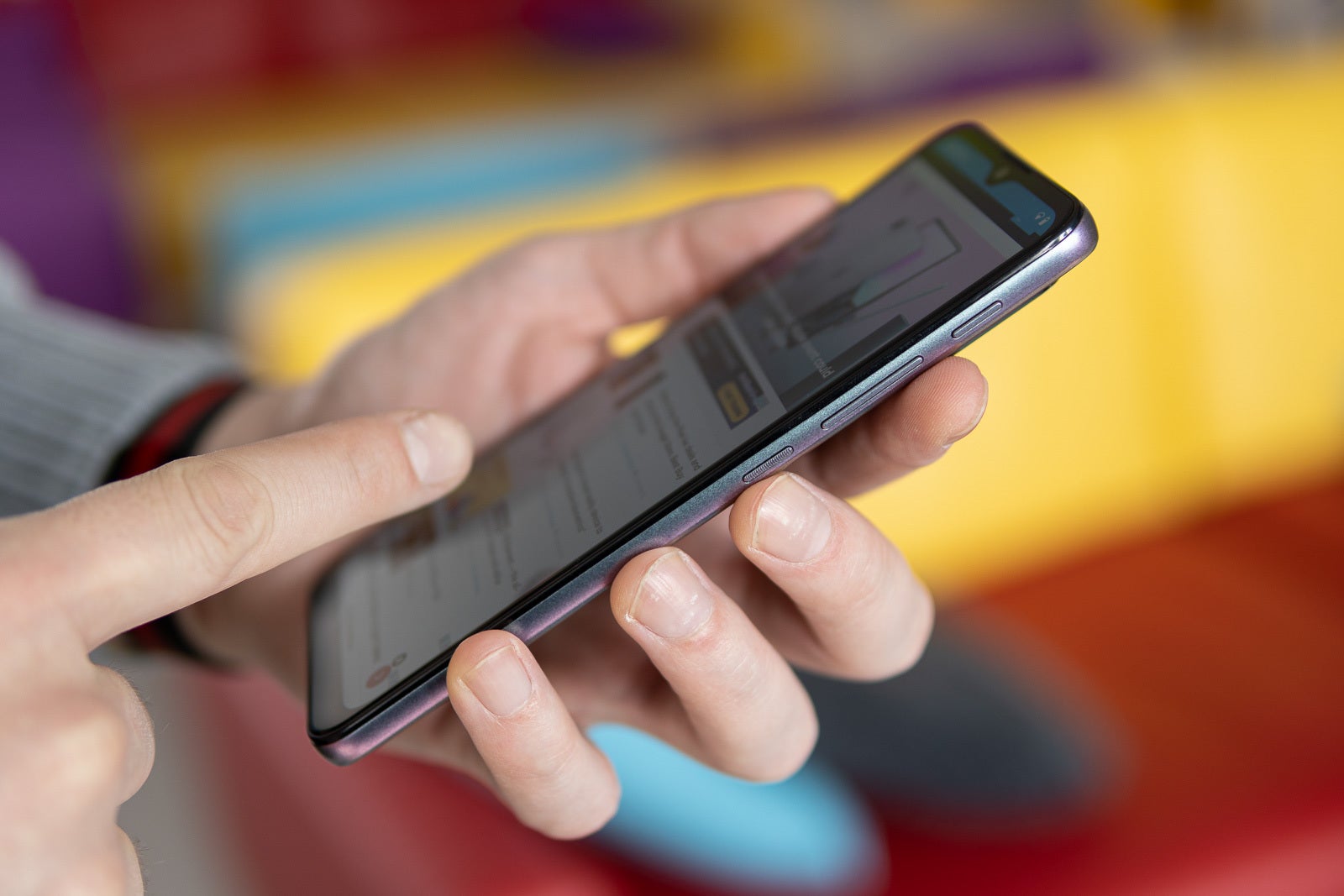 Then, there's a fingerprint scanner on the back — a tiny circle with the Moto logo on it. Pretty classy, and it works quite well for what it is — it's quick to scan your finger and unlock the phone.
Moto g30 camera
We have a triple camera here — a 64 MP main camera an 8 MP ultra-wide camera, and a 2 MP macro camera. On the front, there's a 13 MP selfie shooter.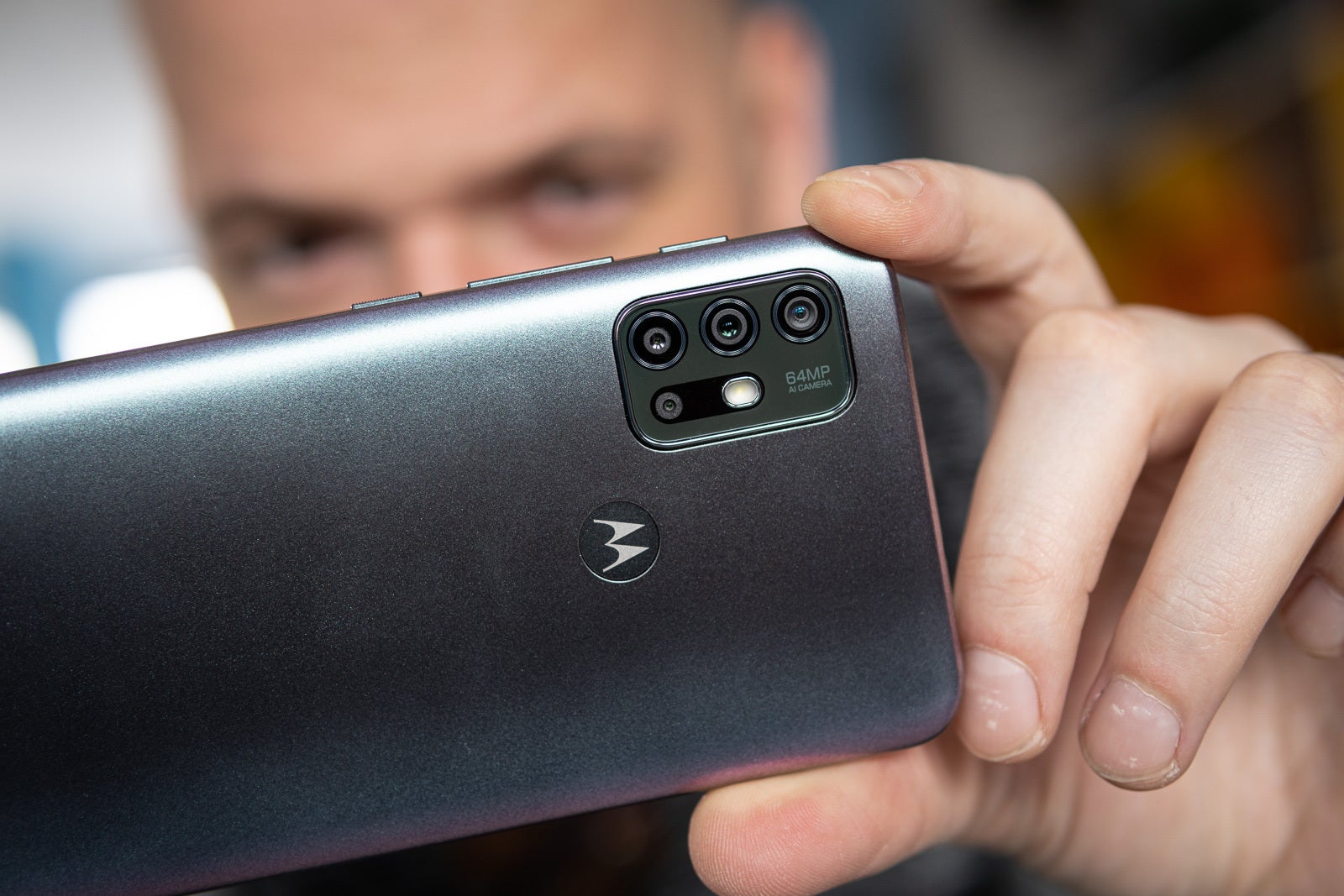 So, let's go through them. Photos with the main camera look OK — the Moto g30 bins the pixels of the 64 MP sensor in groups of 4, so — by default — you take 16 MP photos with extra-large pixels. Still, the dynamic range is not fantastic, even with auto HDR kicking in, but it will do the job in most daylit scenes. Details look sharp — actually, a bit oversharpened. Indoors, photos can start getting soft and fuzzy — just a regular issue all midrangers have when the lighting drops.
There's an Ultra-res mode, which takes full 64 MP photos, but this one keeps HDR off and I wouldn't say the difference in detail is something worth bothering over.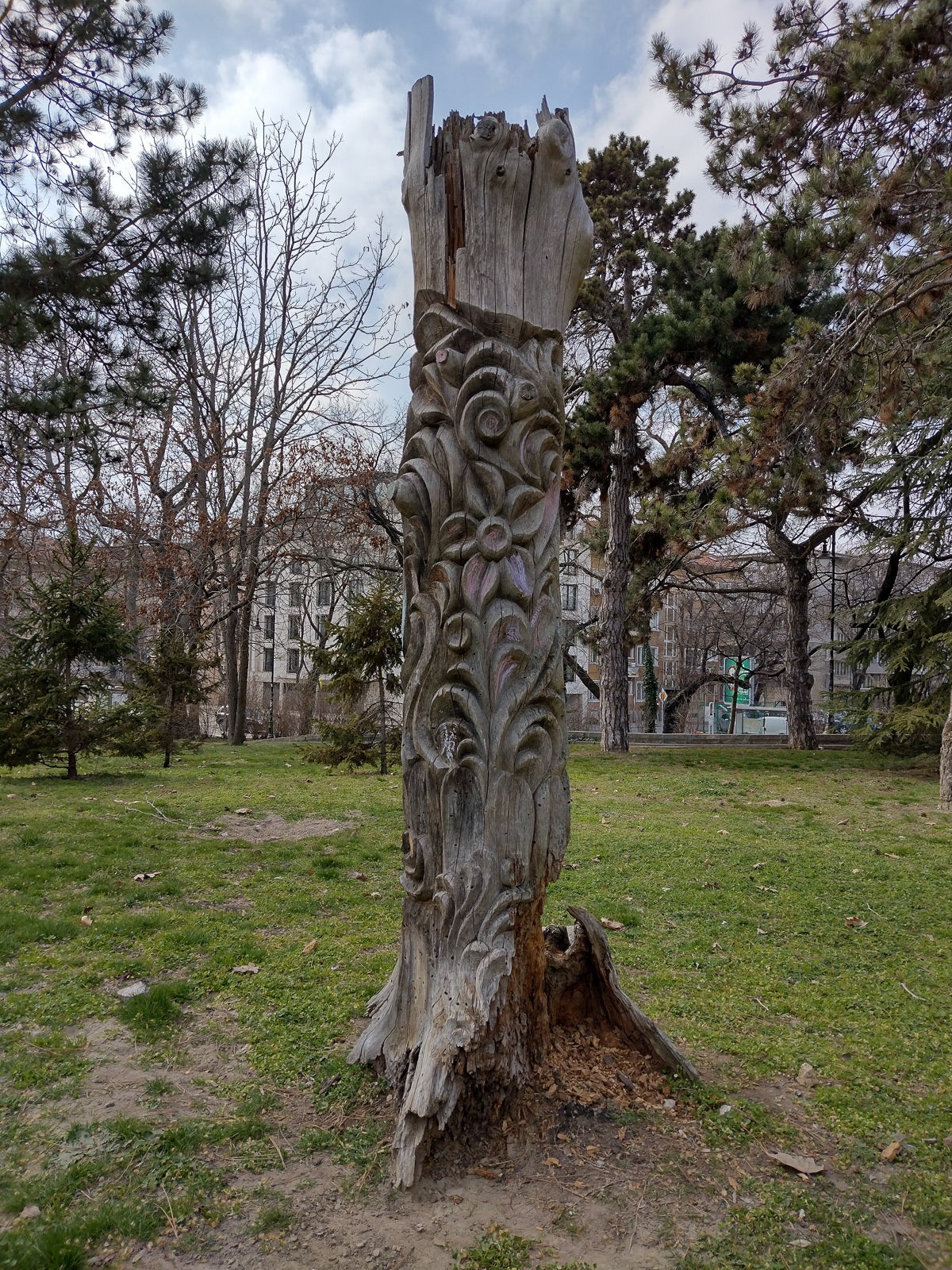 Auto mode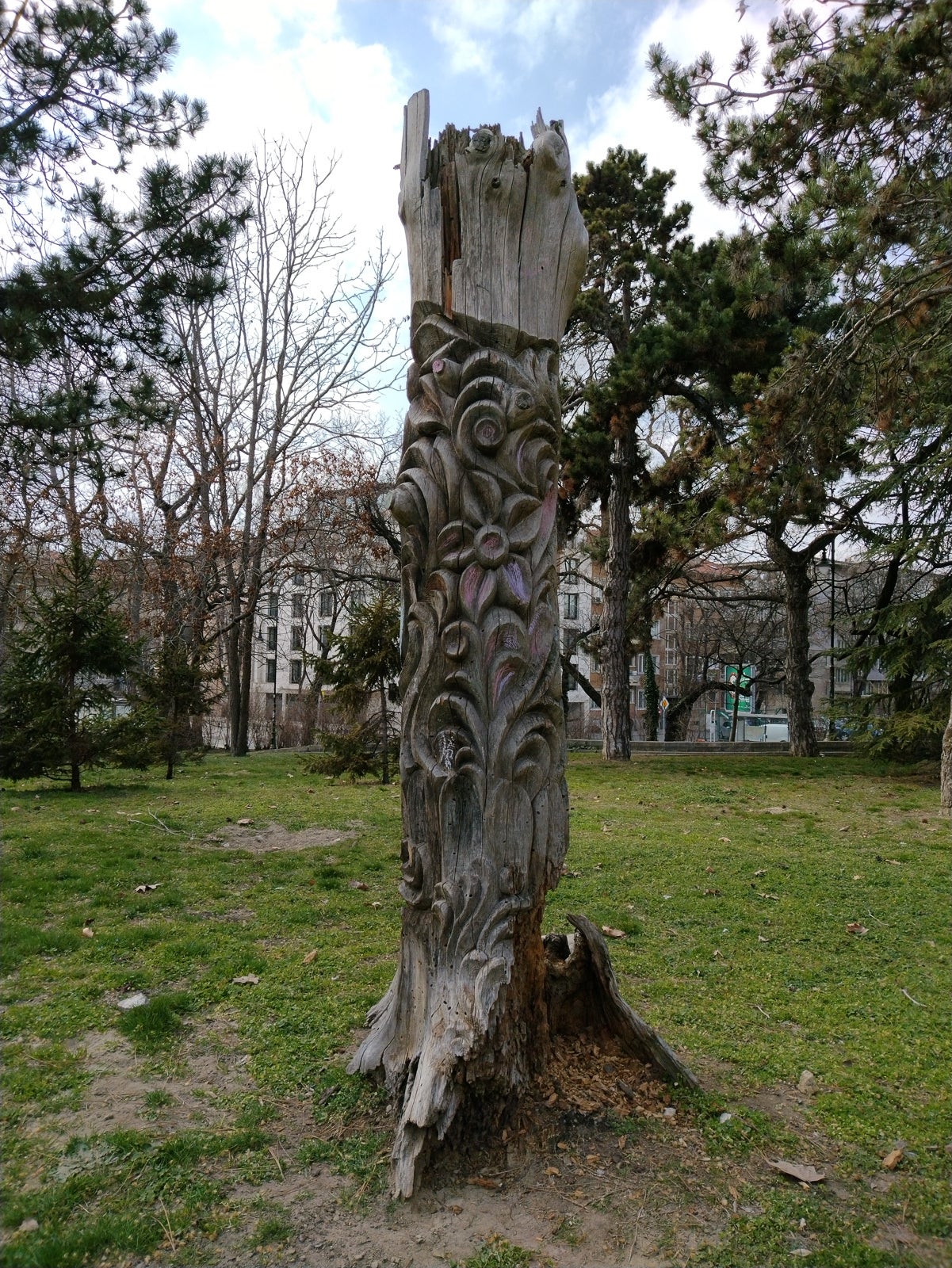 Ultra Res shot
There's a Portrait Mode on board here, but I'd rather act like there isn't one — it's just bad at detecting subject edges and the faux bokeh looks… well, very fake.
The ultra-wide camera does what it says on the tin — great for artsy or landscape shots, but the 8 MP sensor is soft and noisy. Then there is a 2 MP macro camera, which is pretty much there just for show. Yes, I know that there is a small audience that is really rooting for macro cameras out there, so I won't dog on it, but having a 2 MP sensor under that lens pretty much defeats the purpose of a camera that's supposed to capture great detail at close ranges, right?
The selfie camera is also not something to write home about. Especially since it has a beautify mode switched on by default, and it was plain awful. After disabling it, I could take some OK selfies, but they'd still lack in some respect. Outside — it's easy to get overblown highlights on my face. Indoors, the shutter speed drops down significantly, and it's very, very easy to take a blurry selfie.
As for video — it isn't great. It looks jagged and choppy and there's absolutely no stabilization. As you can see in the sample clip, it might cause a bit of nausea.
There's a good amount of delay between taking a photo and being able to view it — the phone takes a while to process the picture first and add its pinch computational photography fine-tuning. It's a minor annoyance when trying to get that "perfect" shot and tapping to check multiple times whether you got it.
In short — the main camera is OK for a $220 phone, but any secondary modes or video recording are not on par.
Moto g30 specs, software, performance
The Moto g30 is powered by a Qualcomm Snapdragon 662 — an octa-core, 2 GHz processor that's through and through a midrange chip. It's neighboured by 4 GB of RAM and a 128 GB storage chip (there's also a slot for a microSD card). The performance is nothing staggering, but it can run light games and go through day-to-day apps with little trouble. There's a bit of touch input lag observed when typing on the keyboard, but I could live with it. Heavy websites are a bit choppy until they load up, but in general — using the Moto g30 is not a slow ordeal.
This is partly because Motorola still uses a pretty clean build of Android — there are not many bells and whistles, just the vanilla Android 11 experience, as it was meant to be. There are just a few enhancements — like Moto gestures, which allow you to turn the flashlight on via a chopping motion, or launch the camera with a twisting motion. There's also a new Gametime overlay for gamers. It lets you record gameplay, block calls and notifications, or quickly launch other apps from within your games.
The Moto g30 only has a mono speaker on the bottom — it sounds surprisingly deep and detailed, and there's an EQ enhancement within the Moto app, which allows you to somewhat fine-tune it. It almost does not sound like a tinny phone speaker and I didn't mind consuming media through it.
Moto g30 battery life
The Moto G phones generally have phenomenal battery life and the g30 does not disappoint. The 5,000 mAh cell here can easily deliver a full day of usage and even stretch that to two days if you go easy on the gaming.