Huawei Watch Buds review: "The name's Bond, James Bond!"
4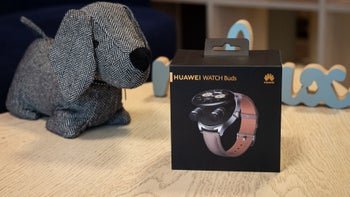 We all love gadgets. This is the reason you're reading this and also the reason I'm writing it. Ever since I was a kid, I loved gadgets. I remember watching Bond movies and dreaming of having a watch that can shoot lasers out of it or cut through stuff with a circular saw. Well, behold the Huawei Watch Buds!
It absolutely can not shoot lasers or cut through anything, but when I first popped the lid open to get the tiny buds out, I immediately got that childish Bond-awe feeling. And this is the most important thing, right?
Is the Huawei Watch Buds a perfect device? Hell, no! But it's the best iteration of a very neat idea, and possibly a trend-setter. But enough chitchat. Let's dive in!
The idea
For those of you who are not familiar with the Huawei Watch Buds, in a nutshell, Huawei decided to integrate a pair of earbuds inside a smartwatch. Hence the name, which, while not particularly original (I would have called it the SuperAgent Watch or something similar), is a fairly accurate description.
What's inside the box?
Inside the retail box, you'll find the watch, a magnetic charger, some leaflets, and a quick user guide (with pictures!), alongside two additional silicone tips for the buds. I wouldn't call the box lavish, but it features the most important things to get you started. An additional sporty or stainless steel strap would've been nice, though, especially at this price point.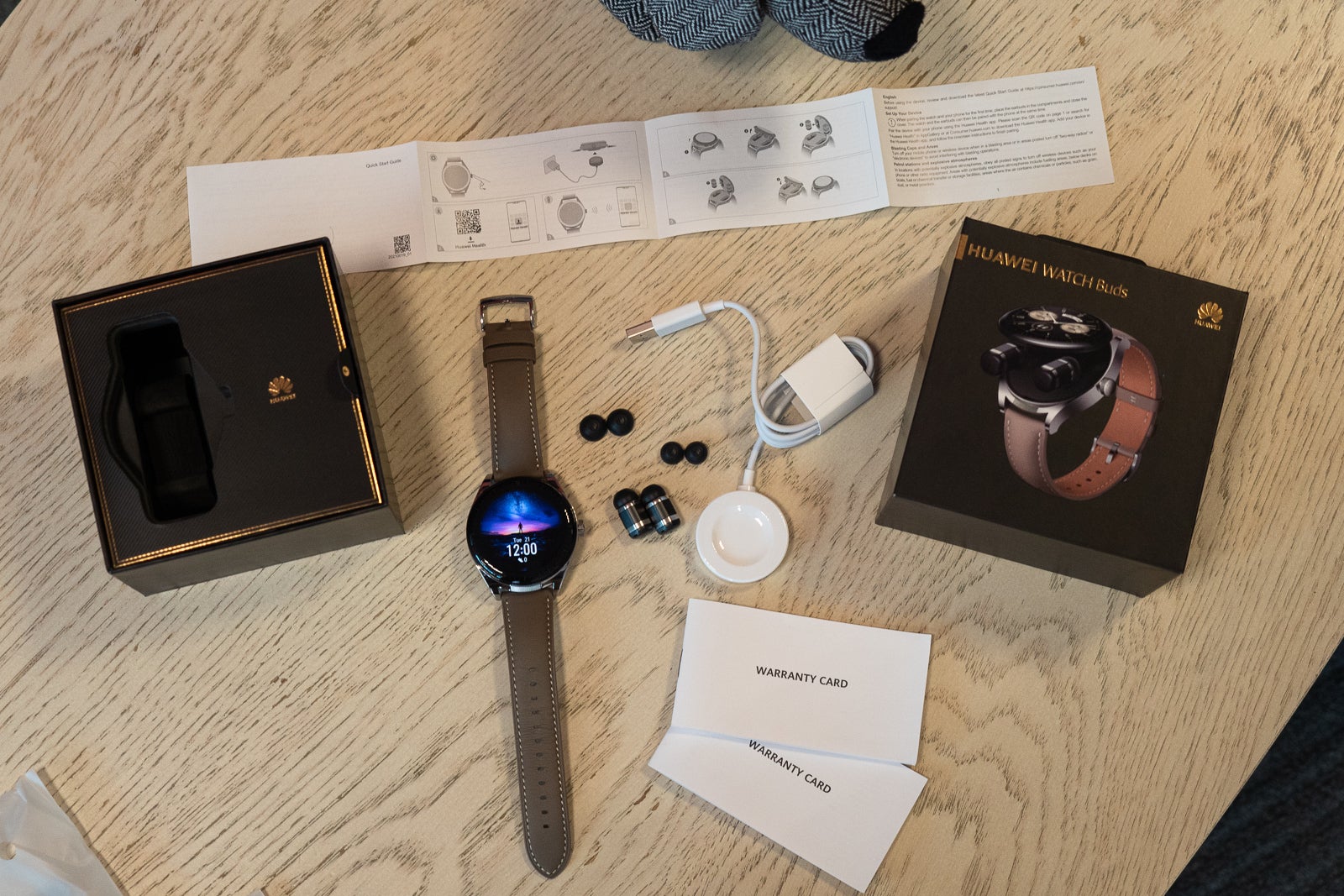 HUAWEI WATCH Buds
Specs
Dimensions
Watch
47 x 47.5 x 14.99 mm

Earbuds
21.8 x 10.3 x 10.3 mm
Weight
Approx. 66.5 g (without strap)

Weight of an earbud approx. 4 g
Display
Size
1.43 inches, AMOLED colour screen

Resolution
466 × 466, PPI 326
The Watch
Design
The design of the Huawei Watch Buds bears some resemblance to the Watch GT lineup, with the lid being the most obvious exception. The chassis is stainless steel with a ceramic back, and our test unit came with a brown/beige 22mm leather quick-release strap.
A single button on the right side serves as a home/back navigation button, and there's a long, textured push-in button on the side facing the user, which releases the lid lock and pops it slightly open. You need to press it inward toward the watch (not down), and it requires a healthy amount of force, preventing it from opening up by accident.
The face of the watch, housing the 1.43-inch, 466 x 466 AMOLED display, is curved on the sides and also features a hefty bezel. It somehow reminded me of the Google Pixel Watch. When you open the lid, both bullet-like buds pop out with it, magnetically attached inside tiny indentations. The two holes housing the buds remain empty, showing the charging pins and the Huawei logo between them.
< Huawei Watch Buds
Pixel Watch >
It's a practical design; taking out the buds is much easier this way; you don't have to pry them from the deeper beds to get them out. Also, there's no left and right bud (the two automatically switch depending on how you place them inside your ears), and even though there are R and L letters printed, you can put either of the buds in either hole; the only requirement is that they face downward (with the eartip).
Software and features
The Huawei Watch Buds runs on HarmonyOS 3.0, and the experience is similar to that of the company's other smartwatches, such as the GT3 Pro series. Pairing the watch requires downloading Huawei Health, which in turn requires Huawei AppGallery. It's not the easiest or most straightforward pairing process, but it's also nothing you can't handle.
There's no rotating crown, and you can't pinch-zoom in and out the home menu, but apart from that, it's pretty much the standard Huawei Watch deal. There's also no loudspeaker or microphone, but with the earbuds inside, Huawei thought that you wouldn't need those redundantly doubled on the watch itself. You can take calls, but it requires wearing the buds, of course.

Adding apps, music, or new watch faces is all done through the Huawei Health app, and the HarmonyOS ecosystem is still a bit barebones, although there are some useful things like Petal Maps, a Google Maps plugin that can show you navigation cues on the watch, a camera shutter, etc.
Fitness and sleep tracking
As far as fitness and health tracking go, the Huawei Watch Buds is nearly identical to the Watch GT3 Pro, feature- and sensor-wise. It has a built-in GPS module, heart-rate monitor, SpO2 sensor, and the ability to auto-detect exercises, and it can also offer running and training courses and plans, etc.
The Huawei Watch Buds cannot measure your skin temperature or take your arterial stiffness, and those are the two main differences when compared to the regular GT3 Pro. Other than that, sleep tracking is onboard and also pretty good; you can use the watch to manage your stress levels, keep you active via the activity rings, track your cycle (if you have one of those), etc.

For all intents and purposes, the Huawei Watch Buds is almost as capable as the other models of the brand, barring the Huawei Watch D, but the latter is a specialized medical watch that can measure your blood pressure. All in all, it's a great technological feat—managing to cram in a pair of high-quality earbuds and keep the watch feature-rich without being overly bulky.

Don't get me wrong: It's a big and heavy watch, measuring nearly 15 mm in thickness and 66 grams in weight. But you wouldn't say there are two earbuds inside.
Another important point is water resistance. While other, non-buds-equipped smartwatches sport up to 50 meters of water resistance, there's no official IP rating for the watch, it's listed as splash-, dust-, and water-resistant under normal conditions, which really means you shouldn't get this watch wet.
The Buds
Design and specs
Let's see what these two little buggers are all about! These are one of the smallest buds I've ever tested, and despite my initial worries that they would fall out of my ears straight away, they are pretty comfortable to wear.
A clever part is the charging rings that are platinum-plated and run around the buds. Effectively, you can place them on any side, and the rings will make contact with the charging pins. Very convenient. These rings are platinum for a reason: they're corrosion resistant, which is well-thought-out for a gadget that will be exposed to salt water, a.k.a. sweat.
Just a side note, the buds are rated as IP54, which is pretty decent, you shouldn't worry about taking these to the gym or jogging outside in a light drizzle, as the British would say.
Huawei took everything they've R&D-ed over the years and put it inside these little buds. They feature a planar diaphragm (normally reserved for audiophile-grade headphones), a quad-magnet setup, a 20 Hz–20 kHz frequency response, active noise cancellation with dual microphones, wear detection, and touch controls on top of everything else.
As already mentioned above, the buds feature something called "right-left auto discovery," which means you can practically put them in without thinking which one is left and which is right. Another cool thing is that these are automatically paired with the watch, so you don't need to do anything to use them right out of the box... I mean, out of the watch!
Sound quality, noise cancellation, and battery life
Let's start with the sound quality: these buds sound pretty good for their size; I would say they are comparable to the FreeBuds 5i I tested not long ago. Which is a feat in and of itself! They're also pretty loud (Huawei says up to 104 dB), although at high volume there are sound distortions, especially in the high frequencies.
Another thing I've noticed, and it mirrors my experience with the FreeBuds, is that with noise-canceling on, the earbuds sound subjectively better to me. There are EQ presets that favor Bass, Treble, Voices, and a default setting, but the actual difference is not that big.

Speaking of noise-canceling, it's not groundbreaking or breathtaking. There's some level of sound suppression, but it's nowhere near industry leading models such as the Sony WF-1000XM4 or even the latest Galaxy Buds. But that's okay, given the size of these. You can cycle through the different modes (noise-canceling, awareness, off) via the watch or by tapping on the buds.

Gestures can be customized; by default, a double tap on each side answers or ends a call or pauses your music. Noise cancellation is controlled by triple tapping. You can make the buds wake your voice assistant or skip to the next song if you want.
The call quality is great on these! I tested it several times, and the other side was able to hear me super clearly; the same was true on my end as well. Actually, if your phone is buried somewhere inside your bag, backpack, or inner pocket, it's faster and easier to pop the lid open and take the buds out to take the call.
The battery life is a bit of a mystery on the buds, as they start to charge the second you put them back inside the watch. I believe the best way to calculate this is to combine the battery lives of the watch and the buds.
In a real-world scenario, with moderate exercise twice to three times a week, a couple of hours of music every day, sleep tracking, and the occasional call, you can expect a solid 2 to 3 days out of the Huawei Watch Buds.
That's nowhere near as impressive as the week you can get out of a GT3 Pro, but factoring in the buds, that's quite a good result.
The experience/Final verdict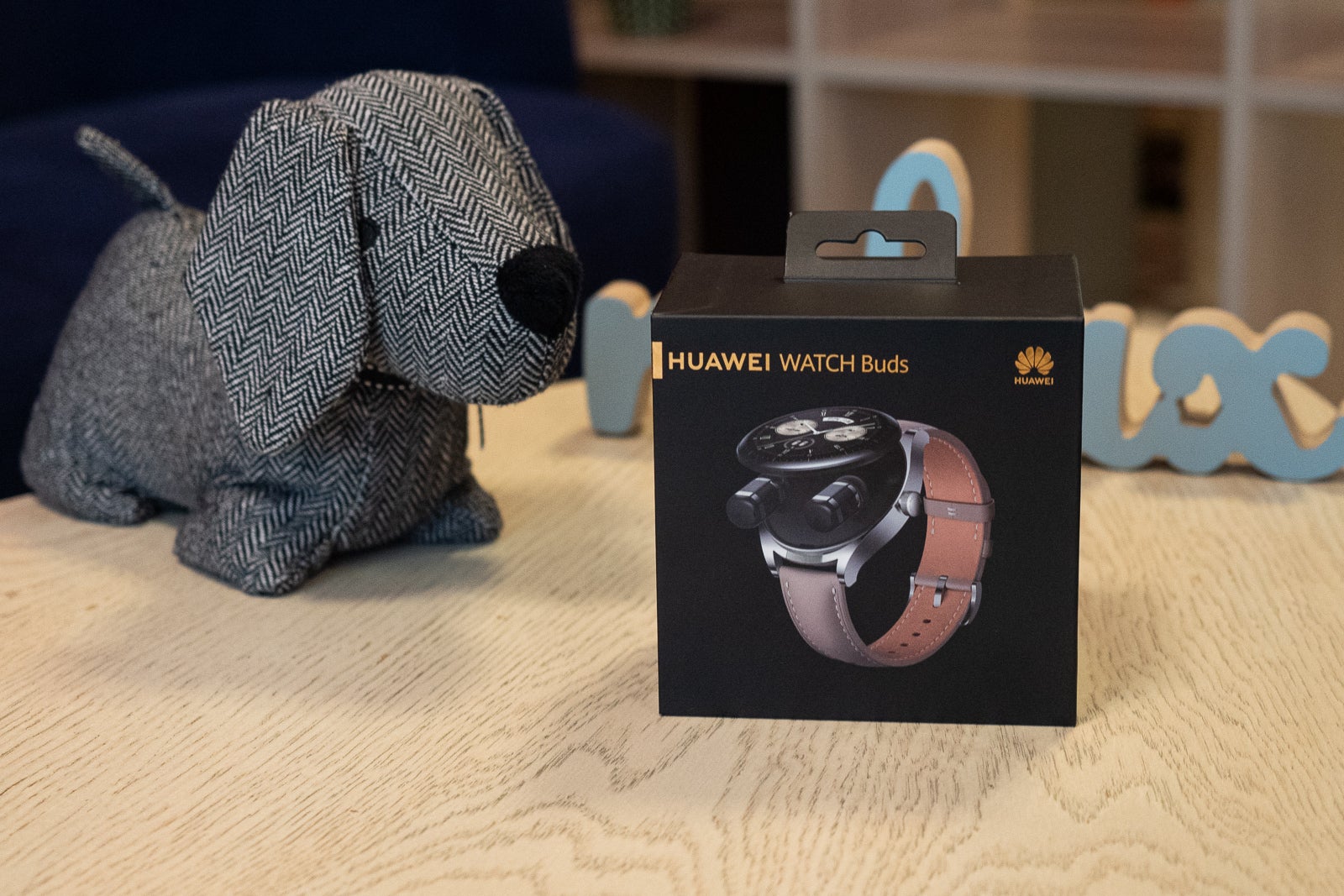 At the end of the day, the Huawei Watch Buds remains a first-gen device. And as such, it's not as refined as it could have been. The important takeaway here is that the actual experience of a hybrid watch-buds device is great. Huawei has nailed it on the convenient side of things.
Taking the buds out of the watch and using them right away is super easy; they're automatically paired with the watch, and they charge automatically when you put them back in. Both buds are interchangeable—there's no left or right bud. You just don't have to think about it at all. And that's the right way to do a gadget such as this one.
On the other hand, the watch is quite large and heavy, and the design may not be to everyone's liking. But it's an awesome start, and if Huawei decides to go forward with this idea and release a successor, let's say the Huawei Watch Buds 2, I'm sure it will rock.
I should mention the price as well, the Huawei Watch Buds retails for 499 euros, which might seem expensive at first glance. Bear in mind, though, that you're getting a "free" pair of good quality earbuds in this bundle, so it's not ridiculously expensive.