Fitbit Charge 5 Review
6
We may earn a commission if you make a purchase from the links on this page.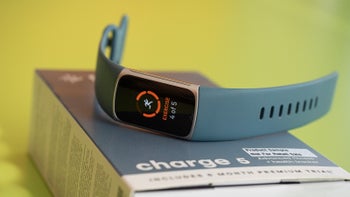 The Fitbit Charge 5 is a great fitness tracker, and a great fitness tracker only. It's perfect for someone interested in keeping up with their daily exercise stats—no matter whether they are a beginner just trying to lose a bit of weight or tone up, or an experienced athlete needing a reliable way to stay aware of how their body is functioning and the ground they are covering.

The Charge 5 is by no means a smartwatch, with few functions on top of what you'd already expect from a fitness tracker. It has a built-in GPS and supports Bluetooth, which it uses to sync the data to your phone as well as show notifications. It doesn't have the ability to control your music as the older Charge did, but it does its main job (keeping track of your activity) quite well indeed.
However, with a price tag of $180, the Charge 5 (unlike the Fitbit Versa) clearly isn't trying to compete with any smartwatch, and could well be worth looking into for yourself or a friend trying to get healthier and more active.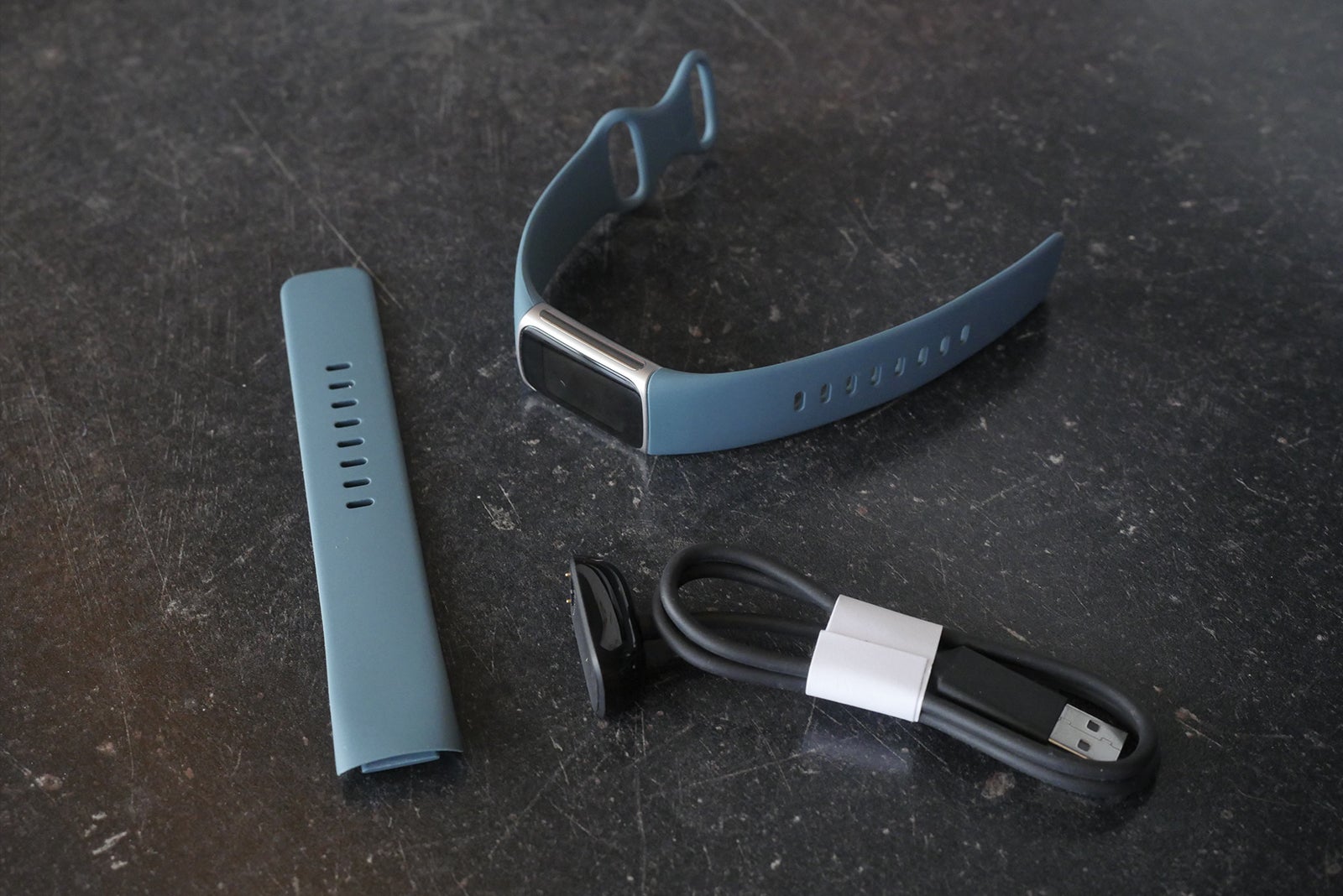 What's in the Box?
Fitbit Charge 5
Extra strap (2nd size)
USB-A magnetic charging cable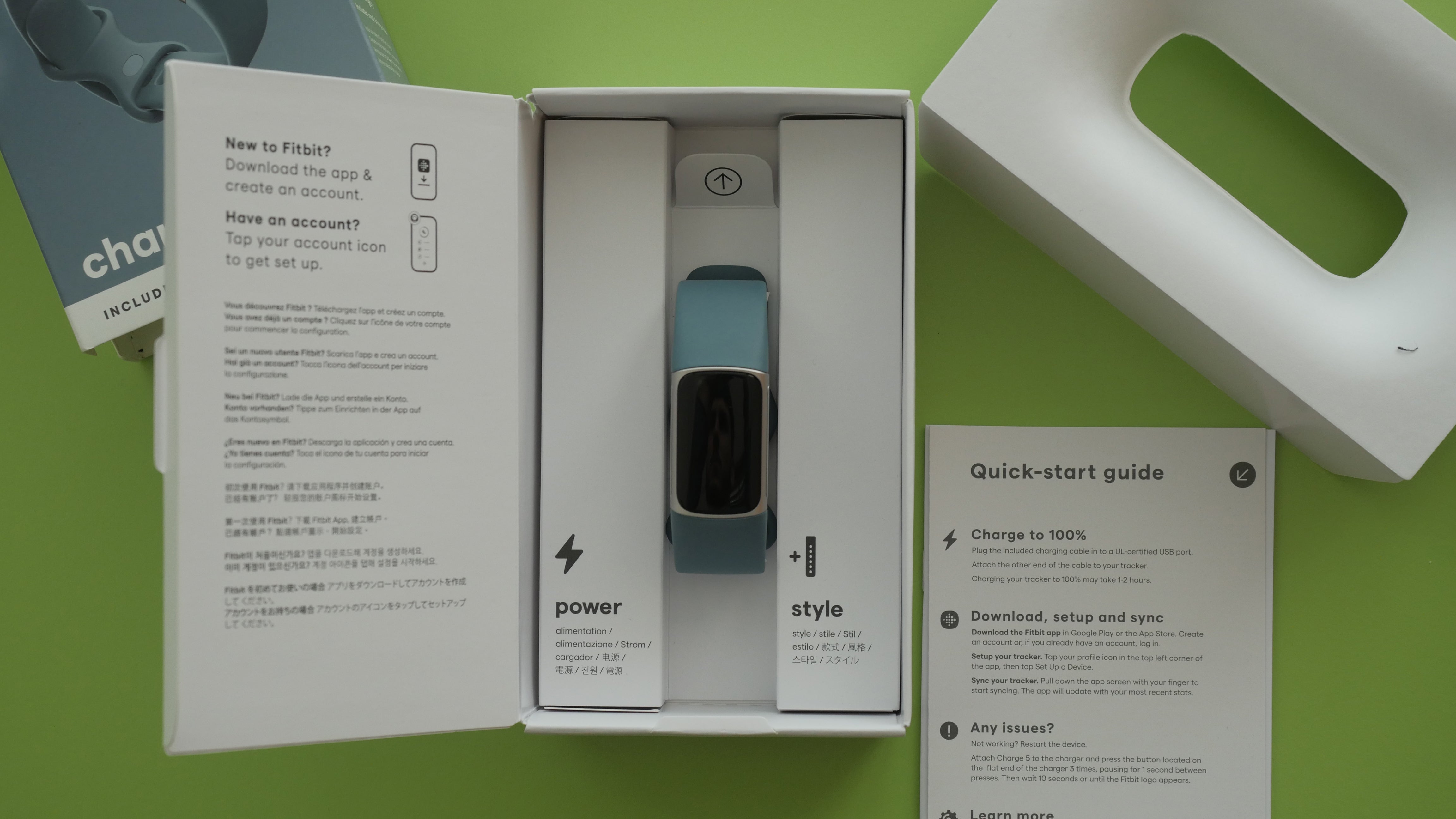 Design and Comfort
The design and shape are similar to the Fitbit Charge 4, but much more elegant—simpler in look, smoother, and with a less angular face than its predecessor. The sleek and unassuming design, to me, is the ideal for a fitness watch. It's quite unobtrusive, doesn't get in the way of daily life at all, and very much looks its part. And if you want something other than the three basic band colors available from Fitbit, there are plenty more colorful options and designs to swap them with.

I found the Charge 5 was extremely comfortable even when using a computer for most of the day, with my arms flat on a desk—and I usually hate wearing anything on my wrist at the computer. The watch barely made its presence known as I went about my regular workday: the strap lies very flat against your skin, and has the cool feature of tucking the excess length back into itself, so there's nothing sticking out in the way at all. All in all, I was quite impressed.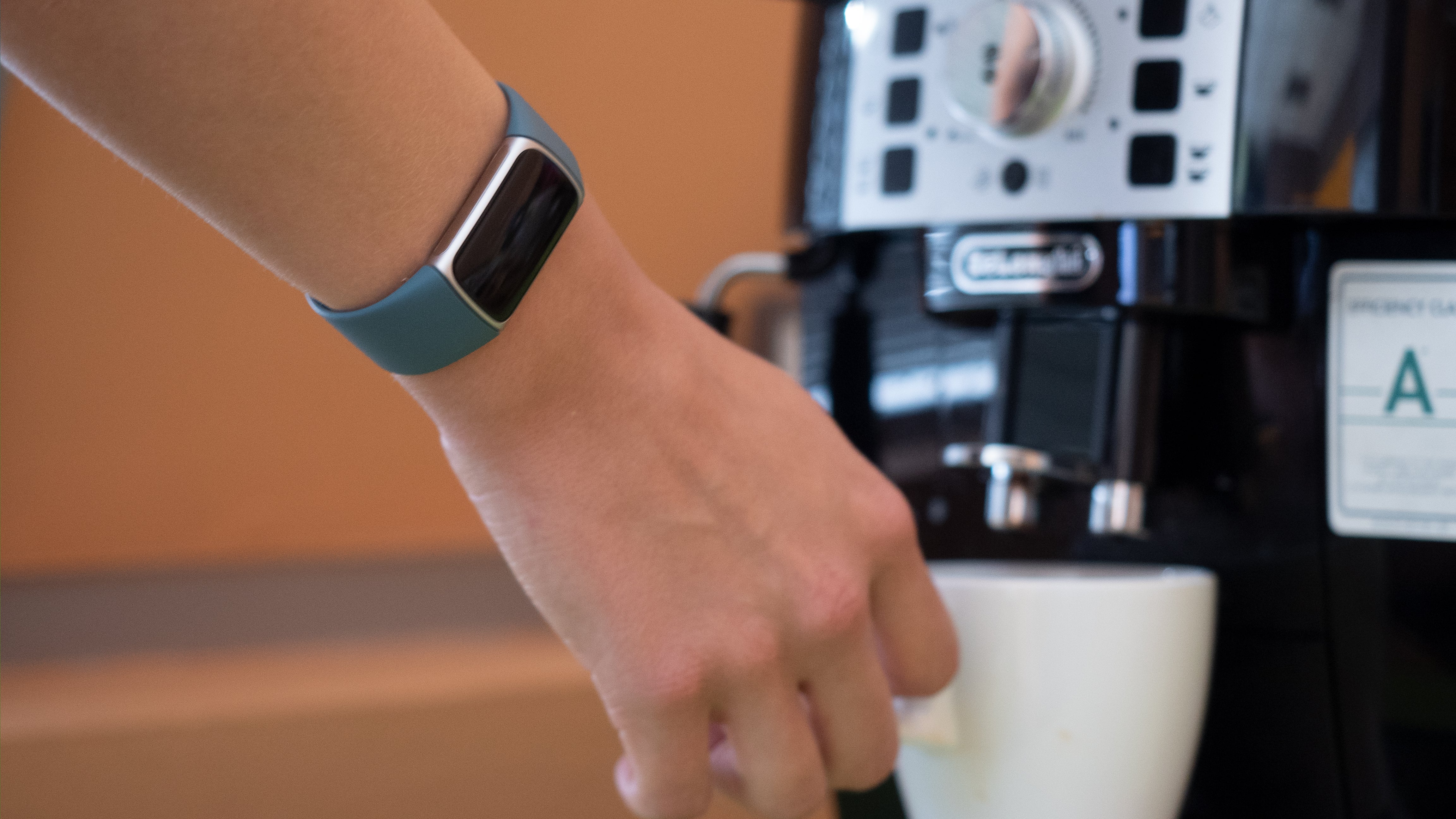 Display and controls

The Charge 5 has no physical buttons and is on full touchscreen control. The bright AMOLED display—10% larger than that on the Charge 4—is encased in stainless steel, on the back of which you'll find the optical heart rate sensor and the magnetic charger contacts, coupled with two discreet EDA sensors up on the sides.

This model is the first in the series to feature a vivid full-color display, as the older Fitbit Charges were entirely monochromatic. It's also more than twice as bright as its predecessor, lighting up at 450 nits at max brightness, as opposed to 200 on the Charge 4.

One complaint, however, was that the automatic screen wake feature didn't always work perfectly unless I was in a proper standing position. It's meant to light up the screen on its own any time you turn your wrist towards you (just like the "Lift to wake" feature on your phone), but there were many times when I repeatedly tried unsuccessfully.
Other times it worked sporadically, without me trying to activate it. But this could be seen as a fairly minor downside—except that the regular wake-up method often failed as well.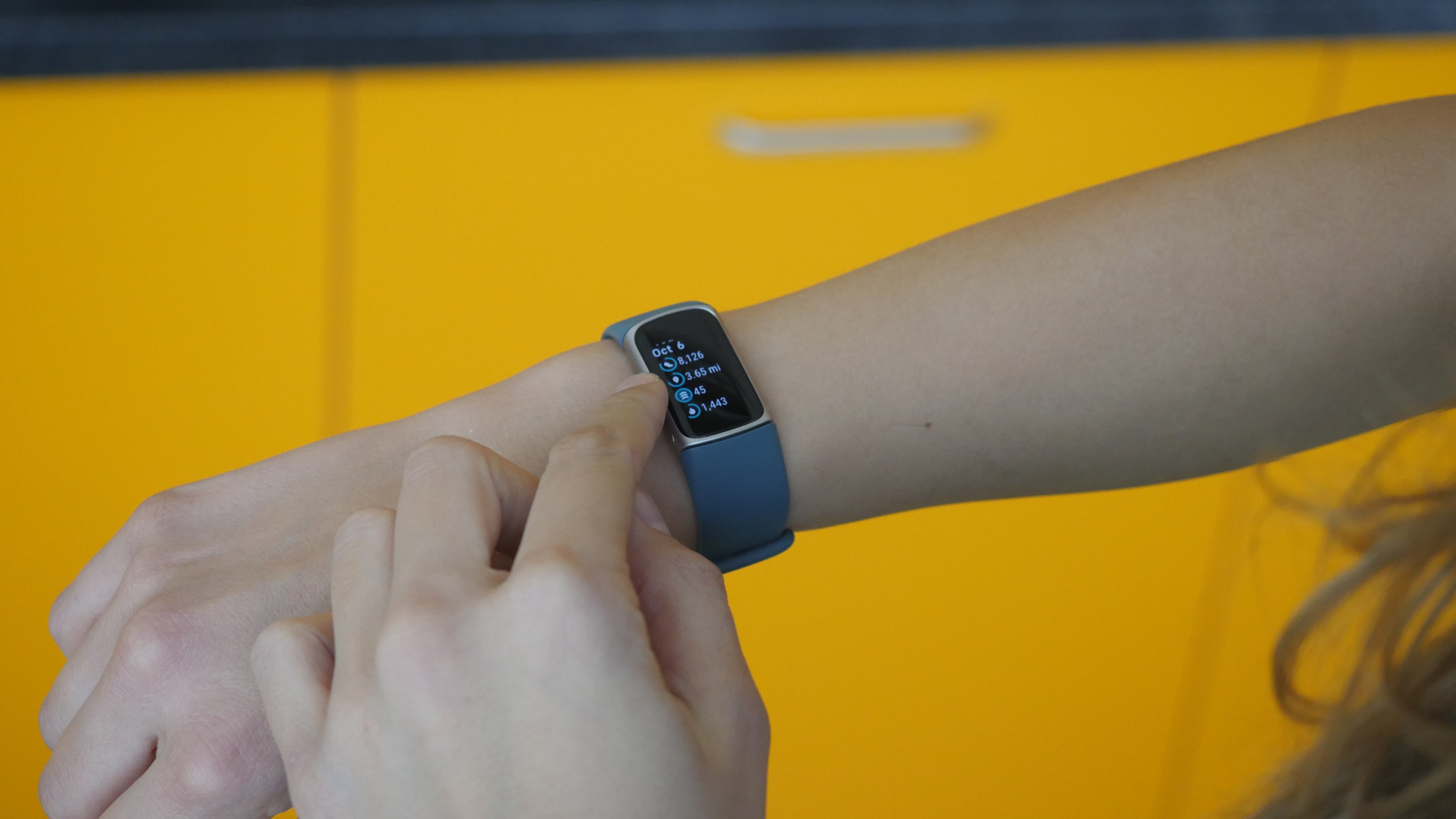 The regular way to wake up your Fitbit is to firmly tap twice on the display. However, this did not always work every time I went to check my stats, and eventually, it turned into a bit of an annoyance.

That's not to say the touchscreen is insensitive: once I was in, even the lightest tap always registered without issue. It was only initially waking the fitness watch that was sometimes difficult, and had me double-tapping very firmly, again and again, until it finally decided to wake up.

Another small complaint is that every time I tried to change the Screen Timeout (and some other battery-related settings), I would get a long "this may affect battery life" warning popup that I had to scroll through to tap away. And I could go up only one level at a time on each setting, which meant scrolling through the warning over and over and over again. Not a big deal, it just could have been a smoother experience.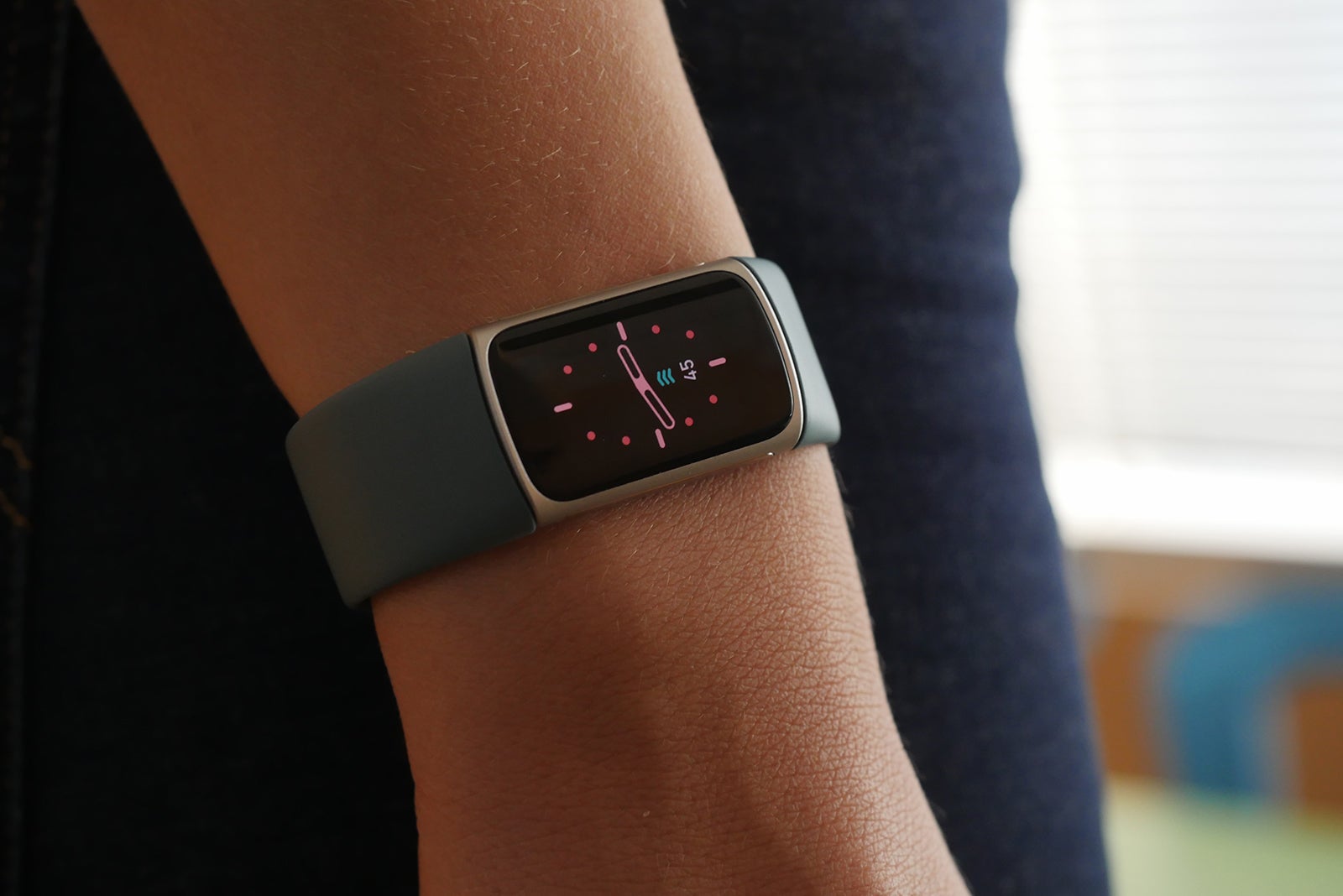 Software and functionality

The Charge 5 has all the features you would expect on a good fitness tracker, with little on the excess side. It's compatible with both iOS and Android, and all its watch apps come pre-installed. From the start, it constantly tracks your steps, heart rate, sleep cycles, and relative oxygen saturation (SpO2)—which you can view on the watch face at any time.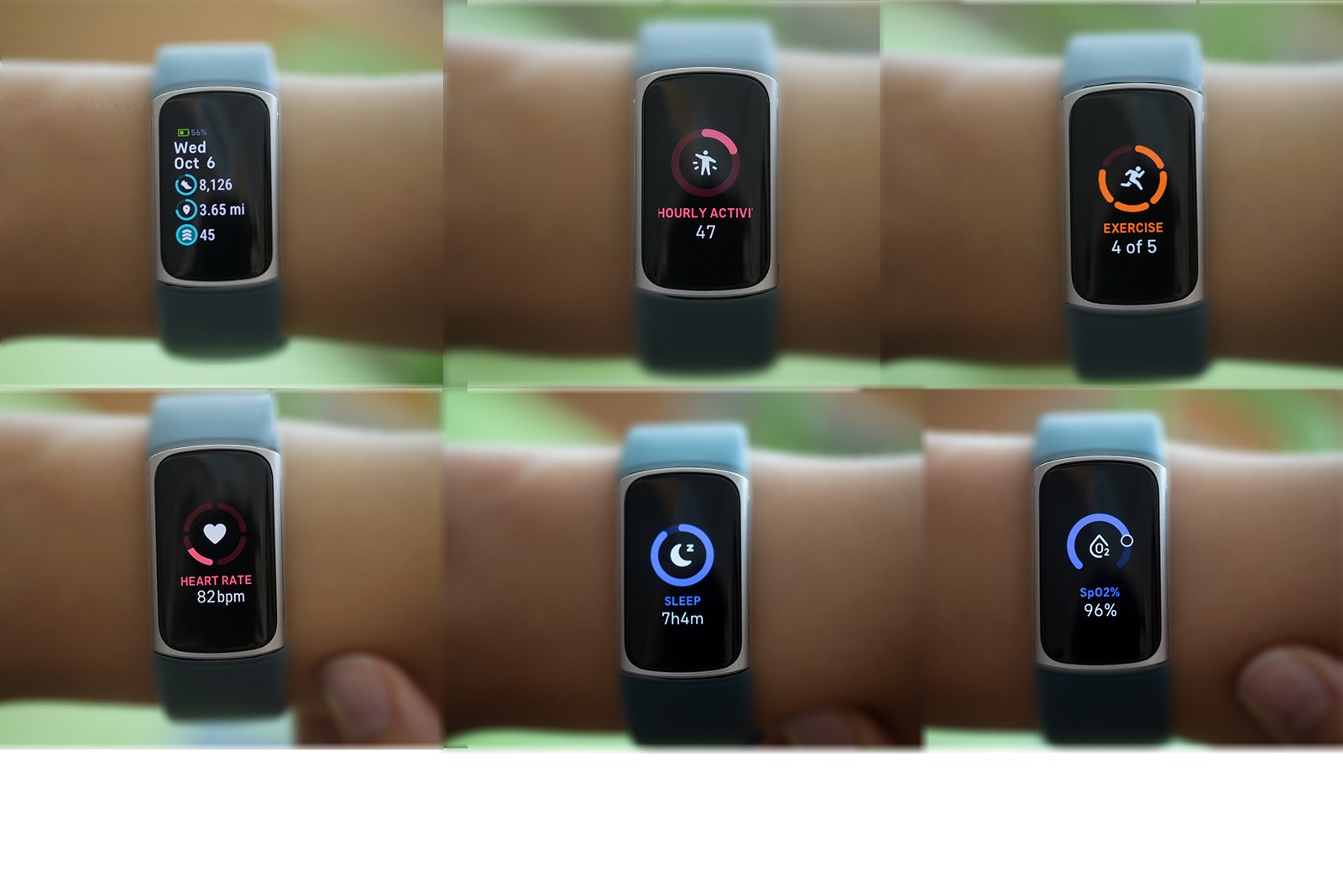 Apart from a timer and stopwatch, there is also an alarm feature, which should go off by soundlessly vibrating against your wrist (if you happen to sleep next to a light sleeper, this can be a lifesaver on early mornings).
However, this alarm
cannot
be relied on, as it nearly always failed to go off for me—I only got it to work one single time! I tried quite literally everything: tinkering with the settings, resetting the Fitbit, changing the watch face, etc., and nothing could get it to work consistently.
This is an ongoing issue that has been present with the Charge 4 and Charge 3 as well, and I found it hard to believe the company has still failed to take care of what's most likely a simple firmware issue. I am currently in communication with Fitbit representatives and will provide an update if they come up with any solution for this.
Sports Modes
There are six sports modes on the Charge 5: Run, Bike, Swim, Treadmill, Weights, and Interval Workout.
During any of these activities, Fitbit keeps track of the intensity through your heart rate, and tells you how much time you spent in the fat burn, cardio, or peak heart-rate zones—along with how many calories you burned. You can set goals in the watch for each of those activities, and it will tell you when you've completed them.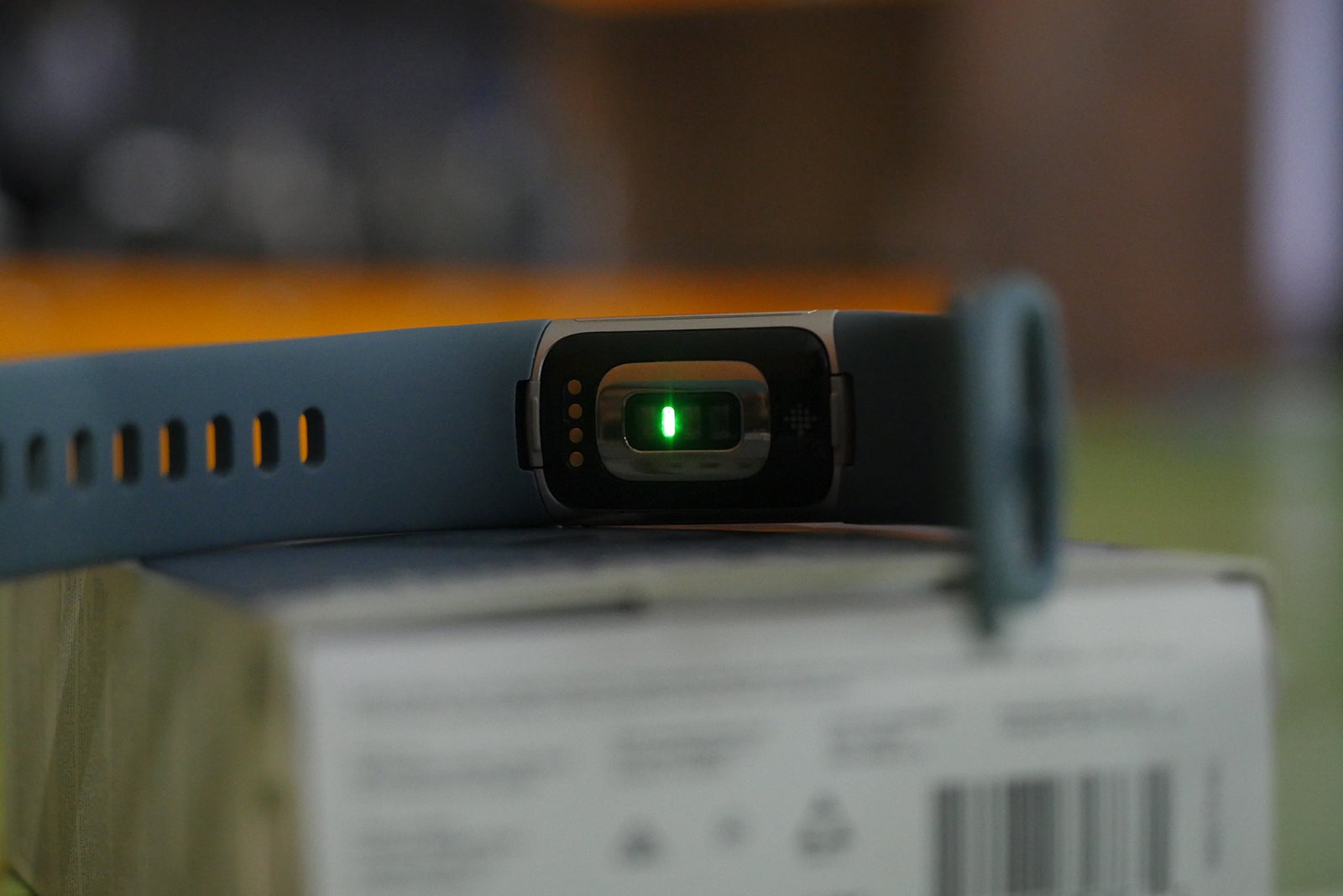 Fitbit Charge 5 heart rate sensor
Exercise and activity tracking

The Charge 5 also carries some motivation strategies to get you off the couch and moving, using something of a reward system. It calls the time you've spent exercising with an elevated heart rate Active Zone Minutes, and the default goal is 22 of them per day.

1 minute in the fat burn zone counts as 1 AZM, while 1 minute in the cardio or peak zone equals 2 AZM's. They're marked by three stacked upward-pointing arrows, and show up on the main clock face along with your daily steps and heart rate. You can toggle between them with a single tap on the screen.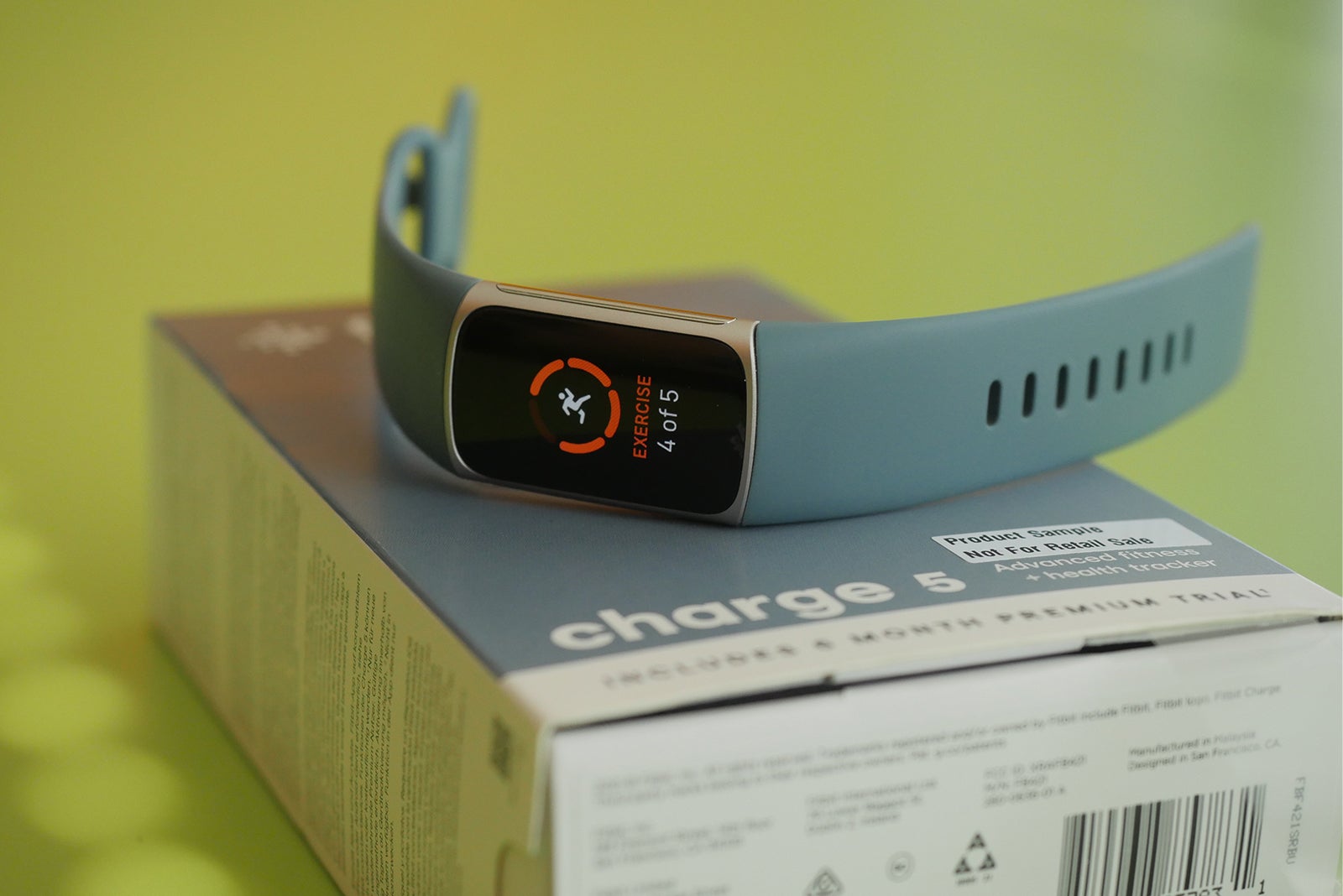 A separate feature expects you to register some activity every hour, for 9 hours of the day (the customizable default is 9am-6pm). It counts a minimum of 250 steps as sufficient activity per hour, and vibrates in validation every time you achieve it.

If you have a Fitbit Premium subscription, you also get the new Daily Readiness Score feature, which is based on your sleep score, heart rate variability, and daily activity. The higher your score, the more your body is ready to handle, while a low score indicates it may be time for some R&R.
EDA

Another new feature is the EDA sensor, which helps you become aware of and manage stress in your body. The sensor is located on the rim of the steel watch face, and you can take a 3-minute "stress test" any time by sitting still and keeping your hand on the sensor. It will gather sweat data from your glands during that time, which is a much more accurate indicator of stress than heart rate.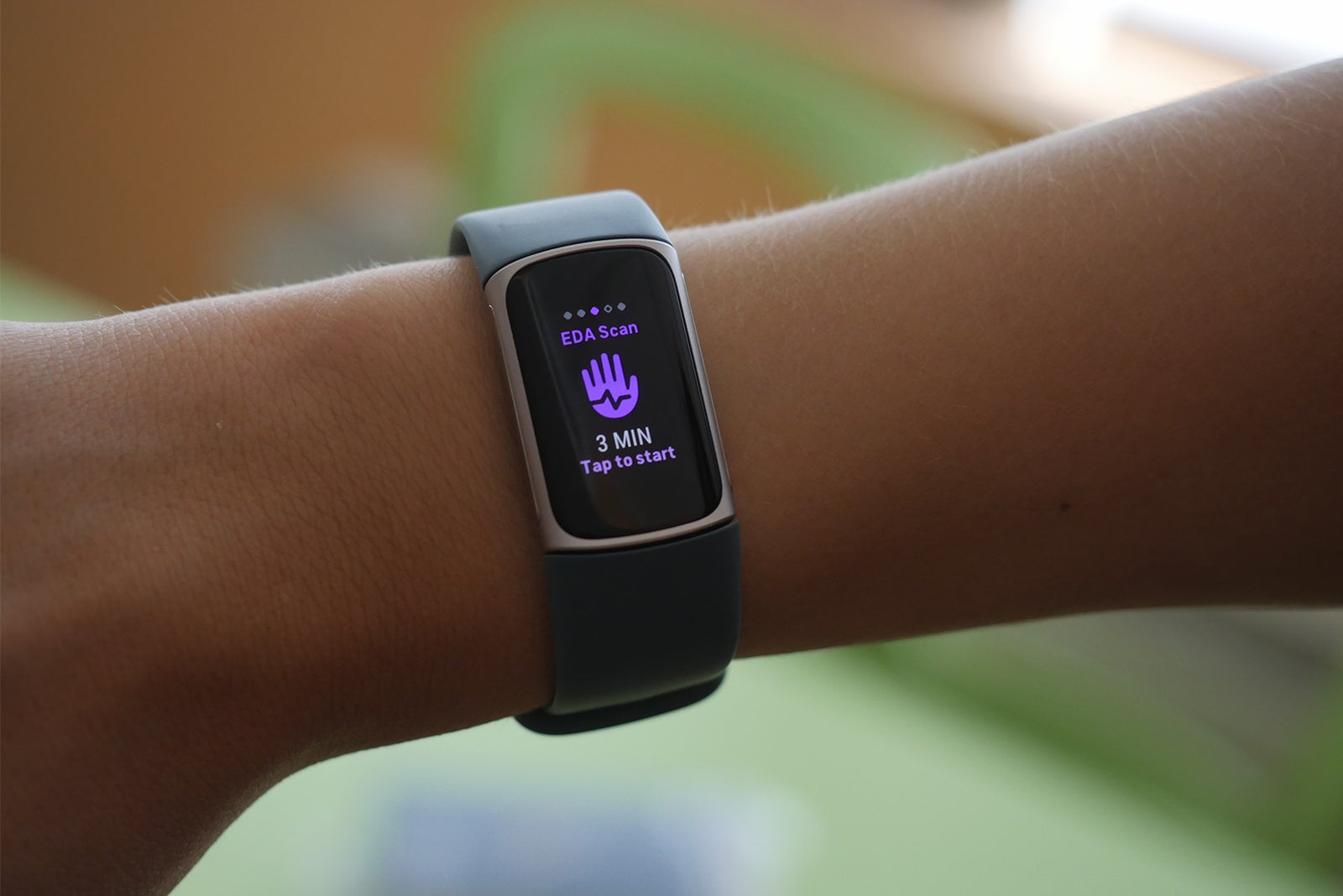 ECG

A new ECG app is also coming to the Charge 5 in the coming months, according to the company, to help track your heart health. The watch is already capable of electrocardiographic analysis, but the software isn't quite ready yet.


GPS

On previous GPS-equipped Fitbits, many users who run have often reported frustrating malfunctions, such as the tracker missing parts of their running routes and showing false distances.

I decided to test this out by taking my Charge 5 out for a quick run and testing its built-in tracker against the Nike Run App on my phone. The GPS does take a while to connect at first, but in the end, the distance matched up perfectly with that marked by my phone, and the route I had taken was also mirrored quite accurately on the Fitbit app.

It was nice to know that the Charge 5's GPS functionality is finally fully polished, and I won't be needing to take my phone when going out to exercise.

Through the Fitbit app on your phone, you can also program the Charge 5 to vibrate and notify you after every mile or kilometer completed, or after a custom-set distance.
Water Lock

I even took my Fitbit Charge into the pool with me once, as it boasts 5ATM water resistance (up to 50m depth). However, I found myself very frustrated. I discovered that once the water lock is activated, there is no way to turn on your screen to check the time of day, or distance covered. The only thing displayed on-screen in Water Lock Mode is a timer counting the minutes since I initiated the exercise.

After a few seconds with the timer, the screen went black and no amount of tapping would turn it back on. I soon discovered that the only powerful enough way to "double tap" it back on, is to whack it twice with the palm of your hand, which prompts you to whack it twice again to exit Water Lock Mode. "Whack" is no exaggeration—I'd tried every other form of tapping and got rather alarmed when I was getting no response from the watch for a while.

Notifications still pop up while in Water Lock Mode, but you cannot interact with them until you exit the mode.

A fitness watch featuring a "Swim Mode" should at the very least be able to display the time of day while in the water, in my opinion, but none of the sports modes seem to have room for modification of the info they display when they are active.


Sleep

This was one of the features of most interest to me during my time with the new Fitbit, as it not only tracks how much you sleep, but also your various sleep cycles (such as REM, deep sleep, etc.) to show the quality of your sleep, which it scores on a scale of 0-100.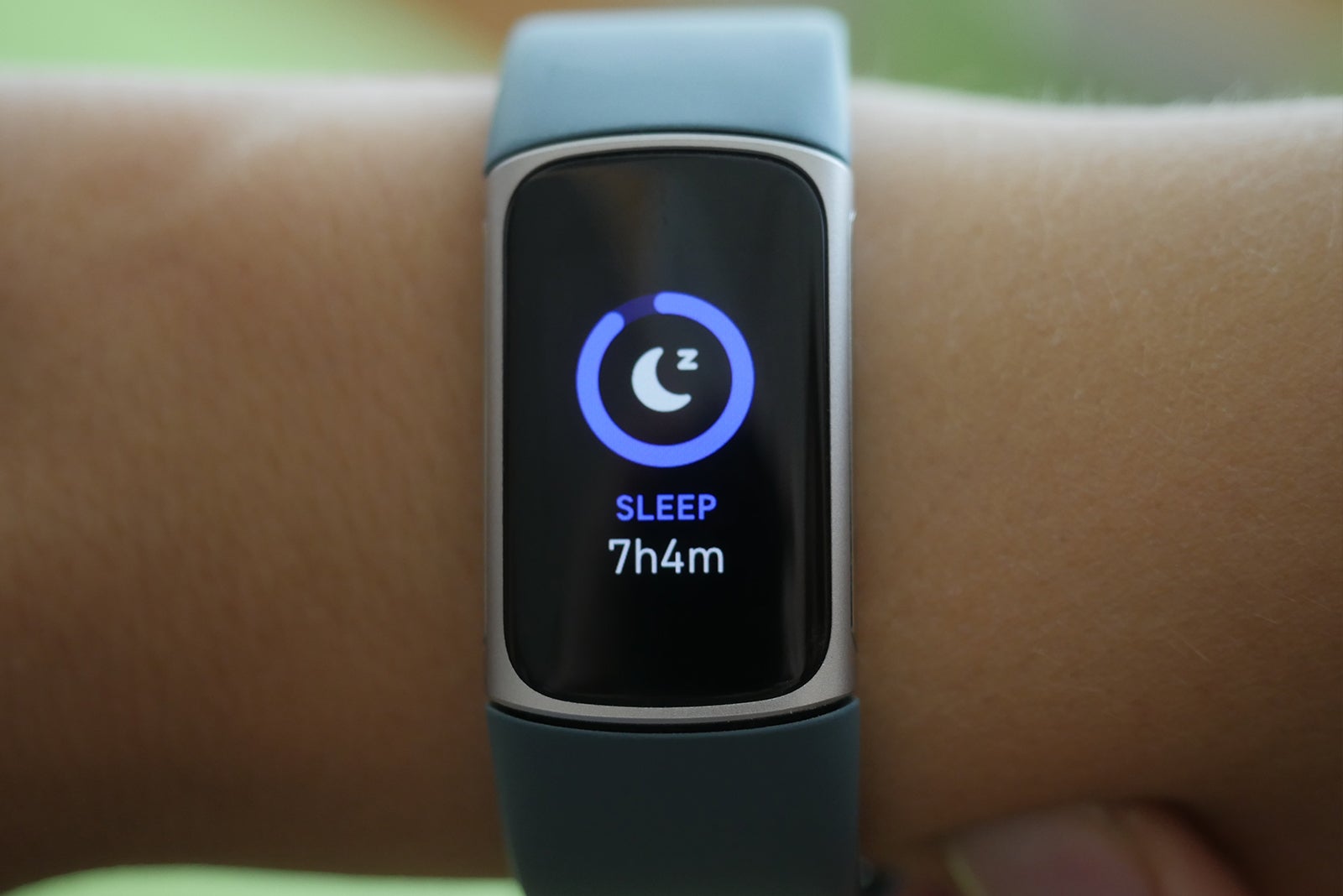 Your sleep metrics only show up on your watch and on the Fitbit app several (sometimes many) hours after you wake up—so don't panic if they show as blank for a few hours during your day. It just takes a bit of time for them to appear.
SPO2 tracking

One thing that isn't made clear at all, and is entirely a failure on the Fitbit's part in my opinion, is the function of the SpO2 tracker. This oxygen saturation measurement is placed right there in the main menu, along with your current heart rate, that you'd think it's also being measured in real time. However, the SpO2 reading only shows your average night-time SpO2, and has nothing to do with your current state.

I think this could potentially dangerously lead a user astray into thinking they have healthy lung function simply based on the number they are seeing, and alleviate any suspicions they may have—when in fact, the SpO2 could have recently dropped without them realizing it. It's also good to remember that no Fitbit can replace professional medical equipment and a doctor, if you are having any suspicions at all about your health.
Fitbit App

The Fitbit app flawlessly synced all my activities and the stats around them every time I started the app, and I could check my history in real time whenever I wanted. The app is perhaps less intuitive than the Charge 5 itself, as it took me a while to find everything, but it wasn't difficult to figure out where things were.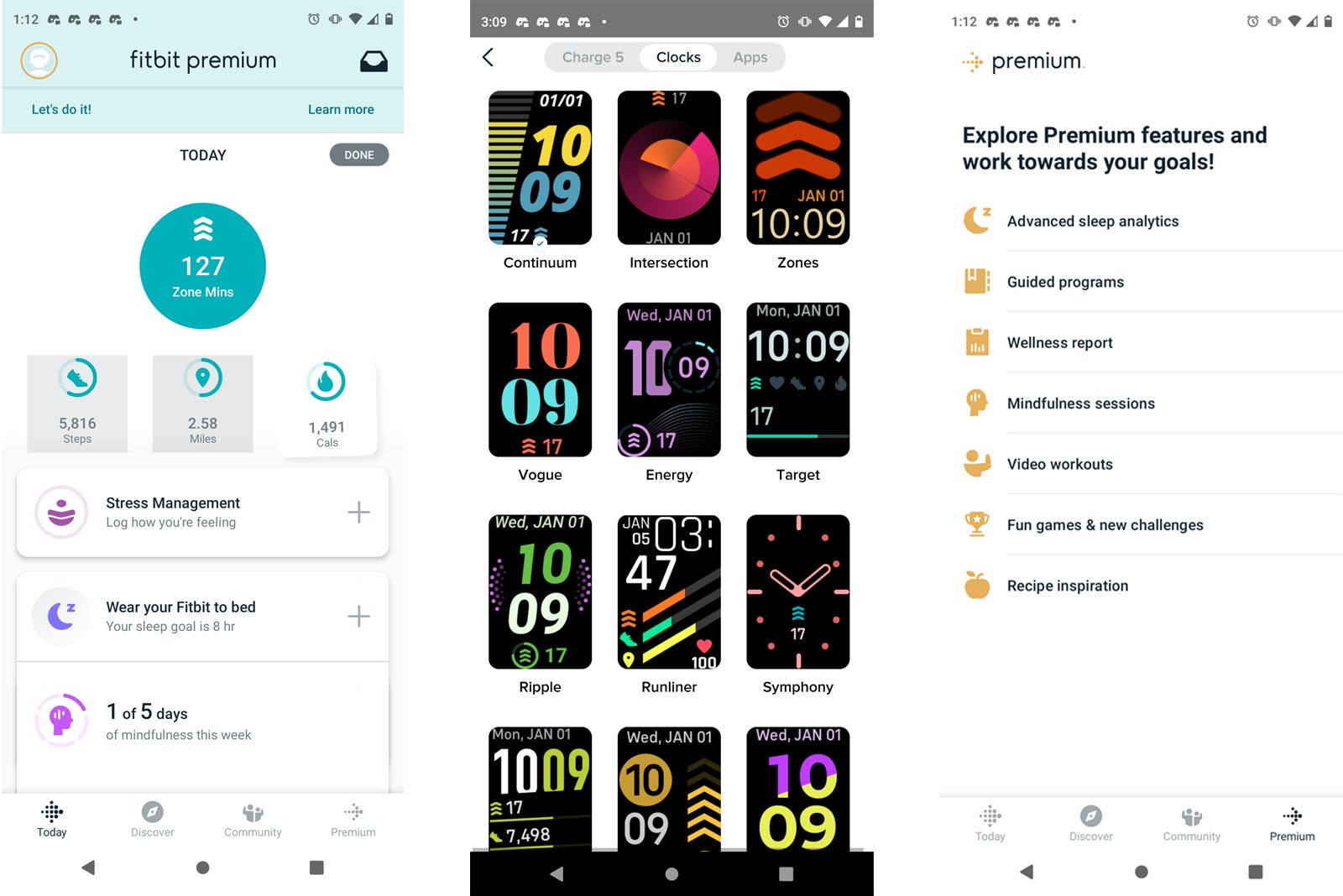 The app comes with 23 Watch Faces, all of which can display all the functions of the Charge 5 (something that wasn't always the case with previous Fitbits).

I appreciated that the Charge 5 came with all the watch apps installed so I could keep track of everything right from the start—and you are even able to uninstall some of them from the watch itself through your phone, which connects to the Charge 5 via Bluetooth.

Through the app, you can not only view all your stats and health metrics, but you can also customize various features on the Fitbit, such as custom activity notifications.

All your past exercise sessions are saved in your history and can be broken down into various segments you may want to view, such as average heart rate, calories burned, impact on your day, etc. You can also compare each session to previous ones to see your overall trends.
Fitbit Premium

For $10/month (or $80/year) after a 30-day free trial, the Fitbit app also provides a Premium subscription, which offers a full Sleep Score breakdown, with great detail such as heart rate activity. There are also 15 food and exercise guides to improve your lifestyle, as well as access to your Health Metrics Dashboard and Daily Readiness Score.
Battery Life

The battery life was exceptional (granted, I wasn't using Always-On Display), with one full cycle lasting a good week. After the first 5 days I used the Fitbit and exercised with it, I still had 53% battery left. This means that charging it won't be something that you're going to have to think about constantly at all.

And when you are running low on juice, you just slap it onto its magnetic charger for a couple of hours at most, and you're good to go for another week.

Fitbit warns, however, that enabling the Always-On Display will quite drastically reduce your battery life, giving you about two days per cycle.


Final impressions

All in all, I was pretty satisfied with all the data I was able to glean from my week spent with the Fitbit Charge 5. It's definitely great to know how well you are sleeping, what your resting heart rate is, and how active you are throughout the day.
Particularly in today's world, where most of us spend our days sitting in front of a computer, the Charge 5 with all its features may be just the tool to get you up and moving more—which is something we could probably all use.

If you want to be more aware of your daily activity and your body in general, but don't necessarily want to break the bank for a fancy-schmancy smartwatch, this $180 device could be well worth it.
While for that price, it wouldn't have hurt to have kept the old Bluetooth music control integration feature (and a working alarm, for goodness' sake!), the Charge 5 is definitely something I can see myself using daily in the future.