Sony Xperia acro S Review
48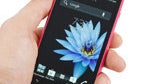 Introduction:
If there is one thing that smartphones do not get along well with, that would be water. Once inside your handset, it is difficult to get out and can easily cause irreversible damage that warranty doesn't cover. Yet the Android-powered
Sony Xperia acro S
is the kind of phone you actually won't hesitate bringing to the beach or putting on the edge of a swimming pool. That's because it is IP-57 certified, meaning that it can withstand a 30 minute dunk underwater at up to 1 meter. Cool, huh?
But the scuba-diving skills are not all that makes the Xperia acro S stand out as the hardware inside it is also pretty decent: 1.5-GHz dual-core processor, 12-megapixel camera, and a 4.3-inch LCD screen with more pixels per inch than you would find on an
iPhone
's
Retina Display
. That definitely sounds like a great combination between specs and features, so let's fire the smartphone up and put it through its paces.
Box contents:
Wall charger
microUSB cable
Micro SIM card adapter
Wired stereo headset with in-ear headphones
Charging dock
Quick start guide and other papers
Design:
"Pink – it's the color of passion", as Steven Tyler once wisely said. And the guy must be onto something as this pink Sony Xperia acro S looks incredibly attractive – like a giant piece of strawberry candy waiting to be devoured. For people who aren't into flashy colors, black and white variants are available as well. The flat front side of the handset is also worthy of being admired for the screen and the bezel blend together seamlessly creating a pitch-black surface your fingers will surely be tempted to touch.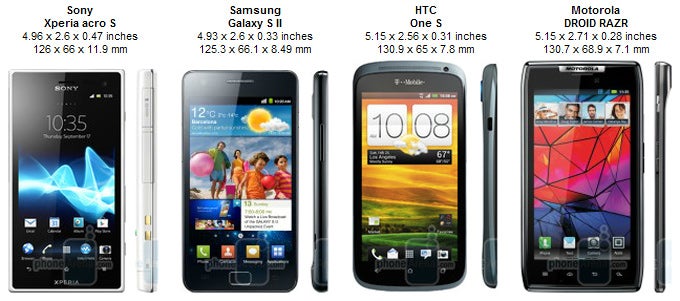 You can compare the Sony Xperia acro S with many other phones using our
Size Visualization Tool
.
But once that initial positive impression began wearing out, we started noticing its imperfections. For starters, the Sony Xperia acro S feels quite chubby for a 4.3-incher and definitely gets noticed when its resting in your pocket. It is 12 millimeters thick and weighs 147 grams, which could be partly due to its rather hefty 1,910mAh battery, yet still, we are left wondering why Sony didn't make the handset at least a bit slimmer. And that's not all: the plastic-made SIM card tray is flimsy, the lock key is way too soft, and most importantly, the capacitive buttons are tricky to operate as they are small and positioned too close to the screen.
Yet perhaps we can forgive Sony for these shortcomings as the Xperia acro S has a very nifty trick up its sleeve. The handset is
IP57 certified
, meaning that it is resistant to dust and water damage. That explains why its ports are protected by removable plastic flaps. Moreover, its screen retains its responsiveness even when used with wet fingers (yes, we tried it), and this is something that even the cream of the Android crop cannot brag with.
Display: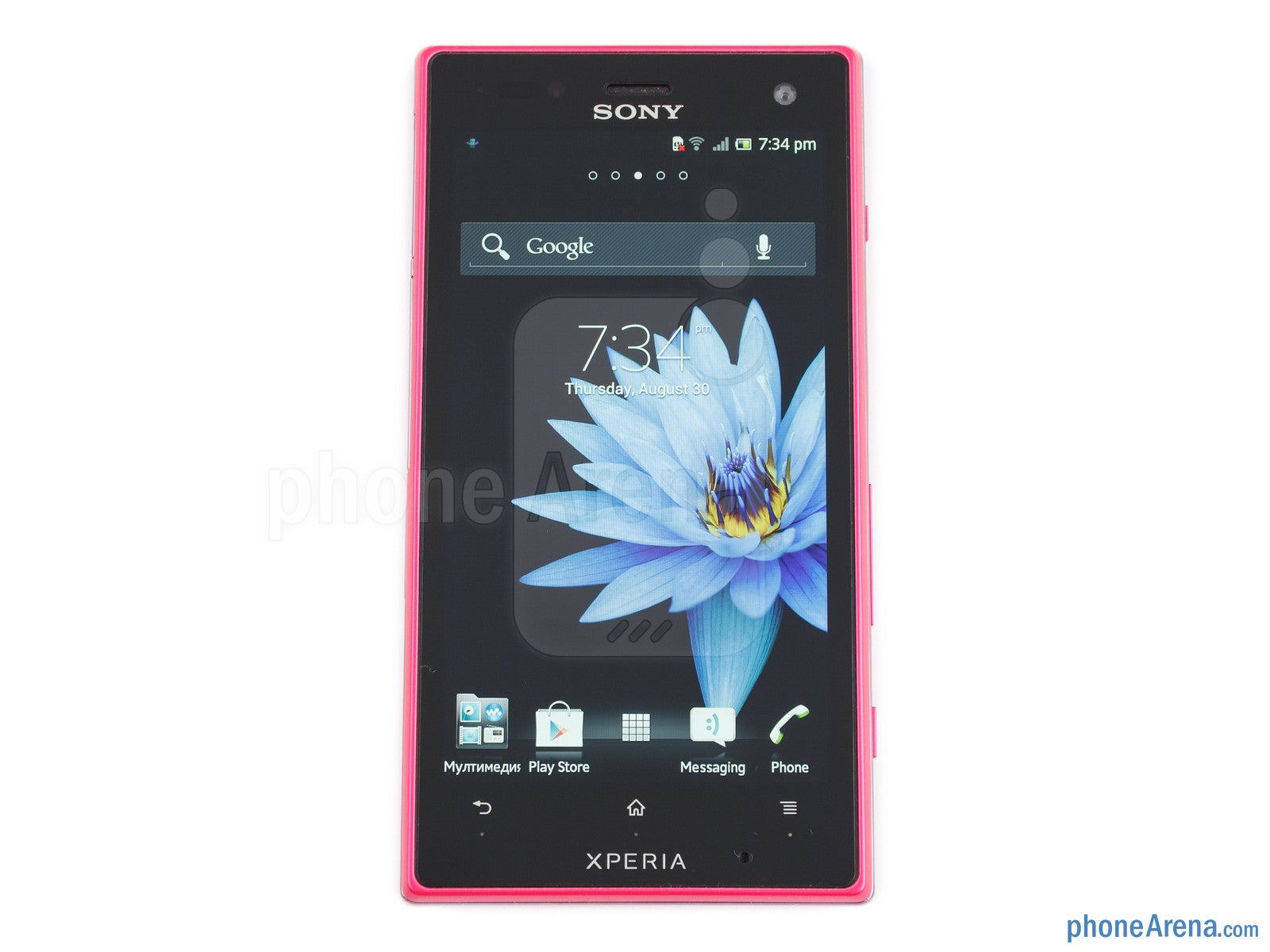 It is truly stunning how detailed images look on the
4.3-inch 720x1280 pixel LCD screen
that the Sony Xperia acro S has been blessed with. At 342ppi, pixelation is non-existent and even the tiniest of text is legible, no matter how much we zoom out. Reproduction across the entire color spectrum is very accurate. Blacks look slightly grayish and whites seem a tad warmer than they should, but not too much to bother us. What's far less impressive are the display's mediocre viewing angles, but at least its outdoor visibility is way above the average.
Sony Xperia acro S 360-degrees View: