Sony Xperia Z1 vs HTC One
31
Introduction
The Sony Xperia Z1 arrived amidst hype and huge expectations as it aimed to deliver an outstanding camera and powerful performance, all in one sleek package. However it has yet to prove it can do better than one of Android's finest, the HTC One.
The Xperia Z1 and the HTC One, the two 'ones', are devices that are actually similar in one way - they both feature exquisite designs on Android, something that was a bit of a rarity on Google's platform. The glass on the Xperia Z1 and the unibody aluminum frame of the HTC One are both great, however they also differ a lot.
Most importantly, the Xperia Z1 comes with a key advantage - it's released half a year after the One and features way beefier specs. Will this swing the scales its way? Or can the HTC One still take a beating? Let's find out.
Design
The HTC One was among the first Android devices to become popular not just for its under-the-hood power, but also for its exquisite design. Sturdy and stylish, the phone features an aluminum unibody frame. It is not the only one to boast a great design, though. The Sony Xperia Z1 is equally very well made, but instead of curved shapes and aluminum, it bets on flat lines, boxy looks and glass. It's hard to compare apples to oranges, or aluminum to glass in this case, so we'll just settle on saying that it's a matter of personal preference. What we like about both is that they feel very solidly put together, with no screaking parts.
One important difference between the two is their size. Both are too large for single handed use, but the Xperia Z1 just feels huge. It's almost as large as a phablet, and it's definitely larger than the HTC One. The Z1 is a bit thinner, but its the size that makes it a bit harder to operate. It is also way heavier at 6 ounces (170 grams), while the HTC One is 5.04 ounces (143 grams).
A huge advantage the Sony Xperia Z1 has is its water and dust resistance. Unlike any other Android flagship (HTC One included), the glass frame of the Z1 is sealed and protected from the elements. It has the IP58 certification and that means it is well protected from dust and you can immerse it in water beyond 3 feet deep for prolonged periods of time.
The HTC One features two capacitive navigation buttons, while the Sony Xperia Z1 relies on on-screen keys. In terms of physical buttons, the One has got a very well made, large and convenient to press aluminum volume rocker on the left, and a plastic lock key that is a bit hard to reach on top. The Xperia Z1 buttons are all located on the side and are easy to reach and press, but a bit small. The Z1 features the signature rounded Sony lock key that is stylish but with a bit shallow travel, a volume rocker, and a bonus button in the form of a dedicated camera shutter key.
Display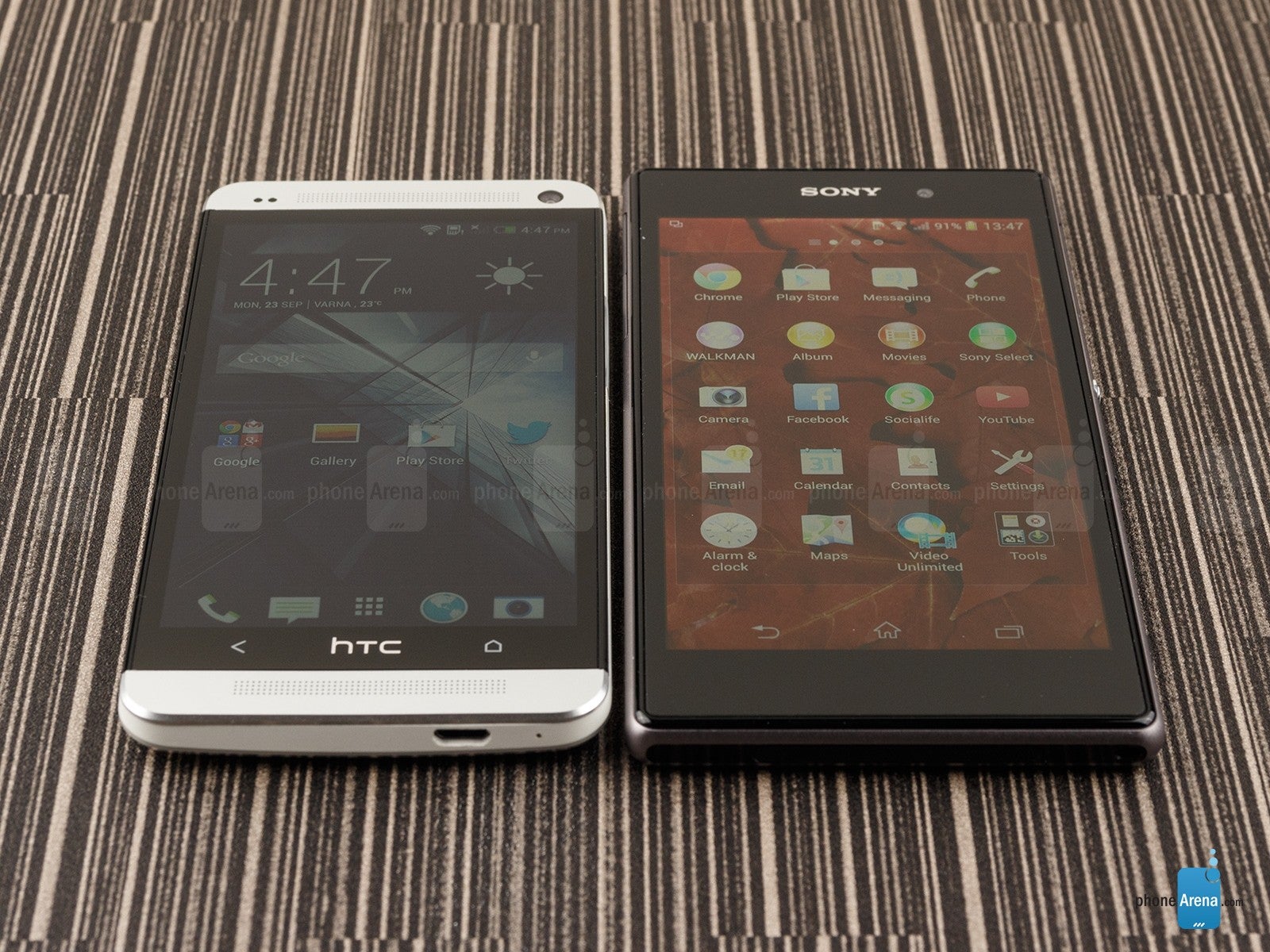 The HTC One wowed us with one of the best displays we've ever seen on a smartphone - a 4.7" 1080 x 1920 pixel screen with crisp image and vivid colors. The Xperia Z1 features a slightly larger, 5-inch 1080 x 1920 pixel display that is even brighter, but colors on it seem just a bit washed out comparatively. Blacks are not that deep as well. Both screens are very sharp, featuring 1080x1920-pixels resolution; resulting in 468 ppi for HTC One and 441 ppi for the Xperia Z1.
The HTC One uses a Super LCD 3 display, while the Xperia Z1 features something that Sony calls a "Triluminous" display. The screen of the Xperia Z1 is quite impressive almost every way you look at it. With its natural and realistic colors, the Z1 is among the more accurate screens out there right now. Its gamma still has some issues, though, resulting in some lost detail in the brighter areas (since some brighter levels are actually brighter than they should be), but overall, it's a great screen. The viewing angles are disastrous, though. . The HTC One has slightly colder, bluer tonalities, but is still very high quality screen with color representation that is perceived as quite realistic.
The two displays are bright enough to be legible even under direct sunlight, but the Xperia Z1 is a bit more luminant and easier to read.
Display measurements and quality
Recommended Stories