Sony Xperia Z vs Apple iPhone 5
99+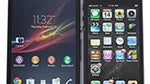 Introduction
Now that we've extensively reviewed Sony's latest flagship, it's time for us to start comparing it to the best smartphones that are available today and see just how well it stacks up against the competition. The first tough guy that we're going to compare the
Xperia Z
against is Apple's finest – the
iPhone 5
. Both smarpthones are among the very best out there, so this is bound to be an interesting clash. Now, let's see how the Z is going to fare against the status symbol!
Design
We rarely have the pleasure of comparing two smartphones that are both outstanding in terms of appearance and construction. This is one of those rare occasions, though, so things are going to get quite interesting. Both handsets look spectacularly-well, so it will be up to you to decide which one you like better.
The Xperia Z has an all-glass design, similar to the
iPhone 4
and
4S
. As a result that handset is very seductive – much better-looking than what it would have been if it had a simple soft-touch plastic back. Sony really deserves credit here for going this way. In addition, both the front and back panels are perfectly flat making for a very clean and stylish appearance.
It's also worth mentioning that the iPhone 5 is much lighter and smaller than the Z, so people who do not enjoy very big phones should keep this in mind.
Sony has actually taken both the customers and the competition by surprise by giving the Xperia Z some rugged features. The Z is IP57 certified, meaning that it's dust- and water-resistant – something that no competing high-end smartphone can offer, including the iPhone 5.
Display
Aside from the obvious difference that the
5" display of the Xperia Z
is much bigger than the
4" display of the iPhone 5
, the Xperia Z has the advantage of the higher resolution – after all, it's a 1080p display that delivers a super-high
pixel
density of 441 ppi, compared to the iPhone 5's 326 ppi. Both pixel densities are extremely high and offer an incredibly crisp and clear image, with the Z naturally being a tad clearer.
However, when it comes to pure image quality, we actually find the iPhone to be superior. The displays of both phones are almost equally bright (the iPhone 5 has just a slight advantage there), but the Xperia Z's screen has a significantly lower contrast, and slightly less saturated colors, making it appear a bit washed out and not as vibrant as the iPhone 5's. Sure, the Xperia Z features the Mobile BRAVIA 2 engine, but that enhancement simply makes up for the difference between the two phones when you're viewing photos or watching video in the gallery. Do not expect it to blow the iPhone 5 out of the water.
In addition, the Xperia Z's viewing angles are quite poor – the overall image quality tends to degrade quickly as you start tilting the phone. Of course, some quality degradation is also visible with the iPhone 5, but to a much smaller extent.
Display measurements and quality