Sony Xperia E4g Review
16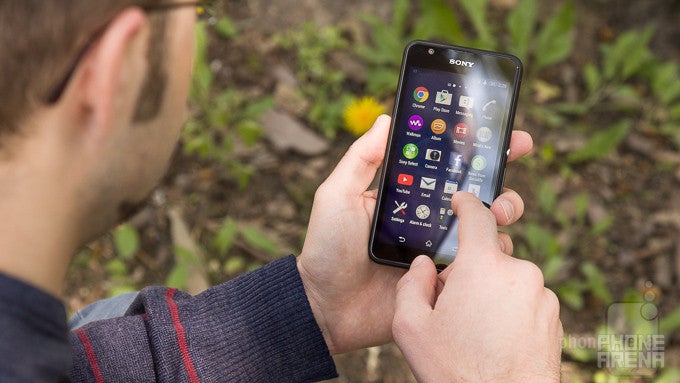 Introduction
If you need an inexpensive, unpretentious phone to give to your teen or even kiddo, without worrying about the consequences, Sony has got you covered with the new
Xperia E4g
. It is pretty low as specs go, sporting a qHD screen (certainly not to be confused with QHD), a MediaTek chipset, and a basic 5 MP camera, but offers seemingly sturdy design, 4G connectivity, and has the Sony logo slapped on its back. Will the price and branding be enough to offset the circa 2012 specs sheet? Let's find out....
In the box:
Wall charger
MicroUSB cable
Warranty and information leaflets
Design
Thickish, but comfy to operate, the Xperia E4g feels very sturdy in the hand
The chubby, soapy-shaped Xperia won't be winning any design contests this season, but it feels solid and sturdy in the hand. It is quite thick and light, which, coupled with the soft-touch plastic on the back, makes it easy to grab and hold, though the 10.8mm chassis girth might be a turnoff. The back panel, which encompasses the sides of the phone, is removable, but the battery is, sadly, non-replaceable. The power/lock key, and the volume rocker on the right, offer deep tactile feedback, but the power key feels a bit wobbly under your thumb when you play around with it, as it's actually a part of the removable rear casing.
Display
Bright and color-accurate, the 4.7" display shines in everything but pixel density.
Sony has been worrying that we've forgotten what a 540x960-pixel qHD display looks like, and is bent on reminding us that this type of resolution still exists with the Xperia E4g. We don't want to rain on its parade, but the 4.7" display returns 234ppi at this resolution, which might sound fine, but in reality small text looks interrupted, and icon edges are somewhat jagged – we'd certainly prefer at least a 720p panel at this price point.
As for the other screen quality criteria, however, the LCD panel has them covered well. The color representation is nearly spot on, with only the greens running a tad afoul, but certainly not to the level you'd notice it. We measured the white point to be relatively close to the reference, too – at 6328 Kelvins, it is only slightly on the warmish color side.
The good news about the display don't end here, either – it is very bright, at 508 nits, and has pretty decent viewing angles as well. All in all, despite the aging resolution, you won't be disappointed by the Xperia E4g display panel.
Display measurements and quality
Recommended Stories