Sony Xperia 1 II Review
67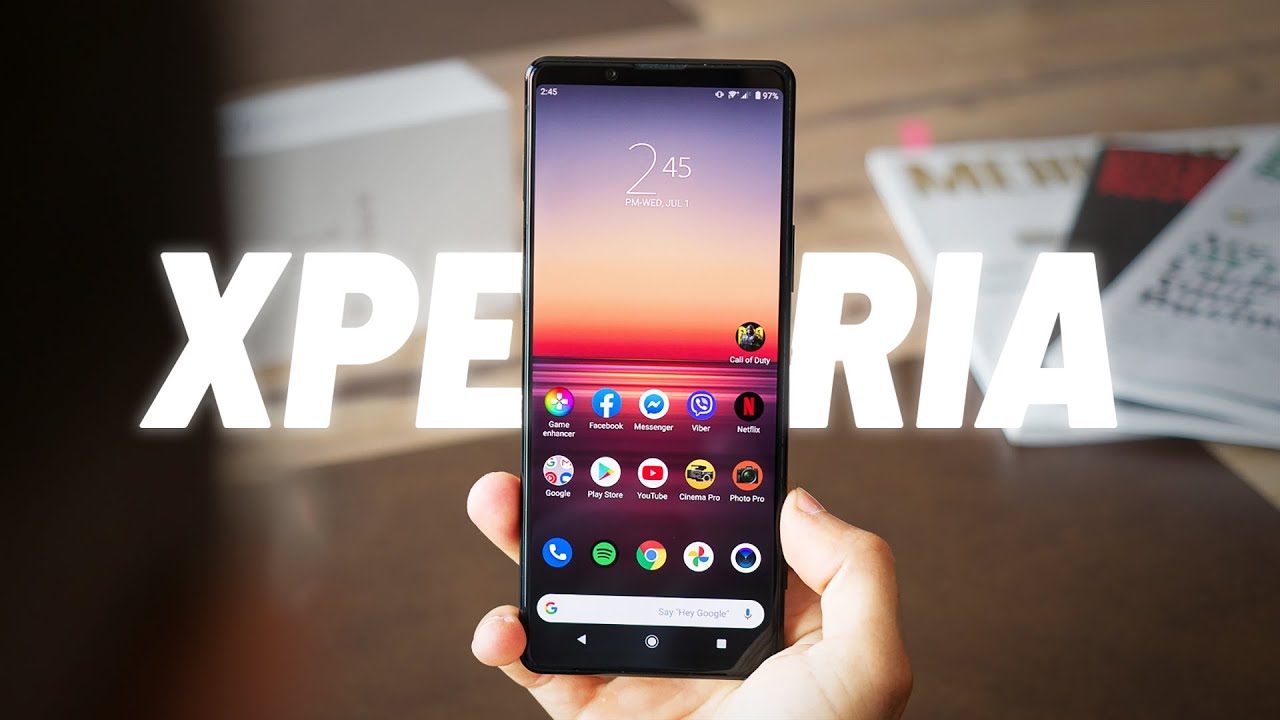 Saying that the
Sony Xperia 1 II
(read it as "one mark two") is a beautiful device would be an understatement: it has sleek lines, slim and elegant profile, and it's narrow, so you can easily grip it. Sony has also included a positively incredible camera that rivals the very best phones and in certain cases beats them. Unfortunately, all of that greatness is wrapped in disappointingly buggy and undercooked software, the device ships without support for US 5G bands (but it will work with 5G in Europe) plus a lot of the standard features you see on other flagships are missing. Worse yet, it is priced at an outrageous $1,200.
Introduction
Sony phones were never the most popular option. Back in the day that was Nokia, and then shortly BlackBerry, then the iPhone took over, and in the Android era, Sony never quite managed to beat Samsung or even the quick-to-add-features Chinese phone makers. But Sony was always in the fight: this cool outlier, the misfits. If you're old enough to remember, even back in the days when phones had buttons and tiny 1-inch screens, Sony Ericsson phones stood out with trendy designs unlike others and cameras that could rival the best.
Fast forward to today, and Sony is still the company that makes the camera sensors for most leading smartphones and it also happens to have this Alpha series of cameras that happen to have transformed the digital camera market from the ground up. It's DNA hasn't changed. You can say the company knows a thing or two about photography and design.
I segue into the review with this because the Sony Xperia 1 II is exactly what you would expect of Sony, if you know the brand. It's crafted in its best traditions, with elegant, sleek lines and an ergonomic body, and it has a camera that can 'wow' you with its photos.
Design
It's impossible not to notice how narrow and tall this phone is. It really stands out in a crowd, and you wouldn't believe that such a narrow phone has a 6.5-inch display. That number is such because of the extra tall, 21 by 9 aspect ratio, of course, and holding the Xperia 1 II feels more like holding a TV remote than a smartphone.
We don't mind this: the narrow body allows a firm grip on the phone, so you are less likely to drop it. It does come with the inconvenience of sticking out of some pockets, and try having it in a pocket and then sitting down to tie your shoes... But those are common troubles for folks looking for a phone that has an XL in its name.
What's not so common is how lightweight the Xperia 1 II is: it weighs just 6.38 ounces (181 grams), far less than an iPhone 11 Pro Max (7.97oz, or 226g) or a Galaxy S20 Ultra (7.83oz, or 222g). While those other two phones feel incredibly solidly put together, the Xperia actually feels and sounds hollow on the inside. The materials Sony uses are aluminum for the mid-frame and Gorilla Glass 6 on both the front and the back. And it's glass of the glossy kind, aka the kind that picks up fingerprint smudges extremely easily.
All buttons are on the right hand side: the fingerprint scanner is built in the recessed power key in the middle, the volume keys are above it and at the very bottom is a dedicated camera shutter key, a signature Sony touch. I am not a fan of the recessed power button. Such a position makes it harder to press and find by touch, but it's a necessary compromise because of that fingerprint reader. The other buttons also don't feel as clicky and as responsive as on rival phones. There is a USB-C port and a mic on the bottom, and a 3.5mm headphone jack at the top. Sony bundles the phone with its excellent $200 WF-1000XM3 truly wireless earbuds for early pre-orders, so it could have skipped the headphone jack, but I'm glad it provides that option. The speakers are front facing and cleverly positioned in two tiny cutouts, one at the bottom and one at the top of the phone where you also have the in-call speaker. More on the audio quality later.
All of this is IP68 certified and water protected, and the SIM card tray is combined with a microSD card slot for removable storage.
Display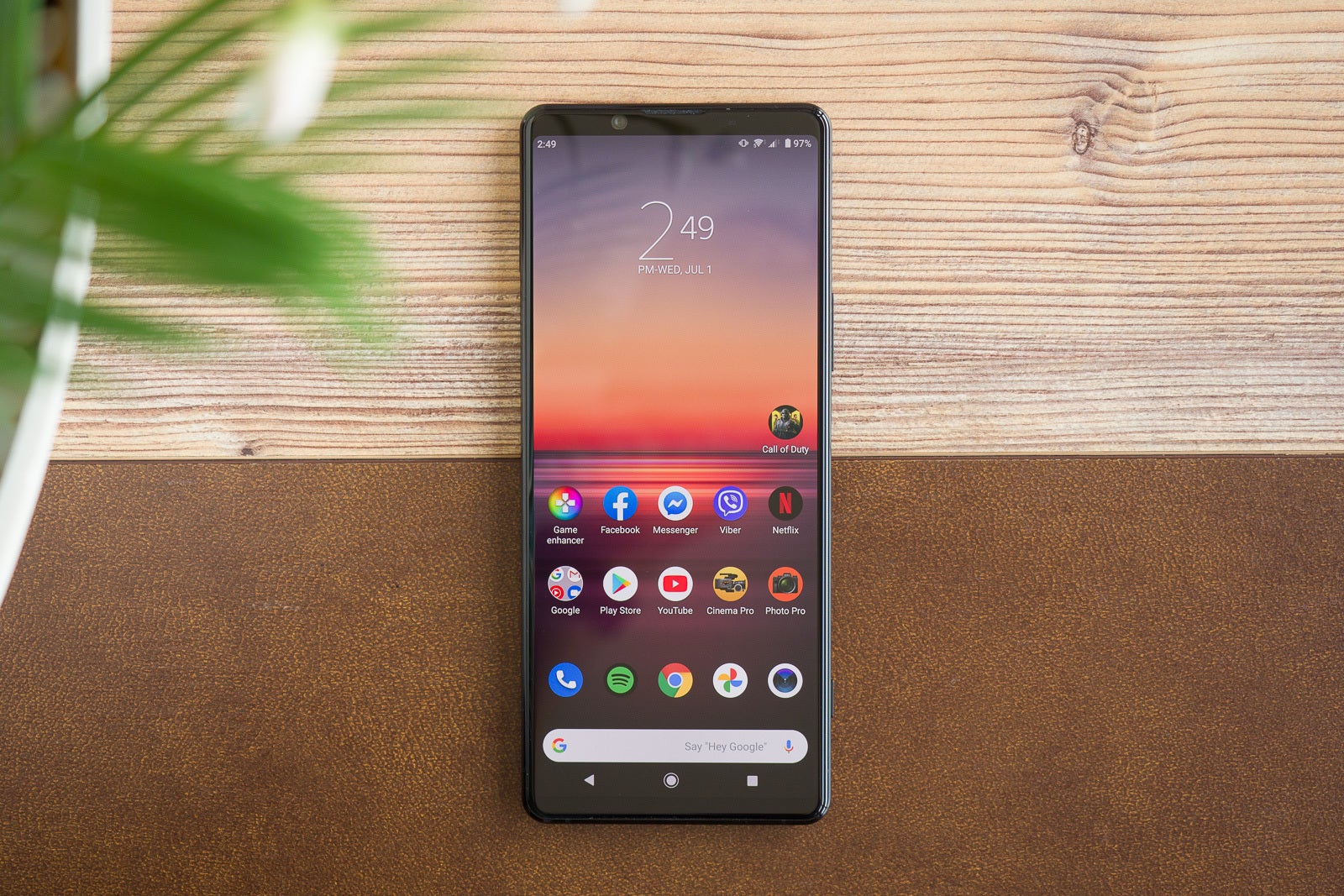 The display is the centerpiece of a smartphone, and this one is incredibly sharp. It's a 6.5-inch AMOLED screen with a 4K resolution, or 1644 by 3840 pixels, a pixel density of 643 pixels per inch. This is more than on any other phone, but keep in mind that on tiny smartphone screens even such an incredibly sharp resolution provides very subtle improvement over most phones. Subtle, however, doesn't mean invisible, and if like me you read a lot in bed with the phone just inches away from your face, you will appreciate it. For regular use? Not so much.
Sony also throws in a bunch of marketing terms in the display specs sheet to impress: "CinemaWide", "4K HDR", "stunning cinema quality", "professional level color reproduction". In fact, Sony has a whole paragraph on its website about the screen: "Inspired by Master Monitor color reproduction from Sony's professional technologies, used in leading Hollywood studio productions, now you can experience unprecedented color accuracy with Creator mode "powered by CineAlta" to bring content to life exactly as it was envisioned, including Netflix series and movies."
Hmm, all of that sounds great on paper! It must be totally amazing in reality too, right? Well, I was disappointed to see that when this option was enabled YouTube videos actually did not look great at all, they had a very cold tint and the colors lacked vibrancy. I had to switch it off and manually tweak the screen (thankfully, that's easy to do in the settings) to get it to look better. If you get those colors right, the screen is impressive, but I found it strange that it didn't look good with an app as popular as YouTube out of the gate.
The other thing about this screen is that it just does not get as bright as rivals. This makes using the phone in broad daylight a bit of a challenge. I have also had a few issues with erratic auto brightness adjustments.
Oh and yes, no sign of a fast refresh rate here! OnePlus, Samsung, Huawei, pretty much every Android company has adopted the technology in its top-tier phones. Unfortunately, not Sony. While I feel that 120Hz hits the battery hard, I would have loved to have the option to go to 90Hz, but alas.
Display measurements and quality
Haptics, Notifications and Vibration
One thing you don't see on a specs sheet that still make a huge impact on the way you experience a phone is haptics. It's been a year and a half since my co-worker Preslav complained about the sad state of haptics on Android, and Sony unfortunately remains that company to still have a weak, flimsy vibration motor. That might sound like a small thing, but it's not. The truth is that most people I know never have sound "on" on their phone. It just quickly gets annoying to hear your phone beep and bleep with notifications all day long. Instead, you put your phone on vibrate and leave it that way, unless you are waiting for an important message or call.
The weak vibration motor on the Sony is just not in the same league as the Taptic Engine on iPhones, the vibration motors on the latest Galaxy and OnePlus phones, and many others.
Biometrics and Security
In terms of biometrics, you get a traditional fingerprint scanner embedded in the power button on the side of the phone. There is no face recognition of any kind.
Setting up the fingerprint scanner is easy, and it works well most of the time. It's definitely not the fastest around, but it's no slouch either. I do, however, take issue with having it embedded in the power button. First, because having it there means it is harder to just quickly press the power key to activate the lockscreen without accidentally unlocking the phones, but secondly, because that is exactly where your thumb rests when you put the phone back in your pocket. Because of the way my thumb naturally rests on the fingerprint scanner, I was never quite sure if I didn't accidentally unlock the phone as I was placing it in my pocket (and a few times it was indeed unlocked).
Performance, Benchmarks and Gaming
Under the hood, the phone is powered by the Snapdragon 865, the most powerful chip you can get on Android right now, and this in combination with 8GB of RAM. And it's fast. The phone runs daily operations smoothly and without a hiccup, just as you'd expect.
Here are some benchmarks to showcase the performance:
What you wouldn't expect is that this phone would overheat the way it does. It's not normal to receive a warning about your phone overheating if you use 4K video. At least not in 2020. And playing back music on it in my car in June got the phone so hot that I was worried.
The same is true for gaming: the phone comes with Call of Duty Mobile pre-installed, and I played a couple of rounds, and the phone got way too hot.
At least on the specs side, the Xperia is loaded: it has a whopping 256GB of on-board storage and it supports removable storage too.
Software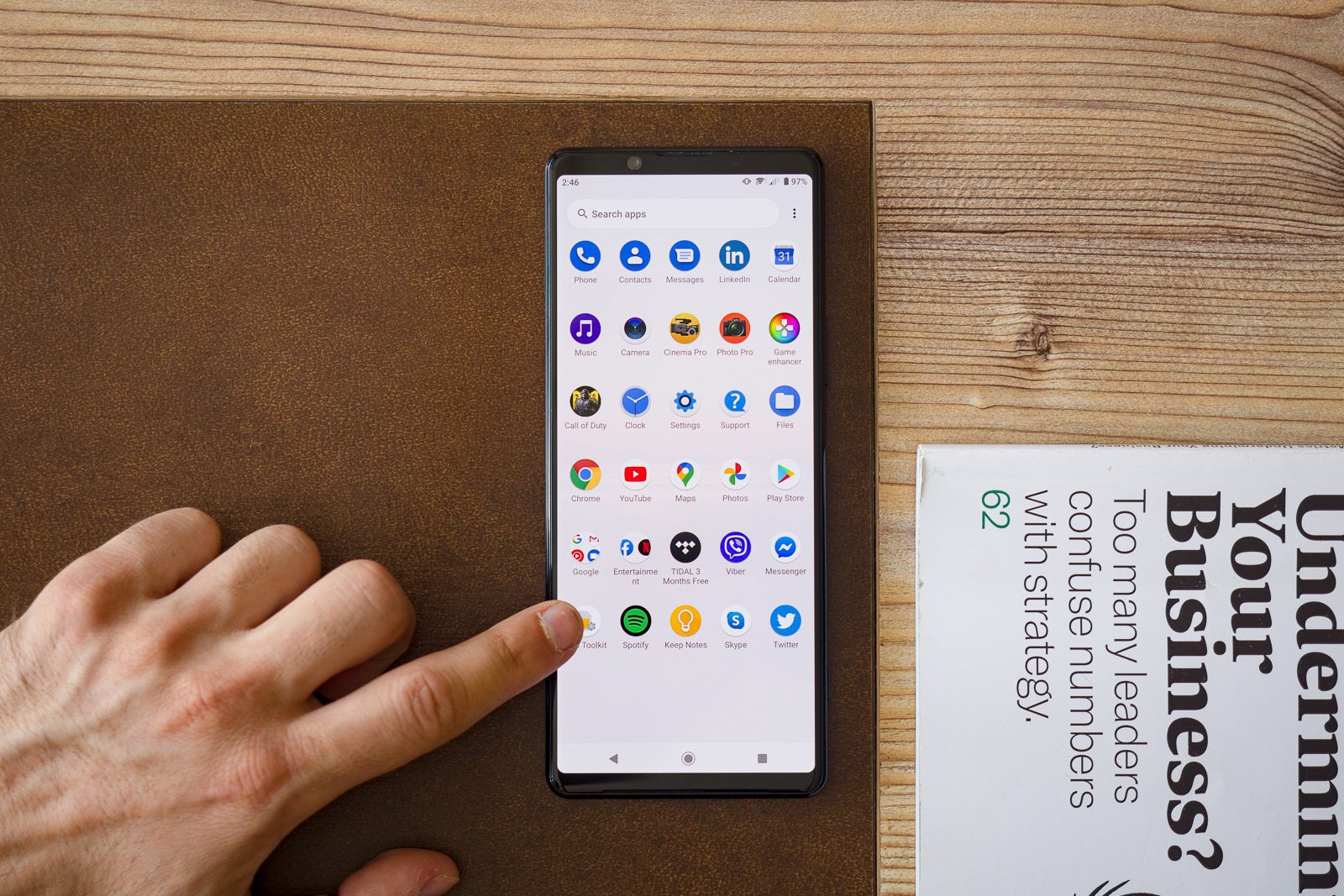 There is a vocal crowd of supporters of "clean" Android. And for a good reason: clean assumes you don't have bloatware, no duplicate apps, no annoyances. Sony's version of Android is technically clean Android, but it has convinced me that clean Android unless ironed out of bugs can be a bad thing too.
Dear distinguished reader, before you scold me for bias, here are a few examples:
Playing back music on Spotify while browsing your Facebook News Feed results in the music constantly getting interrupted
Zooming into images in the Photos app is jittery every single time (blame Google Photos for that)
Gesture navigation often doesn't work well, especially when an app switches to landscape orientation
And then, there are just a bunch of features that I have gotten used to on other phones that are not present here: for example native screen video recording is not available here and there is no option to have Dark Mode enabled automatically after sunset. And that signature Side Sense feature? A double tap on the side of the phone is supposed to open a selection of useful apps, but I couldn't get it to work as much as I tried.
Of course, us spoiled reviewers love to complain about details like the above that we can see in comparison to other phones we use. These are not deal breakers, I repeat, not deal-breakers. They are hiccups to what could have been a much better experience, and we can and should expect better out of a super premium phone at this price.
Camera Specs and App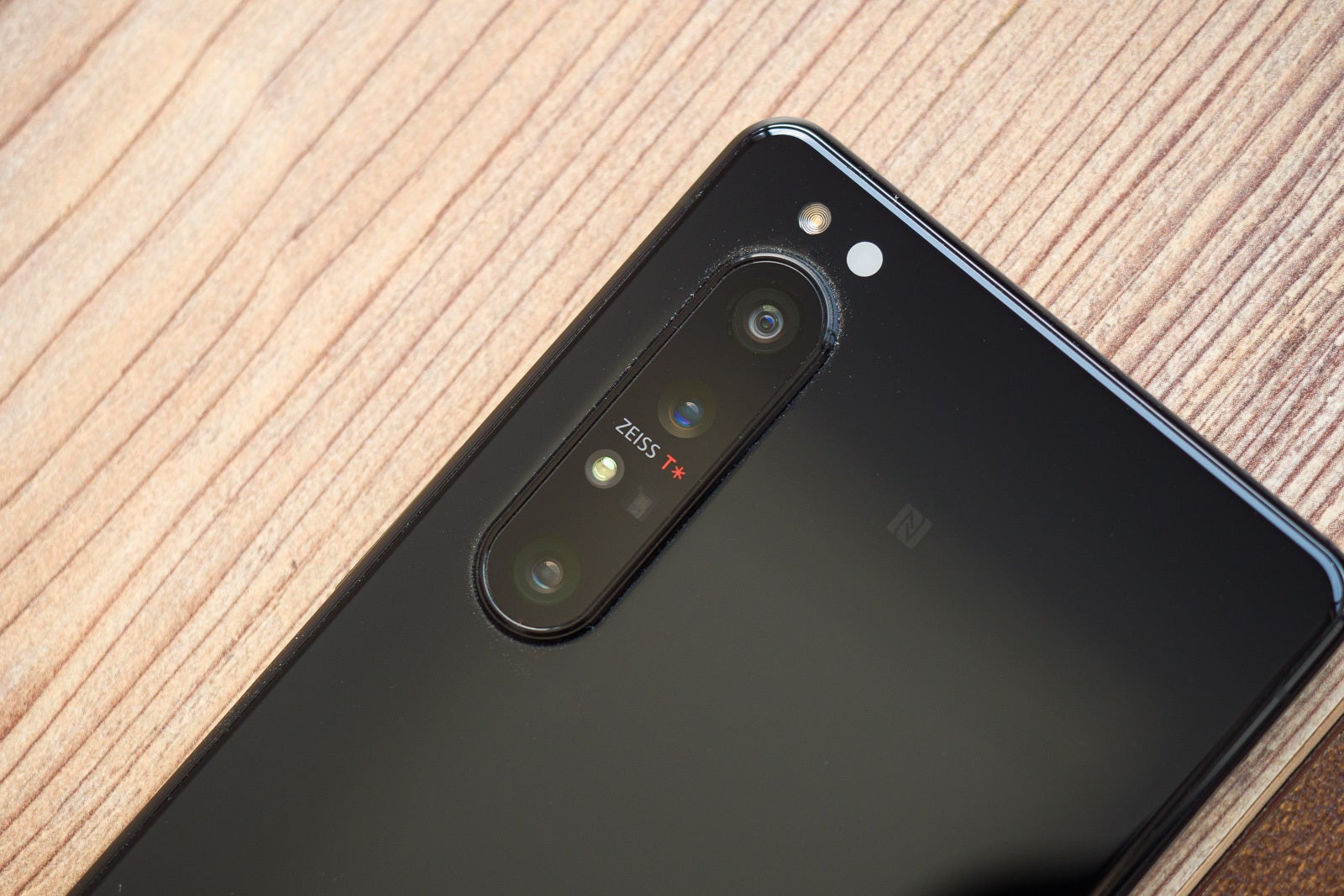 We have finally reached the bread and butter of the Sony experience, the raison d'etre of the Xperia 1 II: its camera. Spoiler alert: it's mostly great, sometimes better than the very best phones out there, with some infuriating issues around the camera app, but if you can deal with that: mostly great.
So, dear readers' jury, let me present to you another complaint against Sony's software engineers and that complaint is just... the entire camera app!
Sony has managed to overcomplicate the simplest actions: for example, zooming. Pinch to zoom and the phone would only go up to 3 times zoom. That's strange, right? Most phones go to at least 10X times zoom, and many can zoom up to 50X or even 100X times. Well, the Xperia can actually zoom 9X times, but in order to get that zoom, you first need to switch to the telephoto camera, and only then start to zoom in. Have you selected to use the 3X telephoto camera? Sorry, you cannot zoom out to the ultra-wide one, you first have to tap to go back to the main camera, and only then, you can pinch to zoom out. I have never seen another phone behave so weirdly, let alone a $1200 flagship.
Tap in the settings and the first time you select 4K video recording, you get a warning that your phone may overheat! Unexpected, especially in 2020.
And there are all other sorts of weirdness: the viewfinder is low-res, the night mode pulses constantly and the camera app shuts down automatically after just a few seconds. It's a mess in dire need of a fix.
Photo Quality
All of the camera issues, however, are something that you can work around and if you do, you will be in for a pleasant surprise. The photos that this phone can capture can 'wow' you in ways even the best out ther cannot.
Detail is plentiful and colors look spot on, not too saturated, nor too bleak, just perfectly well balanced.
Subject tracking is industry leading too, as Sony has borrowed a few tricks from its digital camera department.
Daylight Photos
I knew there was something special about the photos from the main camera on the Xperia the moment I saw them on the screen, but checking them out later on a big, professional screen left me quite speechless. The quality of these images is just not something you see on a smartphone. The fidelity of colors, the crisp but never artificially boosted detail, the good dynamic range, all of that comes together in a magical way creating images, and if you go places with people -- memories. That one is up to you, though.
Ultra-wide Camera
The ultra-wide camera offers the same beautiful colors you see from the main camera, so you get a wider field of view without losing much in terms of image quality. While we do have quite a few issues with the camera app experiences, the photos just look great.
Selfies


The phone has one of the best selfie cameras we have used so far: it focuses on your face, detail is crispy clean without a touch of artificial oversharpening and colors, well colors are beautiful and true to life unlike any other phone out there. Of course, don't expect wonders from the front camera in low light, but for all else, it's quite amazing.
Night Mode
We appreciate having the Night Mode option, but it takes a bit extra time and you need to remember to manually enable it, which basically means you will rarely use it. We wish it was automatic because it does improve photos taking in extreme darkness quite a lot.
Video Quality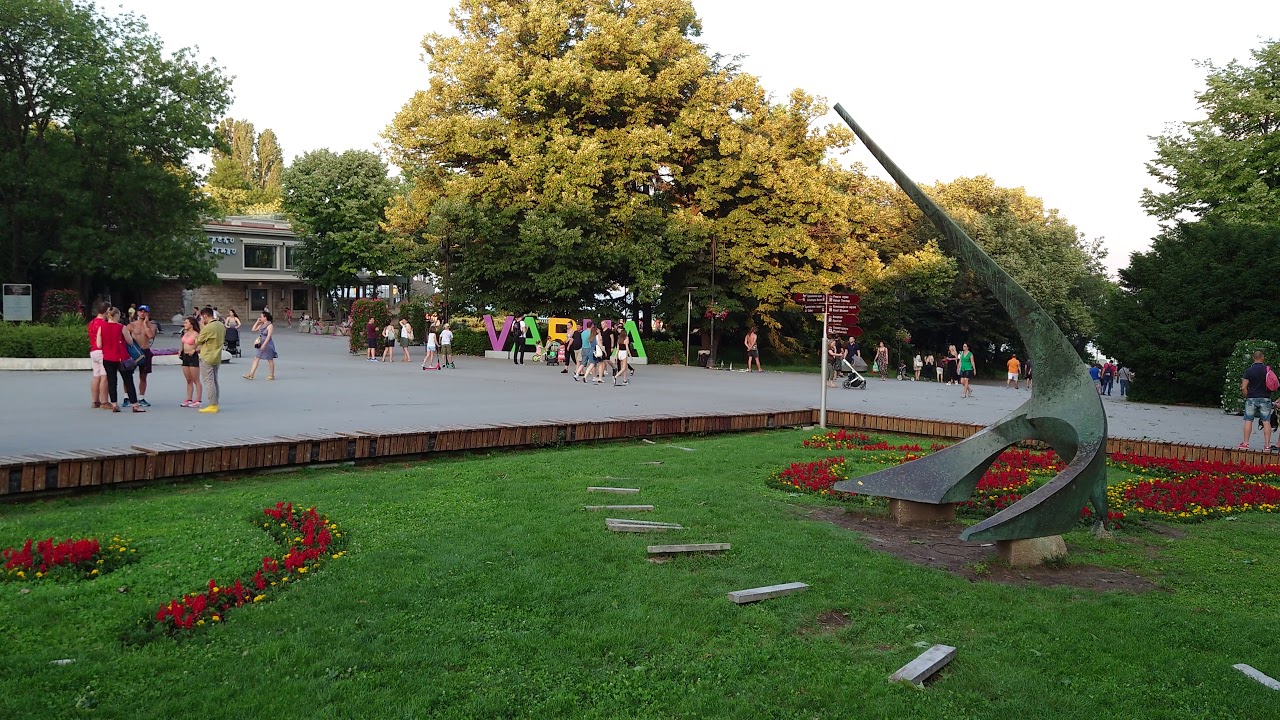 The 4K option here has the same pleasing colors as we saw in photographs, and it provides ample amount of detail. We did not notice any focusing issues either, so using the camera for videos was a breeze. You also will
One thing that I find hard to explain is the inconsistency of many Android phone makers. Video recording in the Xperia is a perfect example. Sony was among the very first companies to introduce Super Slow Motion where it recorded at an incredible 960fps, allowing you to slow down reality by a whopping 32X times. It was a gimmick, but one of the coolest ones. Well, the Sony Xperia 1 II completely ditches this feature that Sony itself pioneered. It's gone, with no explanation why. Right now, you cannot even record 240fps slow motion on the Xperia 1 II, it can only record at 120fps, worse than most phones on the market.
Audio Quality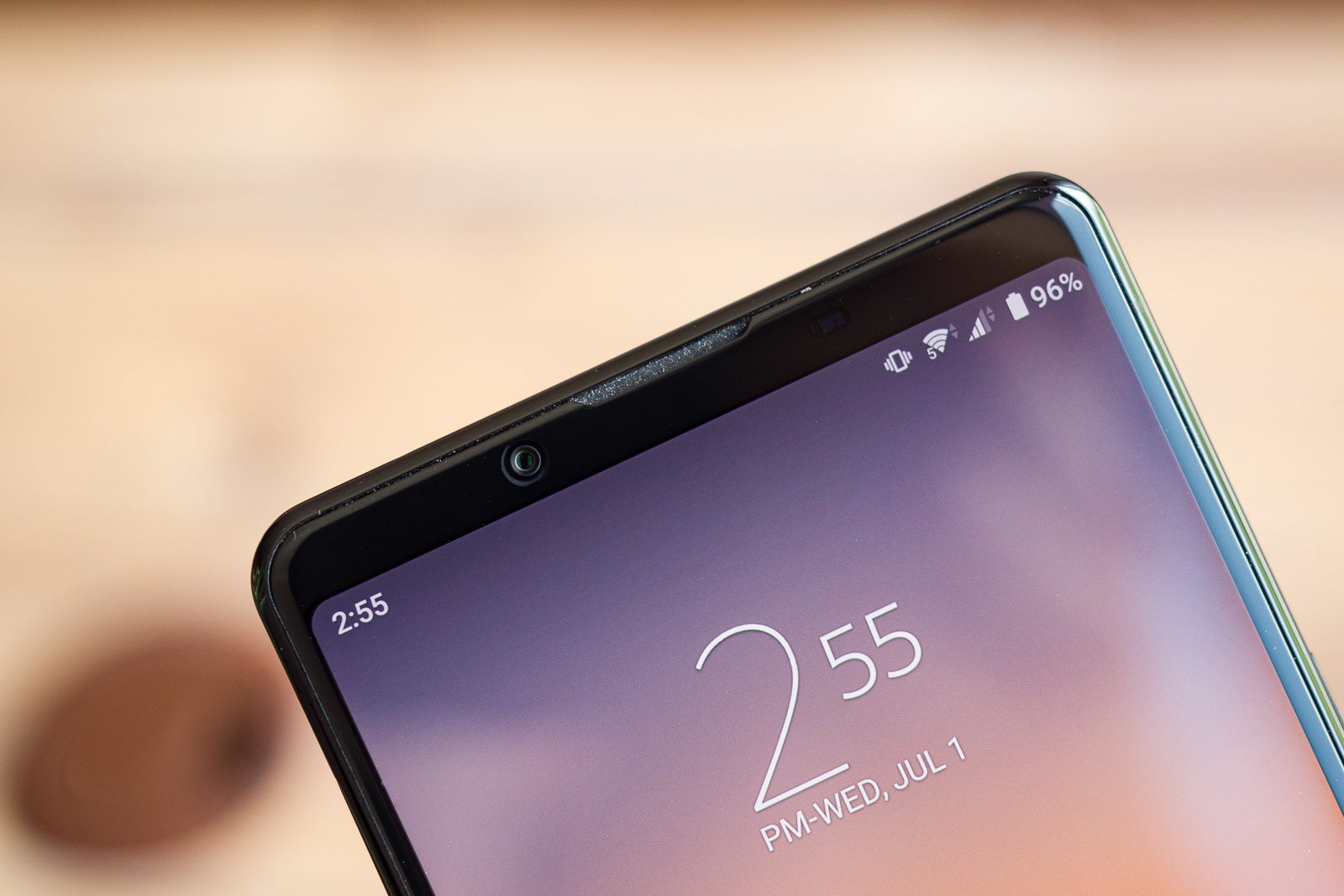 As I mentioned earlier, the phone cleverly hides two loudspeakers in tiny cutouts in the top and bottom that face toward you. Unfortunately, these loudspeakers fail at one key metric: they are not loud enough. The sound pales in comparison to iPhones, Galaxy, and especially to Google's Pixel 4 series which have a mind-bogglingly good speakers. This robs a lot of the joy of playing back YouTube videos and music on your phone.
If you use headphones, however, you are in for a treat in the form of a 3.5mm headphone jack. Early birds who pre-order the phone have a chance to get Sony's WF-1000XM3 truly wireless headphones that sound great too.
Battery Life
The Xperia 1 II comes with a 4,000mAh battery, which compared to most XL and Max-sized phones these days might be a bit underwhelming: the Galaxy S20 Plus features a 4,500mAh battery, the OnePlus 8 features a 4,300mAh battery, and it's only the iPhone 11 Pro Max that features the same size battery as the Xperia.
But in real life I had no issues with battery life. In my usage, I got around 6 hours of screen time before the phone died, which definitely works for me. The phone is not a two-day endurance champion, but it will get you through even those longer days.
YouTube Video Streaming Battery Test
To test that in detail, I turned to our exhaustive set of battery benchmarks: the
new PhoneArena Battery Test
! The phone scored nearly 9 hours of continuous YouTube video playback, on par with the iPhone 11 Pro Max and just a bit shy of the OnePlus 8 family. It's not quite as long lasting as the Samsung phones, but it beats the Google Pixel 4 XL.
Web Browsing Battery Test
At the same time, on our lighter, web browsing test the Xperia 1 II did not do particularly well. Its score of 8 hours and 40 minutes is considerably lower than most other modern flagships which can last around 11 hours, and the very best ones go for over 12 hours on this test.
We will be updating this review with more battery tests over the next few days...
Charging
The Xperia comes with an 18-watt power adapter that features a USB-C port, a welcome change from the older standard USB ports. USB-C is the future, and we're glad Sony is jumping right in that future. Charging speeds, however, are just okay: not the fastest around, and it takes a bit short of 2 hours to fully top up the battery. I should also mention that Sony has implemented features that protect the battery on the phone in the long term years in the past and it still supports them. It would learn your charging habits and smartly manage the charging cycle to lessen the strain on the battery that typically occurs if it charges long at the last few percentage points.
Here is how fast the phone charges using the 18W power adapter in the box:
in 15 minutes: 21% charged
in 30 mins: 42%
in 45 mins: 61%
FULL CHARGE: 1 hour 58 minutes

The phone also supports Qi wireless charging, meaning it's fully compatible with most wireless chargers out there.
Conclusion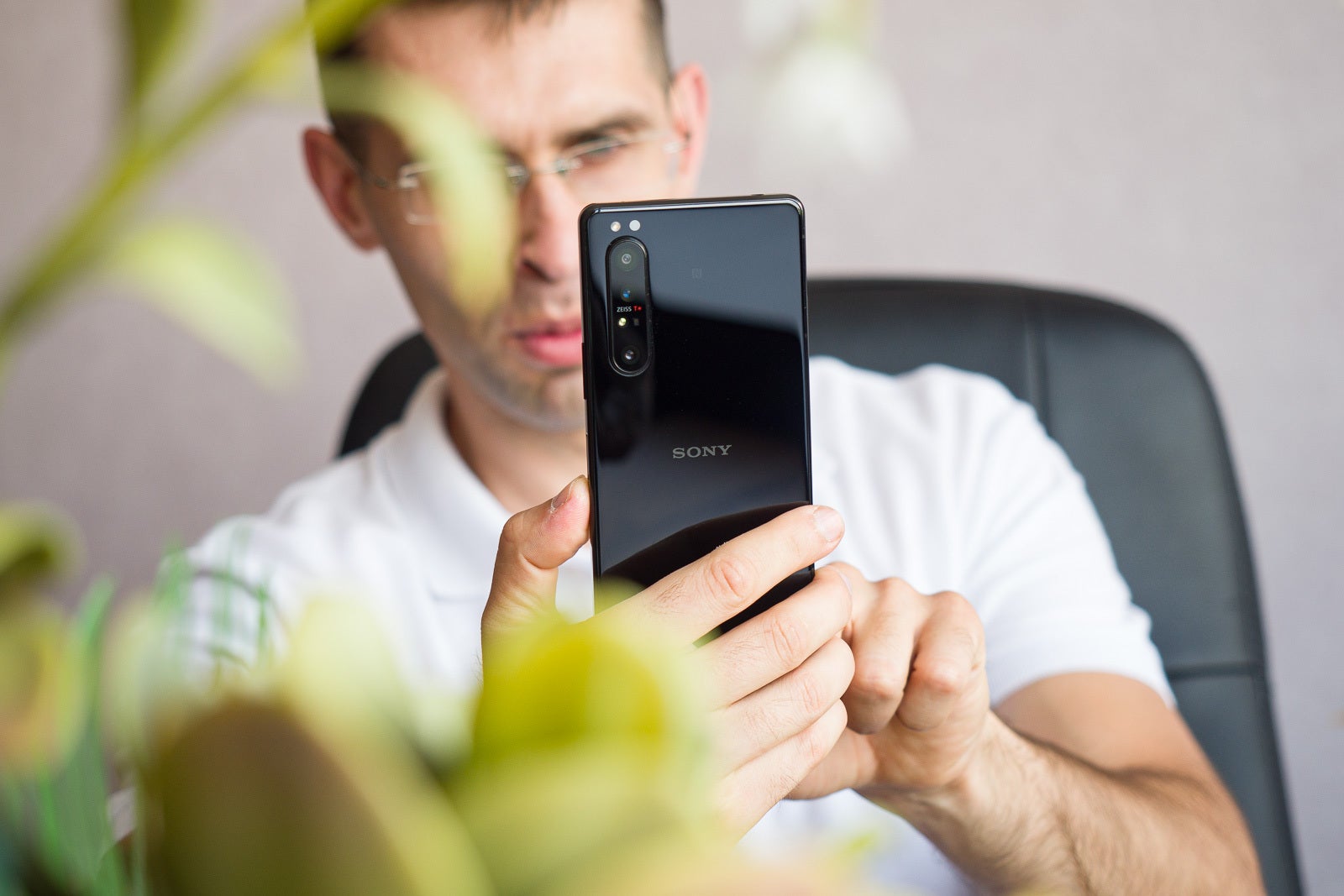 At the end of the day, the Sony Xperia 1 II excels at being a Sony: stylish, often with a surprisingly great camera, yet at the same time it never quite reaches out to be something better than a good camera in a sleek design. Sony seems to have abandoned all efforts to improve upon the stock Android experience, it doesn't have any of the exciting new features in the Android world like fast refresh rates, fast charging, or long range zoom. US shoppers would also be disappointed to find support for 5G bands missing (the device will support Europe and Japan 5G bands). And it costs a whopping $1,200. Finally, the phone doesn't go on sale until July 24th, 2020, some three months after all other Android phones have arrived.
But if you love what Sony stands for and appreciate the unique camera features, the 4K screen and stand-out design, we won't go as far as to say you won't enjoy this phone. We certainly got used to its little quirks and enjoyed using it. Objectively, Sony went overboard with the price and objectively, there are more technologically advanced phones you can buy for far less money, but we humans don't tend to always go with objectivity, so know the pros, the cons and let your heart lead you to the device you will love using.
Recommended Stories