Sony Ericsson W8 Walkman Review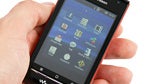 This is a global GSM phone. It can beused with
T-Mobile
USA and
AT&T, but
without 3G.

Introduction:
The
Sony Ericsson W8
is an attempt to revive the Walkman brand and bring it to the world of modern smartphones with the help of Android – its rather outdated
2.1
Eclair version, to be exact. Built by using the
Xperia X8
as a template, the W8 promises to deliver outstanding audio performance while being an affordable entry-level Android device at the same time. At a glance, the handset grabs the attention with its brightly colored back panel and its easy to use interface, but will it leave a good impression in our minds once we are done playing with it? Lets take a closer look and find out for ourselves.
Design:
The Sony Ericsson Xperia W8 basically looks like a differently colored Xperia X8 with a Walkman logo slapped on it, and the more we use it the more obvious this becomes. We have the same
3-inch
scratch-resistant capacitive
touchscreen
with a resolution of 320x480 pixels and the practically identical thick, lumpy body with a slight curve at the back. Even though the TFT LCD display should display a spectrum of 16 million colors, there is a noticeable amount of dithering when viewing color gradients. Besides that, the screen looks yellowish and the color temperature leans quite a bit towards the warm side. Another drawback of the display is that if it has been off for a while, it flickers for a few seconds once you turn it back on, supposedly because of a poorly engineered backlight dimming technique. Nevertheless, the display resolution is more than satisfactory for a screen of this size – graphics look smooth and even the smallest of text is easily readable. Using the W8 Walkman outdoors might get a bit tricky if the sun shines too bright, but turning the brightness all the way up should help to some extent.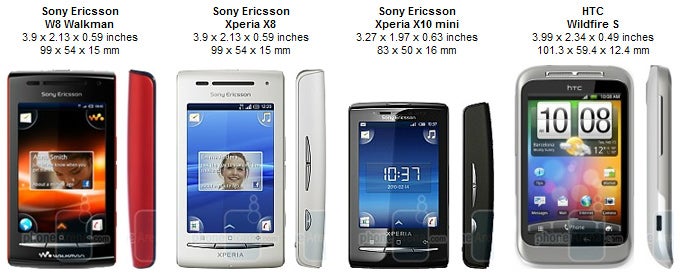 You can compare the Sony Ericsson W8 Walkman with many other phones using our
Size Visualization Tool
.
The body of the Xperia W8 Walkman is built entirely out of plastic, even though its back cover slightly resembles anodized aluminum. The slight curves on the back of the handset make it comfortable to hold, yet being a humble 3-incher means that people with bigger hands might have a hard time using it. With a weight of 3.7 ounces, or 104 grams, the Xperia W8 weighs just enough so that you can feel how it is resting in your pocket.
Well, there seems to be nothing impressive about the Xperia W8 Walkman so far, but it is the audio performance of the device that we are more interested in, right? Lets put it to the test and see if the Sony Ericsson W8 can bring it.
Sony Ericsson W8 Walkman 360-degrees View: