Sony Ericsson Jalou Review
3

This is a global GSM phone. It can be used with AT&T and T-Mobile USA, but without 3G.

Introduction and Design:
Sony Ericsson Jalou
. Oh, it has a mirror? Well, we'll get to that part later on. Let's first see what's in the box. Aside from the Sony Ericsson Jalou, of course, what you get is a wall charger, headphones and user guide. We are reviewing the ordinary model and not the
Jalou by Dolce & Gabbana
, so the boxed accessories are as mainstream as it gets (meaning a bit unsightly on the overall), plus there is no fashion pouch with the famous designer's logo on it.
As the ancient Greek adage goes "like box, like handset". Well, we highly doubt they actually said that, since this was long before cell phones were eventually approved by Zeus, but... let's just stay on target and get back to the Jalou. It is an exceptionally small handset with offbeat and angular shape that some may refer to as diamond-like, although we just cannot stop thinking of turtles... As a whole, the device is likeable, but we would never call it a beauty to behold.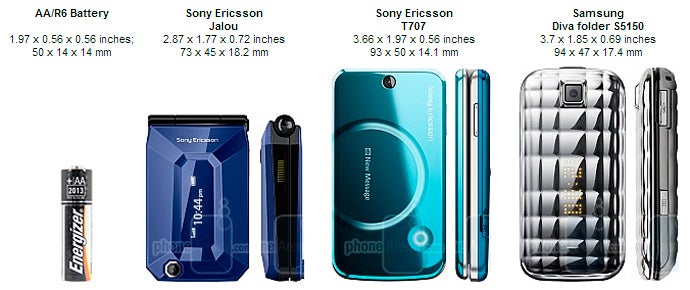 You can compare the Sony Ericsson Jalou with many other phones using our
Size Visualization Tool
.
Like most all the craze clamshell cell phones, the Sony Ericsson Jalou is equipped with
hidden external display
that measures
1.3
inches and happens to be somewhat transparent, i.e. you can see the reflection of captions and letters underneath.
Opening the handset is a relatively complex task in case you intend to do it with one hand. The
internal display
measures 2 inches, sports QVGA resolution and makes for a decent mirror, which happens to be one of the secret weapons of the Sony Ericsson Jalou. Naturally, the coating renders the screen virtually unusable in direct sunlight (but comes in extremely handy if you feel like bedazzling people), plus it just loves fingerprints with the same unfaltering passion that Eva Longoria has for paparazzi.
The
buttons
of the alphanumeric keypad are comfortable indeed, despite being rather small, since they have proper travel and feel distinctive to touch. Don't let the tiny print "microSD" on the right hand side mislead you... the slot is actually located underneath the battery. The phone is charged via the manufacturer's proprietary port that can be found on the left hand side.
All told, the Sony Ericsson Jalou is a cool, compact handset that looks more like a toy than cell phone. Similarly to the
Xperia Pureness
, the device is eye-catchy, but will probably disappoint you when you take it in your hand.
Sony Ericsson Jalou 360 Degrees View: