Sony Ericsson T707 Preview

It´s all about design and outward appearance, at least when it comes to trendy phones and perhaps many of you come to think of the LG
PRADA
,
LG PRADA II
,
Samsung Giorgio Armani
,
Nokia Luna
and similar, top of the range pricy handsets that are beyond the means of most consumers. Well, things seems to be a bit different with the
Sony Ericsson T707
, partly because it´s not that expensive and targets as wide an audience as possible. It sports 3-megapixel camera, HSDPA, accelerometer, music player, FM Radio and Bluetooth. It´s being officially introduced as the favorite toy of the Russian tennis celebrity Maria Sharapova, which suggests sales efforts will be predominantly directed towards ladies. The phone won´t catch you off guard with unique shape, inlaid diamonds or fad elements that cost an arm and a leg, but all this doesn´t mean it´s ugly. Not at all, the phone is quite likeable and compact for a device featuring such a design. We also happen to think it has decent, conventional weight and we figure we should be thanking Ms. Sharapova for her diet.
Our prototype unit is black, but the phone would also come in blue and red varieties as well and we are of the opinion they both look more striking and would attract more attention, times more. The thing you need to pay attention to when the phone is ringing, there are upcoming calendar events or you have unread messages is its
1.1-inch black and white OLED display
that shows all relevant information. Next to the screen there is a round-shaped dent or rather, a recess that blinks on incoming calls and you can take your pick from all available colors (we are limited to as many as five on the prototype unit – white, green, blue, violet and red). Different contacts can be assigned their own colors and the manufacturer claims this will help you easily recognize who´s calling. Of course, we just had to try this out. During our test we noticed that the circles around the OLED screen pulsate as well, but in one color only. Wouldn't it be much nicer if you could change that color too? Another cool extra feature is the gesture control that works when you're waving your hand in front of the camera. We've already seen that with other on-the-budget makes (the
Z555
and
W380
) and it´s supposed to help you reject an incoming call or mute a sounding alarm. Sounds cool and spectacular, but our exaggerated elation came to an abrupt end when we first saw the back of the phone. Although it feels like rubber and the device doesn´t slide out of your hand, it completely fails to go with the glossy façade and is about as far from adjectives like "stylish", "dainty" or "fad" as it gets. We tried to overcome our disappointment by flicking the Sharapova´s toy open and taking a look at what was there. We didn´t find any pearls, but a
2.2-inch display with resolution of 240x320 pixels,
navigational buttons and numeric keypad with rounded buttons. We do like that keys look somewhat off the beaten track, are easily discernible from one another and those on the keypad have a rubber feel to them.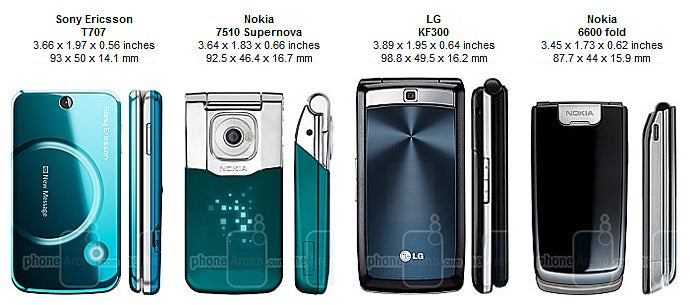 You can compare the Sony Ericsson T707 with many other phones using our
Size Visualization Tool
.
Sony Ericsson T707 360 DegreesView: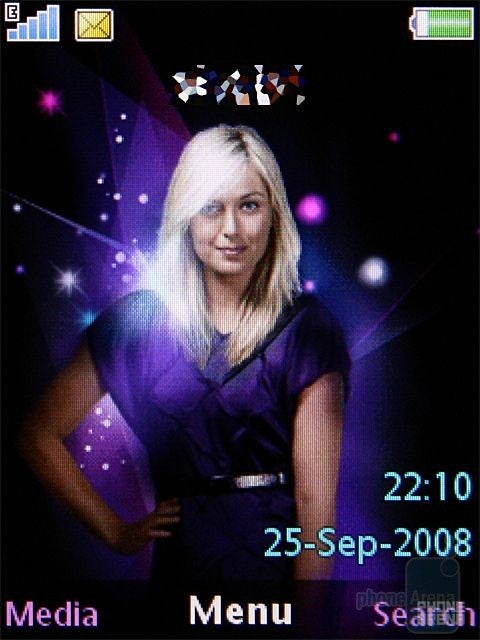 Home screen
The more interesting thing is to be found on the display, namely, Maria Sharapova herself! Well, just in the wallpaper of the current theme. In case you don´t really like her, you can opt for another one, wallpaper that is. You also have several different options regarding
main menu
layout
that are nothing to do with the theme itself. As a whole, interface is really easy to use and get used to and there are no groundbreaking changes alongside of the previous versions, the only one being settings no longer appear as tabs, but rather as a vertical scroll list. Getting down to typing
messages
you see the comfy bar that helps you turn an ordinary SMS into a multimedia creation is also present here. To get to your music and video files, you´d need to go through the nice-looking
Media menu.
Your gallery also hosts all pictures taken with the built-in 3-megapixel camera with simplified interface, but there´s an option that lets you photo-blog media content, or in other words upload any picture you have on the Internet (Picasa, MySpace and Blogger).
So, if you happen to spot a devastatingly handsome guy with a killer butt, loveable dimples and heart throbbing smile, you won´t need to spend the next half hour trying to flesh it all out talking to your friends, but you can just show them any pictures you have just blogged.

All told, the Sony Ericsson T707 doesn´t look bad at all and is actually pretty likeable a phone. It sports eye-catching lighting effects, a bunch of functions and interface that is easy to use, which means many ladies will make enough room in their bags to fit one right in. We highly doubt it would manage to become a hit, no matter how famous Maria Sharapova may be, simply because it will have to face tough completion when it comes out. After all, there are lots of cell phones, mostly by Samsung and LG, in the same class on the market.

If you want to see the device in action, check our video preview:
Recommended Stories