Sony Ericsson F305 Review

Introduction:

Do you often travel or happen to hang about, waiting for a friend? We do. What´s even worse, we need to find what to do during the long daily commutes from point A to point B. Well, so how about some music or watching a blockbuster movie instead? Why not, actually? There are many phones out there with screens large enough to provide decent cinematic experience. But, there is another way to kill time and it´s to play games! The Sony Ericsson F305 is one of the few cell phones that are being advertised as a gaming device, so let´s take a closer look.

What´s in the box?


Sony Ericsson F305
Earphones
Hand-strap
Extra battery cover
User guides in several languages
Design:
The device, white-colored in our case, features a cool, youthful overall design! The Sony Ericsson F305 sports a small,
2-inch display
with low resolution that still delivers decent image quality. There are
two round buttons right above
it with the letters "O" and "X" neatly engraved on them. Hm, this kind of rings a bell with us. Where have we seen these before? Well, on the Playstation´s gamepad of course, where they help you control your character or steer a fancy car and that is exactly what you get to do with these two. Press the
special button on the left
of the D-Pad and a list of all available games pops up on screen that also causes the backlighting of the gaming buttons to turn on. This makes them really easy to spot in the dark, but even if they weren´t lit, they are prominent and discernible enough to feel with your fingers. We encountered absolutely no issues with all other buttons placed on the phone and the keypad itself, despite being really sleek, is extremely comfy to use.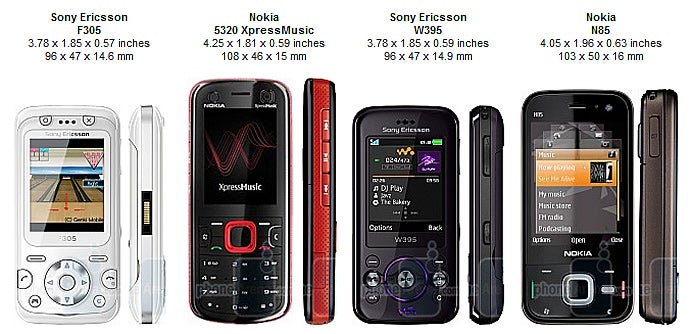 You can compare the Sony Ericsson F305 with many other phones using our
Size Visualization Tool
.
Do you remember the movie "Face off" where John Travolta put on Nicholas Cage´s face to manage to get to some information on the location of a bomb? You can go John Travolta on your Sony Ericsson F305 as well, although the reason is just to lend some color to its design when you get tired of it. Removing the stock panel is easier than it looks, thanks to the tiny rabbet under the D-Pad, but you need to be extremely careful not to break the fragile catches that fix it into place. Actually, you can choose between a wide range of panels on the Sony Ericsson´s website.
Aside from the standard, white battery cover, you will also get a nicely looking spare one that comes in the box and has a cool pattern. Well, since we are speaking of the back of the phone, we might as well exhaust the topic by telling you the
two loudspeakers
are also there. The phone needs to deliver stereo sounds, since that´s integral when it comes to proper gaming experience.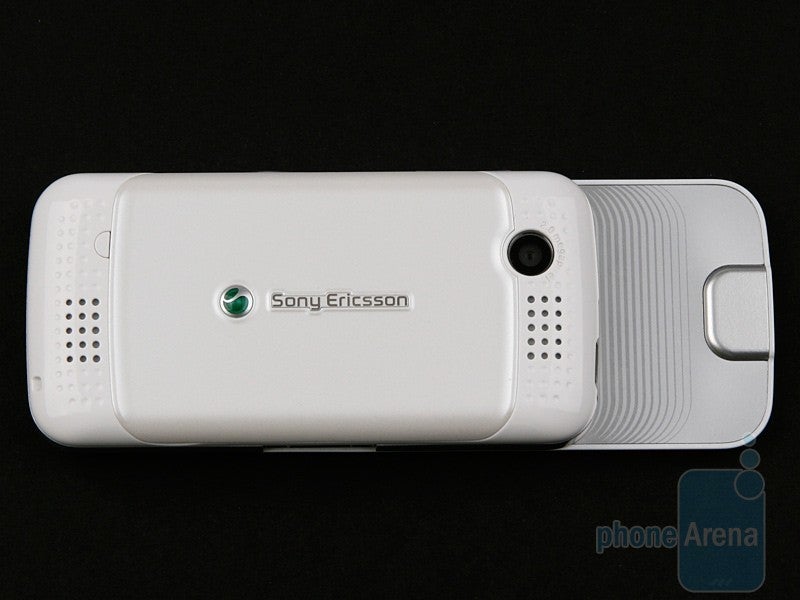 The back side of the Sony Ericsson F305
Sony Ericsson F305 360 Degrees View: Recommended Stories