Sony Ericsson C702 Review


Introduction and Design:
No matter how resentful we feel about picture quality of phone cameras or how far it is from what normal digital cameras deliver, what we can´t but need to account for is they come in pretty handy sometimes, especially for capturing interesting things that happen in a blink and end before you have the opportunity to pull out your digicam. A walk on the beach or up a mountain can fall out to be abundant with such occasions, the thing is normal cell phones don´t seem to take dust or water splashes all too well. That is why we whole-heartedly welcome the
Sony Ericsson C702
or any other
dust and splash resistant camera phones
.
These qualities are certainly due to its tough body, half of which is covered in rubber-like material. Our unit is bluish-green, which gives the phone a youthful look. Unfortunately the device is a bit on the heavy side and not exactly appealing and alongside of the
Sony Ericsson C902
, it looks like a fat, teen, acne sprinkled version of Brad Pit. Unfortunately, the adverse conditions resistant design seems to have adversely affected the keypad and navigational buttons. Keys feel rigid to press, require that some serious pressure be exerted and as a whole, they happen to be one the most uncomfortable buttons we have ever seen on a phone.
Send and end buttons
are so small, we recommend you procure a proper microscope before you get the phone. The sound rocker on the right hand side of the device is also a tough nut to crack. The only comfy button is the camera shutter. It has a good travel and feels easily discernible to touch, which is good since you need to double press – first to focus then to take the picture. The only thing on the left side of the handset is an
M2-card expansion slot
.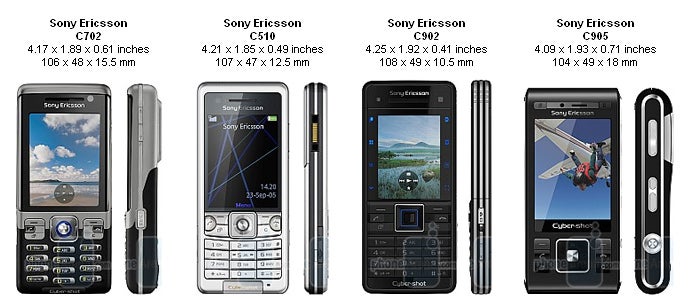 You can compare the Sony Ericsson C702 with many other phones using our Size Visualization Tool.
The display itself is
2.2 inches with QVGA
resolution and delivers pleasing image quality. Unfortunately direct sunlight renders it virtually unusable and this makes for a grievous shortcoming when it comes to a device that will be predominantly used outdoors.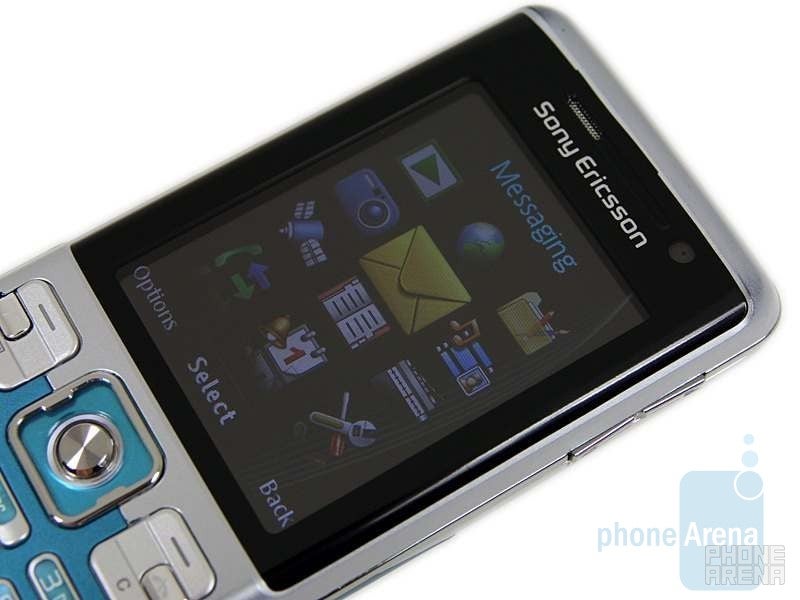 The display of the Sony Ericsson C702 is not usable outdoors
The
3.2-magapixel camera
is protected by a small cover that slides loosely and we figure it can easily get open incidentally. The built-in flash is right under and is, unfortunately, neither Xenon nor "Photo Flash" (like on the C902), but a simple
double LED
one. The battery cover is rugged, which lets you hold your grasp on the phone more easily and is removed by undoing the safety screw that keeps it in place. We better stress on the fact that splash-resistant doesn´t mean water-proof. In other words, you can safely unwind taking part in any "singing in the rain" musical, but you better leave any Jacques-Yves Cousteau style shark shooting missions in the Marianas Trench to properly equipped scientists.
Sony Ericsson C702 360 DegreesView: Recommended Stories