Samsung Galaxy Tab 2 (7.0) LTE Review
5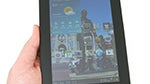 This is a short review of the Samsung Galaxy Tab 2 (7.0), which is available from Verizon Wireless. You can read our full review of the Wi-Fi model here.
Introduction:
A few months ago, Samsung introduced its Samsung Galaxy Tab 2 (7.0) Wi-Fi only tablet, which came in at a reasonable $250. Now Verizon has started selling the Samsung Galaxy Tab 2 (7.0), but they are packing it with 4G LTE data capability, as well as a faster 1.2 GHz dual-core processor for $350, which makes it the least expensive 4G tablet for the carrier. But with other Wi-Fi only tables coming in at a lower price, such as the Google Nexus 7 for $200, you have to ask yourself if you need 3G/4G data connectivity, as the tablet will cost more and will require a monthly data plan.
Included in the retail package is the Samsung Galaxy Tab 2 (7.0) SCH-I705, wall charger with detachable cable, and user guides.
Design:
The Samsung Galaxy Tab 2 (7.0) is simplistic and understated with its all-black appearance and plastic construction. Due to its compact size of 7.63" H x 4.82"W x 0.41" D and a weight of 12.2 oz, it is easy to carry around, comfortable to hold, and can even fit in some pants pockets.
On its
left side
we find a microSD memory card slot and 4G SIM slot protected by a plastic cover, and
on the right
we have the lock/power key and the volume rocker, both of which you can feel with your thumb relatively easy. Becoming a standard with Samsung's tablets, we find an
IR blaster
perched on the right edge as well, which turns the device into an universal remote. Its
top side
is occupied by a 3.5mm headset jack and microphone. Along the
bottom
edge are Samsung's proprietary 30-pin connector and a pair of stereo speakers, which are sufficiently loud, while the 3.2MP camera is on the back.
Display:
Just like the very first Galaxy Tab, the Samsung Galaxy Tab 2 (7.0) sports a 7-inch display with a resolution of 1024x600 pixels. That translates into a pixel density of 170 ppi, which is nothing spectacular, especially since the Google Nexus 7 has a 1280x800 resolution display with a higher pixel density of 216 ppi. The Galaxy Tab 2 (7.0) employs Samsung's very own Super PLS LCD technology, which does give some nice off-axis viewing angles. Overall, it all culminates into one pleasant looking display as it sports natural looking colors, but we still find ourselves having difficulty viewing it in direct sunlight.