Samsung Galaxy S20 vs Apple iPhone 11 Pro
7
We may earn a commission if you make a purchase from the links on this page.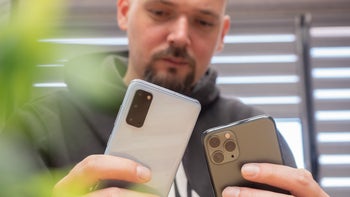 The newest Galaxies and iPhones are now joining us on the flagship scene! Check out our detailed comparison of the Samsung Galaxy S21 vs Apple iPhone 12 Pro if you're interested in reading about the newest and mightiest flagships right now!
##

Overview
The Galaxy S20 and iPhone 11 Pro both hold the same spot at the $1k price point, vying for the attention of people who want a flagship that packs some serious heat but is not too huge or crammed with experimental features.
The iPhone 11 Pro is right up that alley — if the iPhone 11 Pro Max is the best Apple has to offer, the iPhone 11 Pro is just a smaller version of that, no holds barred. The Samsung Galaxy S20 also happens to be Samsung's shining star. Yes, the Galaxy S20 Ultra is there as an over-the-top version of Samsung's flagship, but it's safe to expect that the Galaxy S20 is the phone the great majority of buyers would actually get.
Both the Galaxy S20 and iPhone 11 Pro have very similar features, both have outstanding screens, fantastic cameras, and powerful hardware. The Galaxy does offer 5G connectivity, which is an instant advantage if you happen to live on the patch of ground that has 5G coverage. You could say that this makes it future-proof, but on the other hand — the iPhone 11 Pro will most definitely be getting more years of software support by Apple.
So, which side deserves your $1k more? Either one, really. Let's dive deeper and see which one is the better choice for you.
Buy Apple iPhone 11 Pro from:
Design and display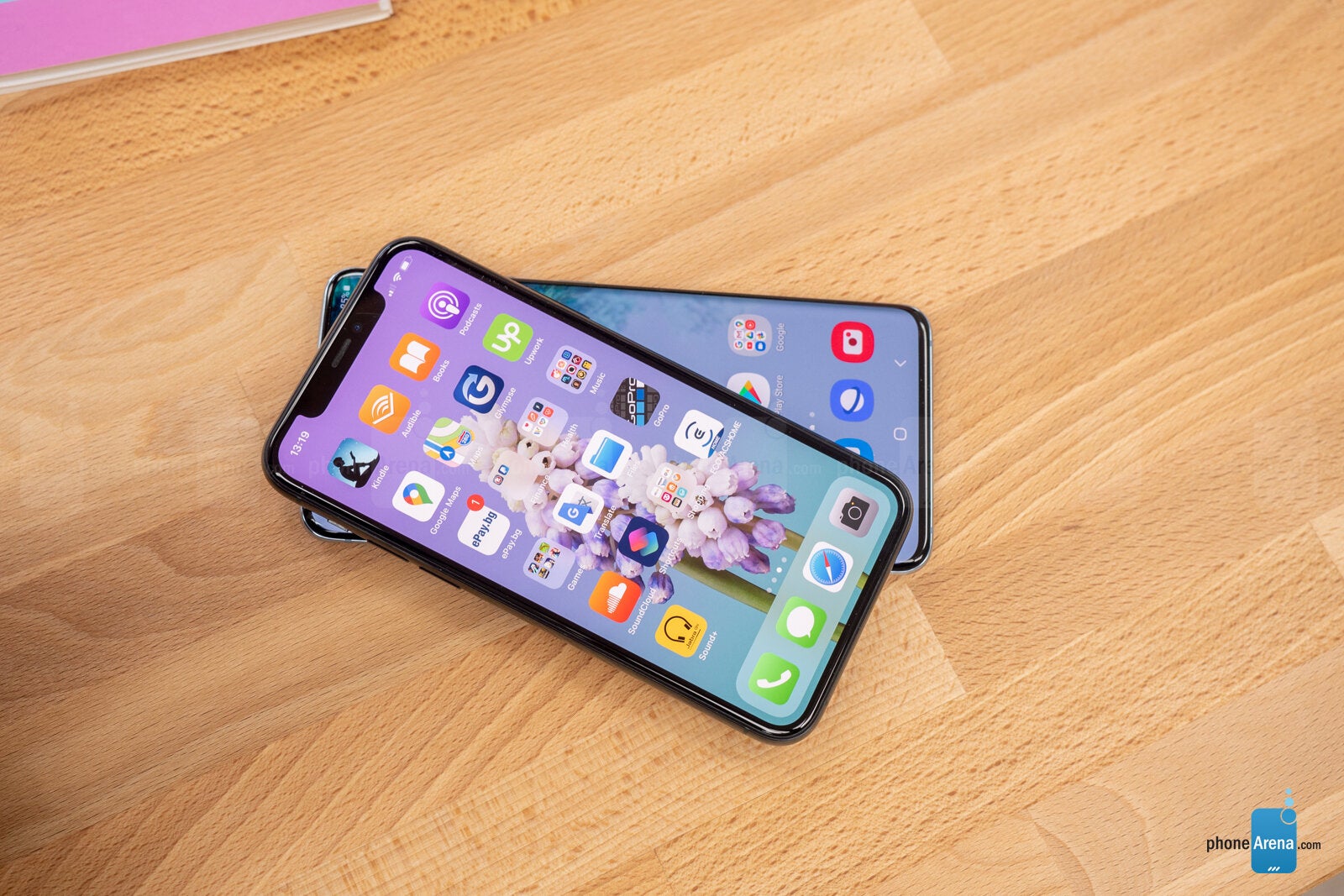 Samsung has done it again with the S20 — the bezels are even thinner and it's getting to the point where you wonder "Can they shave down even more?" The Galaxy S20 is a beautifully futuristic-looking handset with its slightly curved screen, thin frame, and shiny appearance. Yes, it does share a design language with the S20 Ultra, but we wouldn't call the regular S20 "bland", as we did with its bigger sibling. Its smaller size and the extra color options actually make it more visually appealing. It's got a 6.2-inch screen with a 20:9 ratio, making it taller and slightly narrower than the iPhone 11 Pro.
Apple's flagship still mostly looks like the iPhone X from 3 years ago — the signature notch, the rounded sides, and the uniform yet thicker bezel. The design still looks classy, but those who demand novelty will feel apathetic towards it. Its back glass panel has a matte surface, so it doesn't collect as much fingerprint grease. On the flip side, this makes it slightly more slippery, as the soft glass glides through dry hands easier. The phone's screen is slightly smaller, measuring at 5.8 inches, with an aspect ratio of 19.5:9.
But grip is rarely an issue with both of these devices — they are narrow enough to let you comfortably wrap your fingers around them and light enough to be handled with ease. Though, the Galaxy S20 is noticeably lighter, at 5.78 oz (163 g) while the iPhone 11 Pro has that heftier feel with its 6.63 oz (188 g), probably courtesy of that steel frame it rocks.
Both of these have OLED panels made by Samsung. Apple's comes only in one flavor — tame and natural. On the Galaxy S20, you have the option of choosing between the natural look and a vivid mode which boosts colors and gives you that typical AMOLED vibrancy.
One place where the S20 does excel is the screen refresh rate. You can set it at 120 Hz for a buttery-smooth experience with super sleek animations. High refresh rates are still somewhat of a novelty in the smartphone world and something that the iPhone line has yet to provide one.
Other than that, you will find the trendy Dark Mode as well as a Blue Light Filter on both devices. Samsung does offer that Always On Display, which will give you a huge clock and notification icons when the phone is in standby. This feature has been rumored to come to iOS for a couple of years now, but still hasn't.
The Samsung Galaxy S20's screen is sharper on paper, with a pixels-per-inch density of 566, where the iPhone 11 Pro has 463. But rest assured, both screens are plenty sharp, even if you pixel peep.
Camera & audio
It's all about the cameras when it comes to modern flagships, and these two definitely deliver. The Galaxy S20 is not even the best Samsung has to offer, yet its camera is quite good. Well, most of the time. Right now, it has some weird issues with inconsistent focus. Samsung has promised to fix that with a software update "soon", but for what it is, right now, we have a phone that will sometimes (and I stress — sometimes) underperform for its $1k price-tag.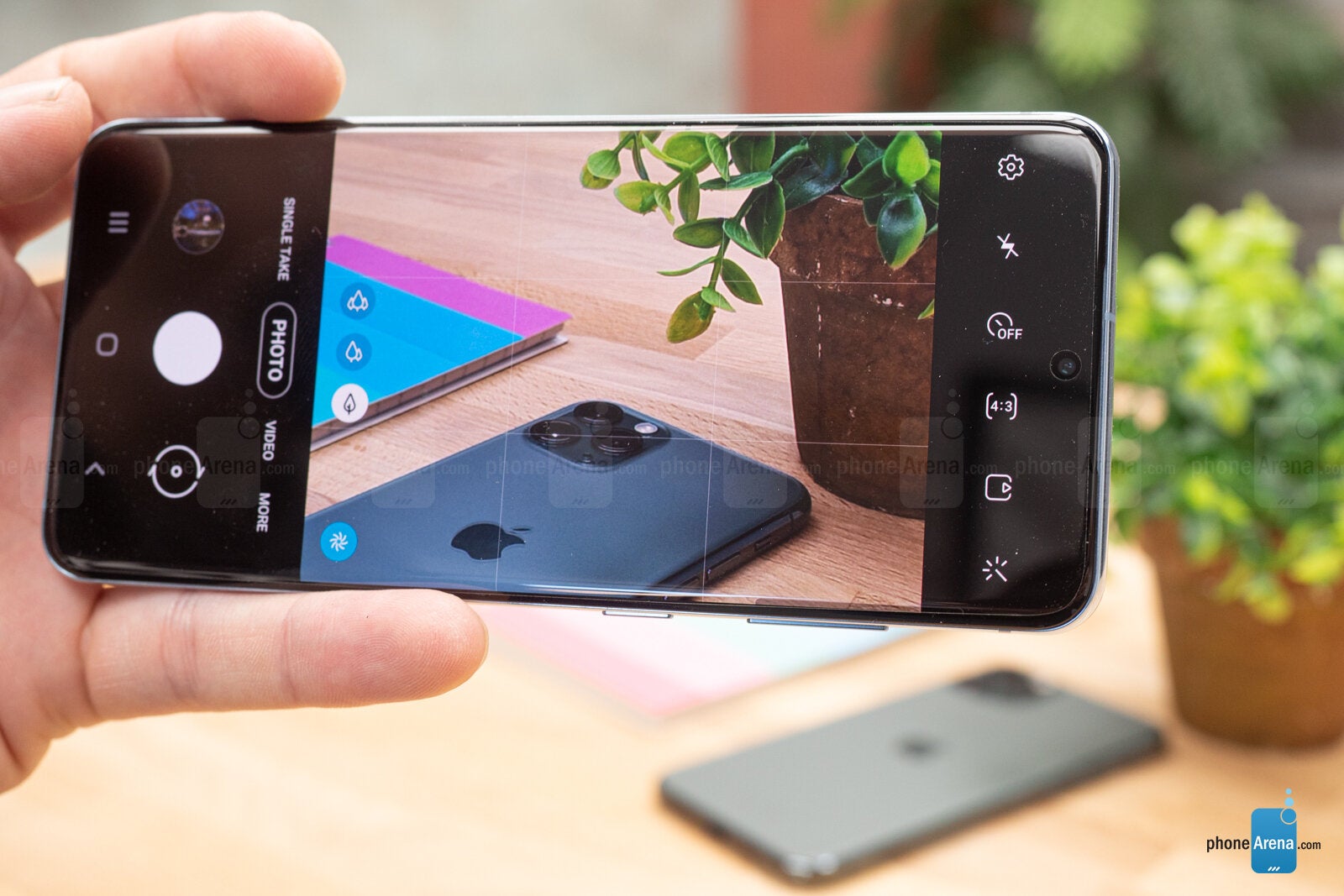 So, the Galaxy S20 packs a 12 MP main camera, a 64 MP telephoto camera (which is not really telephoto — the phone takes a digital crop off the 64 MP sensor), and a 12 MP ultra-wide camera. The iPhone 11 Pro's triple camera has a 12 MP sensor in each and its telephoto lens happens to actually offer real 2x optical zoom.
The "telephoto" terminology nitpicking aside, let's see how these beasts compare when you actually take them out to take pictures and video with.
These are both seriously amazing smartphone cameras. In typical fashion, the iPhone's pictures come out with a warm, yellowish tint, while the Samsung is slightly colder, leaning towards the blue a bit more. In any case, none of them deviate from reality too much. Colors are natural, tame, and pleasing to the eye.
< Galaxy S20
iPhone 11 Pro >
When it comes to details, these trade blow for blow — yes, Samsung does like to oversharpen things just a tad, but the Galaxy S20 is not the biggest offender in this category. If anything, we prefer the S20's results in some shots, over the iPhone's softer details.
< Galaxy S20
iPhone 11 Pro >
The Galaxy S20 is doing a fantastic job when handling dynamics, too — this super-challenging shot towards the window panes came out much better on the Samsung, preserving colors and plenty of visible details. The iPhone 11 Pro blew out the highlights, leaving a blurry mess where the windows need to be.
< Galaxy S20
iPhone 11 Pro >
When zooming in or taking portrait photos, we are ready to instantly forgive Samsung for its less-than-honest shenanigans with the telephoto lens. It seems like no detail is lost and zoomed-in photos give us sharp, detailed imagery. Not as sharp as the S20 Ultra, of course, but definitely great for a smartphone, and yes — better than what the iPhone 11 Pro does.
10x zoom
< Galaxy S20
iPhone 11 Pro >
Portraits are stellar with both the S20 and the iPhone 11 Pro. The former is a bit sharper on the details of the face, but doesn't go overboard. The iPhone's portraits come out a bit softer, but not smudgy. Edge detection for the fake bokeh is great on both, but both will mess up with challenging shots — strands of hair, glasses, or tree branches — now and again.
< Galaxy S20
iPhone 11 Pro >
The Galaxy 20 and the iPhone 11 Pro use an identical stereo speaker setup — a bottom-firing driver has a "meatier" sound, while the earpiece provides a tone with tinnier qualities. Both can go up there in volume and sound pretty decent. The Samsung speaker set sounds more mid-heavy, while the iPhone is a bit more scooped and with a pinch more brilliance (and crackling) in the highs.
Both are not Pixel-4-levels of great. They can do fine if you want to listen to a YouTube video or a song that's been annoyingly stuck in your head, but they are still just phone speakers, so don't expect miracles.
Software and performance
Ah, the eternal battle — Android vs iOS. Well, of course, on a Samsung you don't just get the Android experience. No, no, Sammy likes to customize the experience on its phones with a heavy hand — the so-called One UI 2.0 interface is present in full force.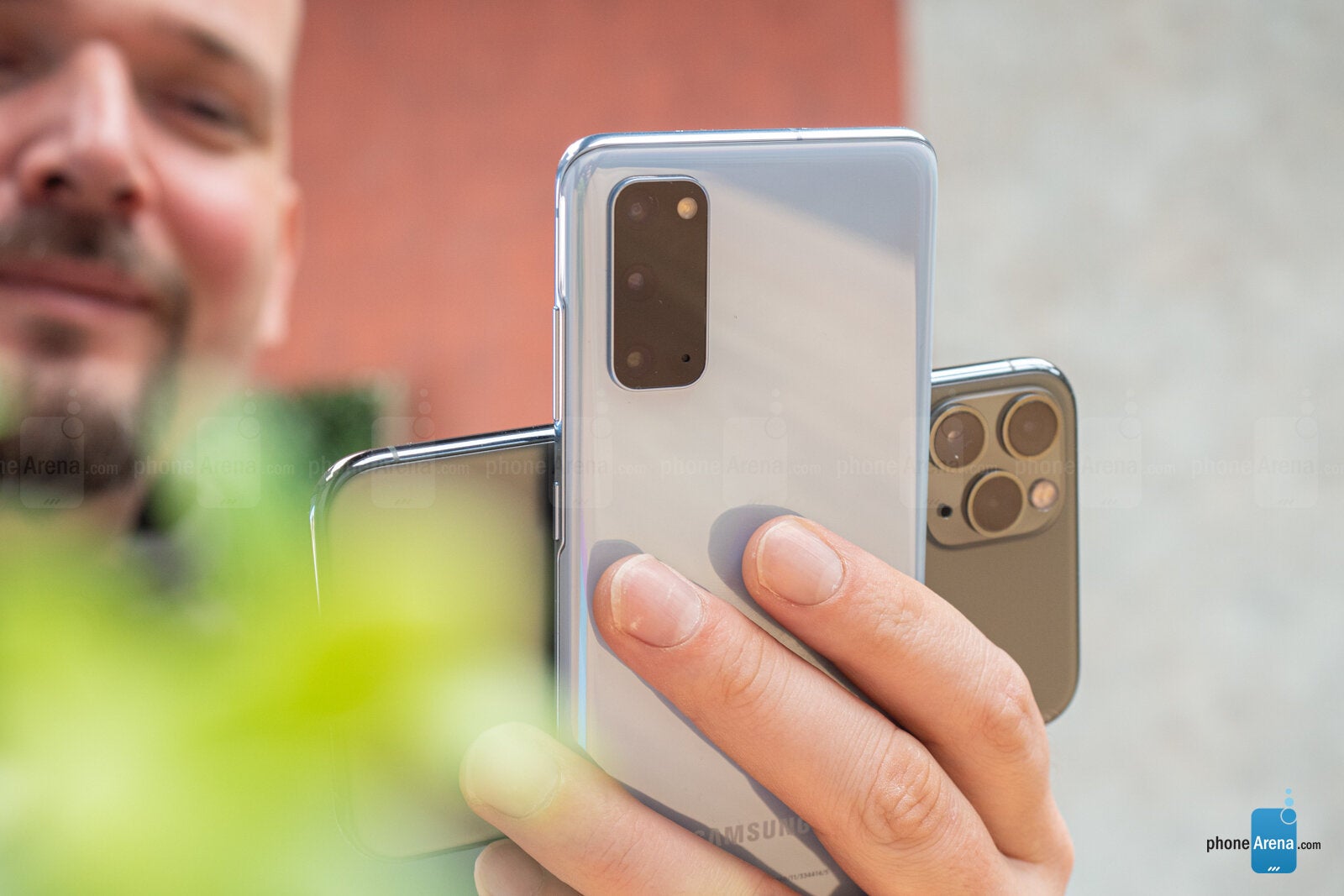 As can be expected, you've got tons of customization, from themes, to icon packs, to homescreen and app drawer layout. The Samsung Calendar is a huge improvement over the stock Android one and is super-useful. One UI 2.0 helps you out with tiny details, like popping notifications up in floating windows, giving you various reminders regarding meetings, app use, and battery drain. Multi-taskers get access to split-screen, picture-in-picture, floating windows, and plenty of RAM to fuel everything. Needless to say, it feels fleshed out and much more consistent since the days of TouchWiz.
The Galaxy S20 does — again — have Samsung's virtual assistant Bixby, but we don't talk about that. The Google Assistant is also there and I imagine a lot of you will default to using that instead, despite Samsung's insistence on bringing Bixby to the forefront.
When it comes to security, there's Samsung's KNOX suite on board, working its magic behind the curtains. It's meant to protect your device from any sort of malicious evildoings, like malware or spyware.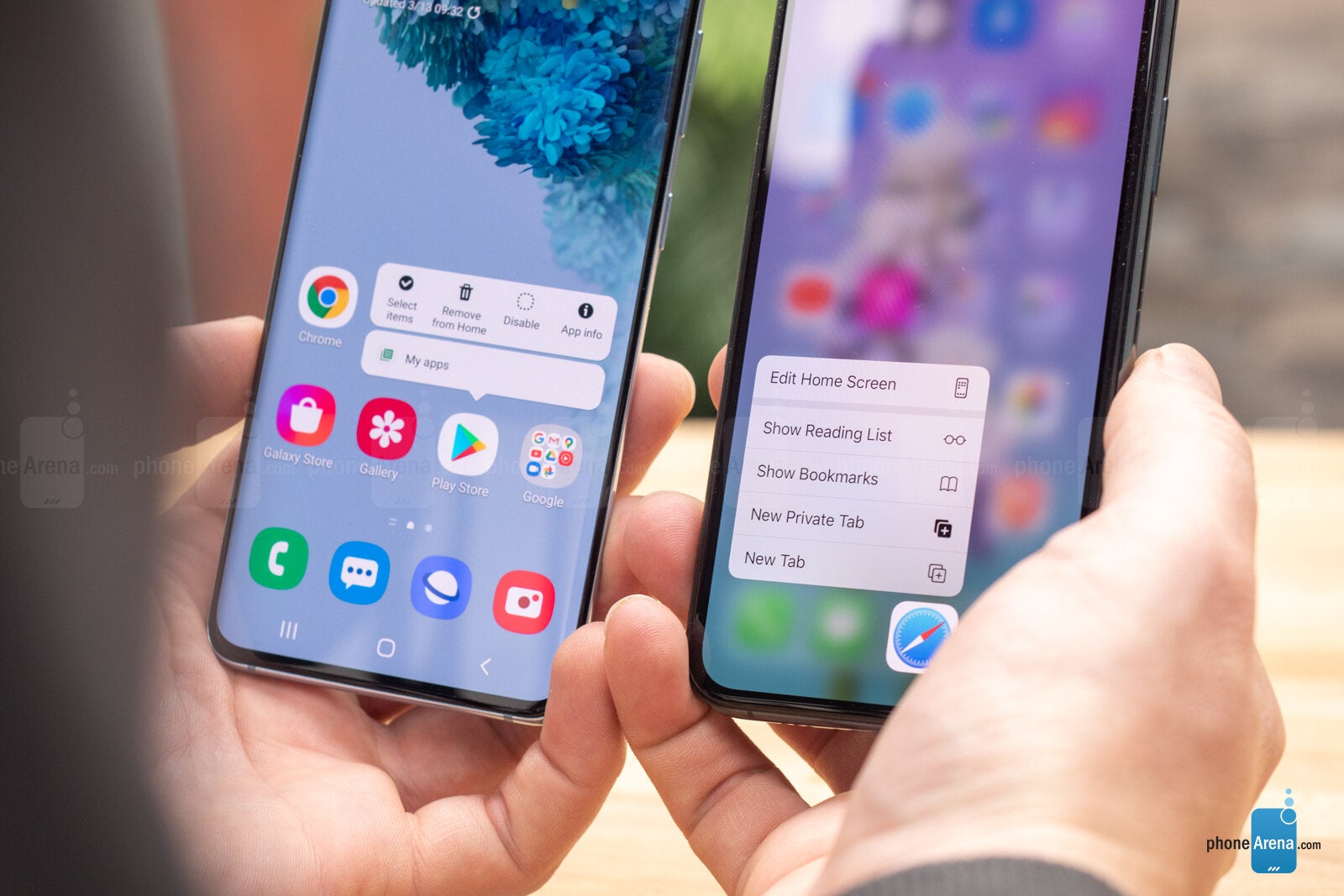 Apple's iOS 13 is also a very mature operating system, which has come a long way over the years. However, it may still feel a bit stifling to those that come straight from an Android phone. No picture-in-picture, no real customizability aside from changing your wallpaper. Sharing things across apps or devices still feels a bit stifled, though Apple did make strides in this area when it (finally) introduced some sort of file management on iOS.
iOS is still the preferred platform for developers that make apps for musicians, photographers, and other creatives. Many of those apps will eventually make the jump to Android, but some often do not, which is why you will very often see a musician or videographer with an Apple product on hand.
Siri is a tad more useful than Bixby and will often surprise you with notifications like "Hey, mute your phone, you have a meeting scheduled in 5 minutes". It is also very privacy-focused and will alert you whenever an app has been using Location sharing for a suspicious amount of time.
When talking about security, we can't skip how these phones handle unlocking. The Galaxy S20 still uses the ultrasonic fingerprint scanner that was introduced with the S10. Sadly, it hasn't been upgraded a bit and it's still a bit finnicky. It sometimes takes a beat too long to scan and it very often needs a rescan of your finger, which can quickly get on one's nerves. The iPhone's Face ID has been steadily improving over the years, and it's extremely accurate and fast on the iPhone 11 Pro.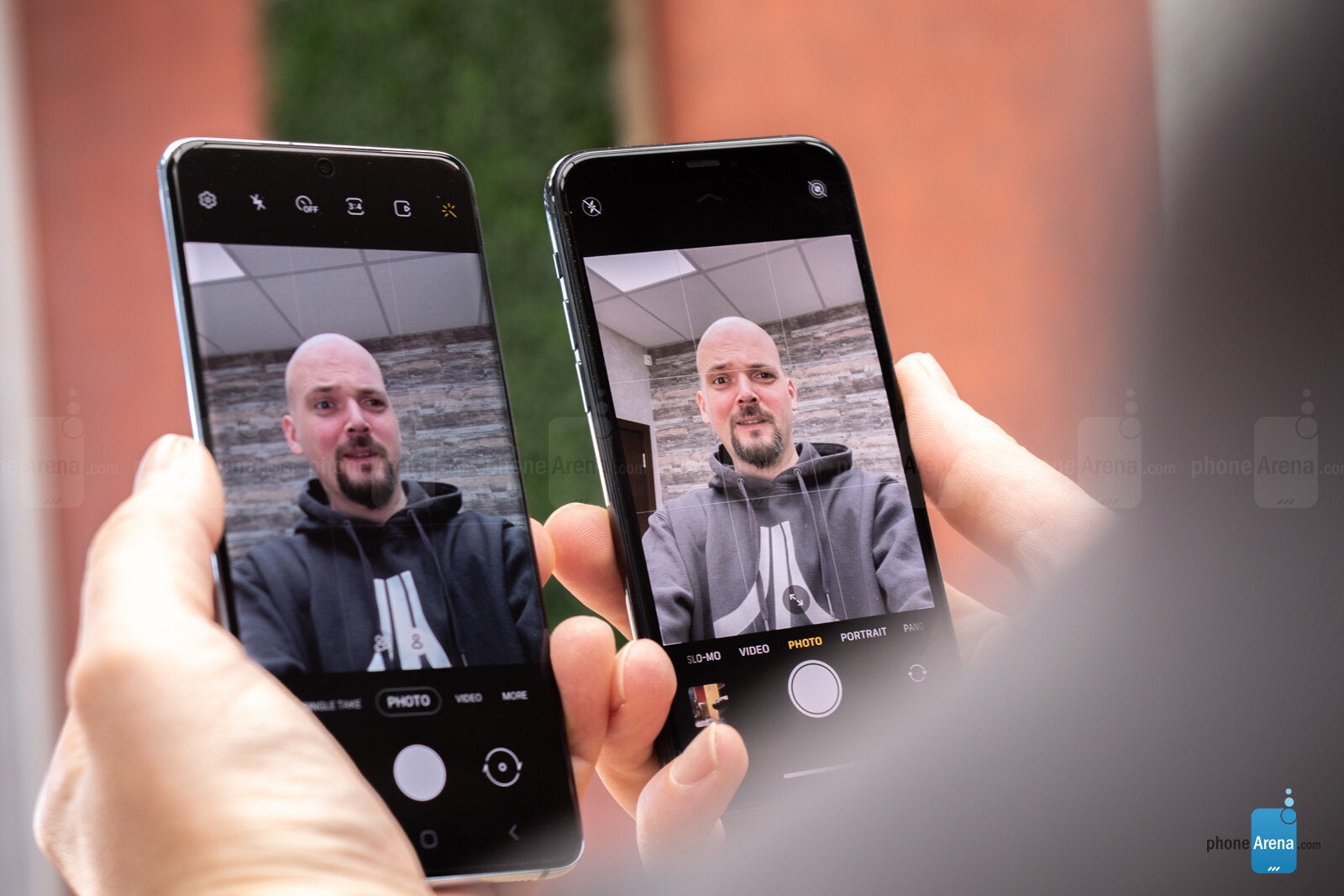 Both phones perform great, as they should for their price. Historically speaking, iPhones have been known to remain snappy and responsive for longer periods of usage, while a Samsung device may or may not become stuttery after it passes its prime. Though, right now, we have two powerhouses in our hands, which can play any mobile game or app without skipping a beat, as it should be.
Samsung's Galaxy S20 line will be getting security patches every month and two years worth of major Android upgrades — this means it'll eventually get Android 12 in 2022. While Apple doesn't really make official statements on how long it plans to support a phone for, iPhones have traditionally been getting up to 5 years of major iOS updates. So, that's an area Samsung might need to improve in.
Battery life
We've got a 4,000 mAh cell in the Galaxy S20 and a 3,046 mAh juicebox in the iPhone 11 Pro. Both of these phones can keep the lights on for a long, long time. Powerusers will be delighted at how hard it is to drain these devices. Though, if you do use them intensively, they will both need daily charging. Thankfully, they both support wireless charging, so you can just set them down on a Qi mat whenever you are not using them.
We did notice that the iPhone will lose more battery during 3D gaming than the Galaxy, so that's something gamers need to keep in mind.
When it comes to re-charging the phone, the Galaxy S20 is seriously impressive, making the 0% to 100% run in 65 minutes. The iPhone 11 Pro does come with a fast charger in the box, but it's still slower, topping up over 105 minutes.