Samsung Galaxy S20 vs Apple iPhone 11 Pro
We may earn a commission if you make a purchase from the links on this page.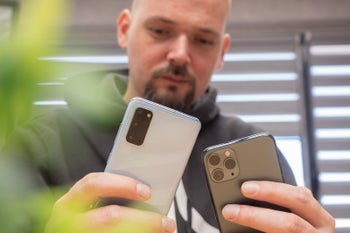 The newest Galaxies and iPhones are now joining us on the flagship scene! Check out our detailed comparison of the Samsung Galaxy S21 vs Apple iPhone 12 Pro if you're interested in reading about the newest and mightiest flagships right now!
##

Overview
The
Galaxy S20
and
iPhone 11 Pro
both hold the same spot at the $1k price point, vying for the attention of people who want a flagship that packs some serious heat but is not too huge or crammed with experimental features.
The
iPhone 11
Pro is right up that alley — if the iPhone 11 Pro Max is the best Apple has to offer, the iPhone 11 Pro is just a smaller version of that, no holds barred. The Samsung Galaxy S20 also happens to be Samsung's shining star. Yes, the Galaxy S20 Ultra is there as an over-the-top version of Samsung's flagship, but it's safe to expect that the Galaxy S20 is the phone the great majority of buyers would actually get.
Both the Galaxy S20 and iPhone 11 Pro have very similar features, both have outstanding screens, fantastic cameras, and powerful hardware. The Galaxy does offer 5G connectivity, which is an instant advantage if you happen to live on the patch of ground that has 5G coverage. You could say that this makes it future-proof, but on the other hand — the iPhone 11 Pro will most definitely be getting more years of software support by Apple.
FEATURED VIDEO
So, which side deserves your $1k more? Either one, really. Let's dive deeper and see which one is the better choice for you.